Add A Sense Of Decadence To Your Candle Hurricanes With This Table Runner Hack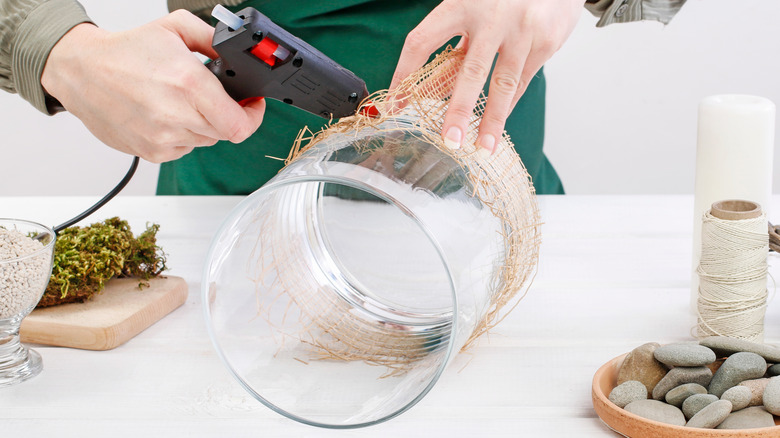 Agnes Kantaruk/Shutterstock
We may receive a commission on purchases made from links.
There's no reason for old or unused table linens to go to waste. Instagram DIY creator @redeux_style loves upcycling old items, and she has a clever trick for turning a table runner into gorgeous sleeves for hurricane candle holders. It's a great way to repurpose an old or unwanted item into something new. To complete this hack, cut out a piece of an old table runner or other fabric scrap, wrap it around a glass hurricane candle holder, and glue it into place.
You can complete this project with just about any kind of old linens such as a table runner, fabric placemat, or lace curtain. Even a small fabric scrap from a previous craft can work for this DIY idea. For the best results, look for fabric with a lace pattern, sheer material, or cutouts, as these will allow the candlelight to glow through and create a dreamy, cozy effect. Opaque fabrics can work as well, but the style will feel much heavier, and they could block out some of the light. You'll also need candle holders, which you could buy on Amazon. Hurricane ones are tall, glass, and pillar-shaped, making them the ideal piece to cover in a decadent sleeve. Note that these sleeves should go on candle holders and not candles themselves, as this would be a fire hazard. You'll also need scissors and something to secure the sleeve like hot glue or fabric tape. With these materials, you're ready to give your candle holders a makeover.
How to DIY a candle hurricane sleeve
Start by cutting out your fabric; @redeux_style uses her candle holder to approximate the fabric measurements, but you'll get more precise dimensions by actually measuring the candle holder itself and cutting the fabric accordingly. If you have enough fabric, cut out a continuous piece. Alternatively, if you only have small scraps of fabric, you can glue a few separate pieces together into one single sheet. Or, for fans of the cottagecore aesthetic, a collaged candle sleeve could be the perfect rustic touch.
After you have your sleeve piece, check how it looks when wrapped around the holder and trim any uneven edges. The bottom of the sleeve should be a smooth edge, but the top looks best with a lace or scalloped trim. If your fabric only has straight edges, you can add texture by cutting your own scalloped border or gluing on a small strip of lace. Once your sleeve design is perfected, wrap it around the holder again. Then, using fabric tape or hot glue, secure the area where the sleeve overlaps, creating a tube shape. Instagrammer @redeux_style makes her sleeves removable, but if you really like the look of the sleeves, you can glue the fabric directly onto the candle holder to make them permanent — a few dots of glue under the edges should do the trick. You can then decorate your home with this candle by adding it to a table setting or fireplace mantel.