The DIY Tea Light Covers That Are Boo-Tiful For Halloween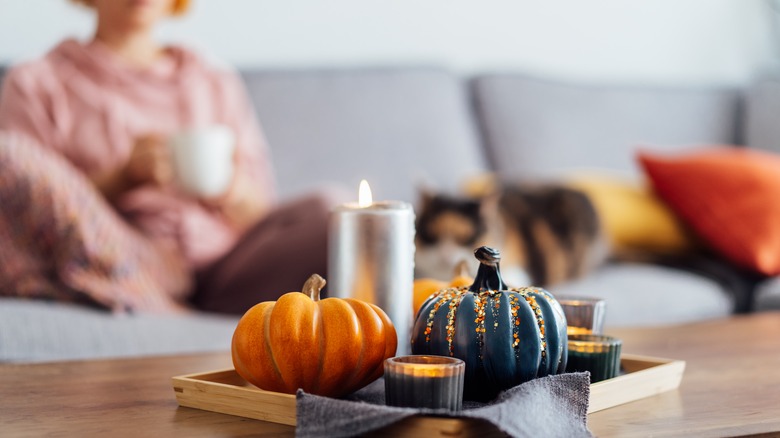 Okrasiuk/Shutterstock
Halloween may be filled with goblins and ghosts, but nothing says that they have to be scary. In fact, a friendly ghost or two can bring a cheerful warmth to your home during the autumn season, especially when they flicker with the charm of candlelight. With a little modeling clay and a pencil, you can transform a flameless tea light into a lively little ghost that will brighten up your home during Halloween.
This project only takes a few steps, but soon, you could create a host of small ghosts that will decorate your home while they chase the shadows away from any dark corners. Begin by using a modeling clay such as Crayola Model Magic in white, available in stores like Walmart. This clay is easy to manipulate, and it stays soft and lightweight even after it dries.
It works especially well if you have young assistants who are helping you create your ghosts. Pull the clay apart so that you have a piece that fits the palm of your hand, then roll it into a ball. Take a rolling pin and press it into a circle. Remember that the clay will start to dry out if exposed to the air for very long, so keep the rest in a sealed bag until you're ready to roll out another piece.
Illuminate your home with a ghostly tea light
To shape the clay into a ghost, take a jar or a bottle and place something round on top, such as a golf ball. Take the pressed circle of clay and lay it over the top of the ball until the sides droop down over the jar. The next step is to take a pencil and poke holes into the clay to create the eyes of the ghost. At this point, you're ready to set your small spirit aside to let it dry. Model Magic will begin to set in 24 hours, but allow about 72 hours for it to dry completely. Once it dries, place the ghost over the top of a battery-operated tea light. (It's important not to use a candle with a flame for this craft.)
Use your imagination to decide where you'd like your little ghost to lend its sparkling magic. Set a couple of them on the fireplace mantel, or add a little friendly spookiness to the guest bathroom. They can be set on the ground alongside your jack-o'-lantern or placed in a window to welcome trick-or-treaters. Position them along a staircase to illuminate the steps, or use them as part of your tablescape to create a mood for the snacks you've laid out for your guests. Simple and spooky, these mini ghosts will bring a cheerful Halloween ambiance to any part of your home.