This IKEA Closet Hack Will Totally Transform Your Garage Storage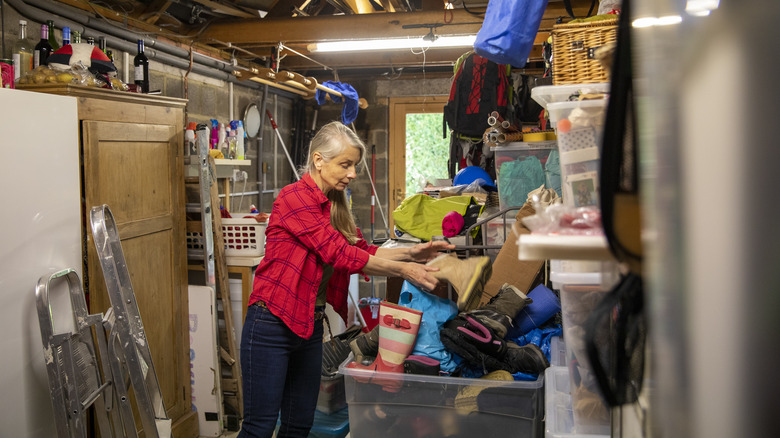 Solstock/Getty Images
After living in a home for many years, you may accumulate lots of holiday decorations, tools, and old memorabilia in one place: the garage. This area of the home often becomes the most-used storage space for lots of items, so it's prone to get cluttered and disorganized. Instead of allowing it to overflow with random items, organize your garage like a professional with this TikTok hack that uses IKEA closets to store everything. TikToker @moderntwigla installed IKEA closets in their garage to add extra shoe storage. They used the PAX cabinets, but you could also use cabinets from IKEA's SEKTION collection, since they offer more sizing options.
An overflowing garage can be dangerous to have in the house. For example, piling items taller than a person's height makes it easy for them to topple over, which could lead to injury. Even if your garage is slightly organized, keeping too much stuff in one place can cause potential fires from electrical wires, creating sparks on dry materials like magazines, cardboard, or wood. It also makes a great hiding spot for pests that enjoy dark, warm environments. If everything is scattered about and taking up lots of space, you have no idea what insects are hanging out in your garage. It's best to keep your things off the floor and on shelves, so this TikTok hack is the perfect storage solution. 
Give your garage a makeover with IKEA cabinets
In TikTok user @moderntwigla's video, they use the IKEA PAX cabinets with their own Silverwood doors in their garage to hold many pairs of shoes. These IKEA cabinets don't include the doors, but they have other collections with doors that fit the PAX cabinets. Of course, you don't have to use this storage solution for clothing or shoes. Instead, you could organize your tools, holiday décor, luggage, or any other items. IKEA has a PAX planner where you can customize the size of your cabinets to fit your space instead of purchasing pre-designed cabinetry. You'll want to plan where to set up your closets before purchasing them to determine the right size and how many you need. You can purchase the PAX wardrobe frame with the FORSAND doors, KOMPLEMENT shelves, and KOMPLEMENT hinges. Or, as mentioned, you can look through the SEKTION collection to find the perfect pieces for your space.
Once you're done planning your layout, buy the closets, assemble them in your garage per the instructions, and set them up where you want them. Then, install the shelves and attach the doors. Finally, fill the shelves with all your possessions, grouping similar items together and placing them in boxes or bins. Once you've completed these tasks, you'll have a brand-new storage space and a clean garage. You could even turn the rest of the garage into a room like a hangout spot, if desired.