TikTok's Hack To Create A Stunning Glass Lantern From A Thrifted Gem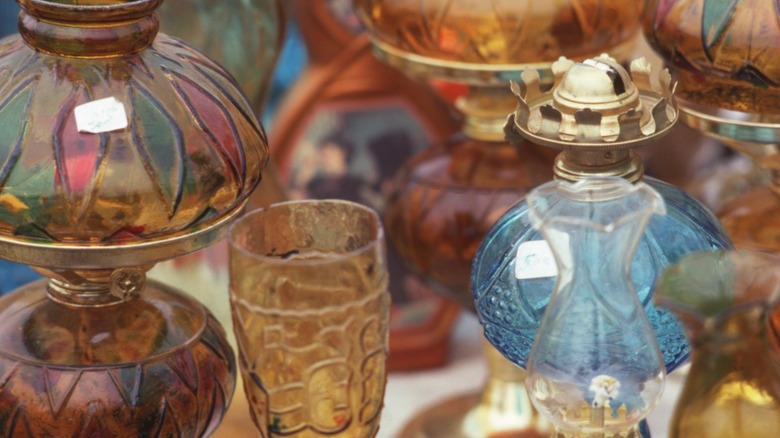 Joseph Klipple/Getty
Upcycling items is great for the environment and for decorating your home on a budget. Popular DIYer Sarah Teresinski, @redeux_style on TikTok, loves an upcycle project, and her glass lantern concept is perfect for anyone who has an old glass lamp that's been put out of commission. By putting string lights inside, you can transform a lamp base into a stunning lantern. As Teresinski notes, this dreamy decor idea is perfect for the holiday season. 
For your materials, you'll need a lamp with a glass base. No worries if the lamp is no longer functional or has a missing lampshade — you'll only be using the base. You can use one you already have, or if you really love the sound of this DIY project but don't have an old lamp, head to your local thrift store to find one at a low price. The only requirement is that the lamp base is hollow and that you can easily take it apart to access the inside. You may also want to have a screwdriver on hand, as well as a pair of small scissors in case you need to cut out the wiring.  Finally, you'll need a set of fairy lights. The string lights should be battery-powered and long enough to fill the entire lamp with light when coiled up inside it. For an extra touch of fun, look for lights that have different color settings or a twinkly effect — this will add some dynamism to your lantern. 
Transforming a lamp into a gorgeous glass lantern
To begin with, make sure your glass lamp is clean and that you have removed the lampshade and the light bulb. Your first step is pulling out the cord from the lamp (naturally, the lamp should be unplugged before you mess with any wires). To remove the lamp cord, you'll most likely have to start by unscrewing the top and bottom of the lamp and gently pulling at the cord. After the cord is removed, begin pushing your string light through the hole in the bottom of the lamp, where the wire was previously fed through. Feed the entire length of the string light into the lamp so that only the battery pack sticks out on the bottom. Depending on the lamp's design, the easiest way to do this process might be to completely disassemble the lamp and then reassemble it as you feed the light through each section like Sarah Teresinski does.
When the lamp is fully reassembled, with the string lights inside, you should be able to keep the battery pack tucked underneath the lamp. However, if the battery pack is too bulky, you can leave out a small bit of the string lights and let the battery pack sit on the table beside or behind the lamp. Your result should be a magical, shining glass lantern that can serve as a festive lighting idea.
Decorating with your upcycled glass lantern
Maya Kruchankova/Shutterstock
Once you've repurposed your old glass lamp as a glass lantern, all that's left to do is find it a home. Glass lanterns are excellent decor pieces for all kinds of vignettes throughout your living space. They are excellent if you're trying to figure out how to decorate a console table. For the perfect look, place the lantern on a table in front of a mirror, where the light can bounce off in all directions. If your lantern (or lanterns) is on the larger side, place it in the corner of your entryway as a floor display, or if you have a more spacious foyer, place it on a round table in the center of the room.
Lanterns are also a beautiful addition when decorating your mantle, adding warmth and a festive spirit to your living room. If you have any kind of holiday display, consider incorporating one or two glass candles — the magical glow is perfect for framing a figurine scene or casing extra light onto a Christmas tree. This style of glass lantern can also add a dreamy, cozy effect to a bedroom when placed on a dresser or side table, almost like a nightlight for grown-ups. Finally, if you're feeling extra whimsical, consider using a small glass lantern as a centerpiece for a dining table. It will stand out as a creative tablescape idea and delight all your dinner party guests.