Get Lawn & Garden Equipment On A Budget With This Shopping Tip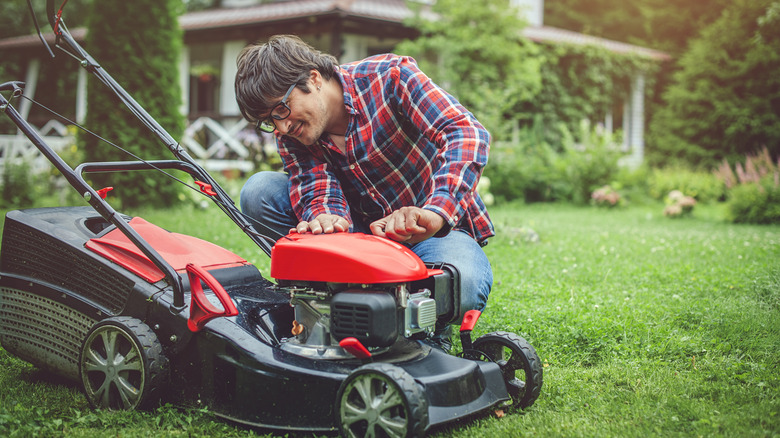 Artmarie/Getty Images
Having a yard is exciting and daunting at the same time. Caring for a sprawling outdoor space can be overwhelming for first-time home buyers. Getting the right equipment is essential but costly when you also have to buy furniture and decor. Luckily, you can get lawn and garden equipment on a budget by shopping at local pawn shops. Buying secondhand lawn and gardening equipment is not only economical, it's environmentally friendly too.
Pawn shops are similar to thrift stores, but unlike many thrift stores, pawn shops evaluate items before adding them to their inventory. So you're more likely to find working equipment in an acceptable condition. And because pawn shops assess everything for its true value, you will pay less than if you bought new equipment. So, if you are moving into a home for the first time or simply need another lawn mower or weed whacker, your first stop should be a pawn shop.
The perks of buying used lawn and garden equipment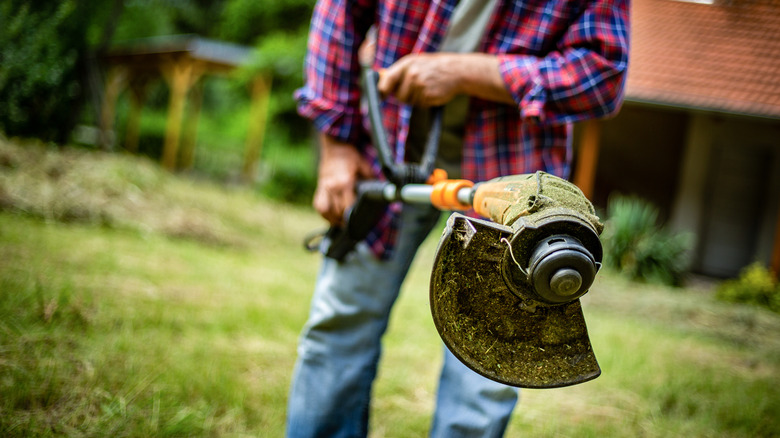 Milan Markovic/Getty Images
Lawnmowers, weed whackers, edgers, and other electric lawn care equipment can carry a high price tag. Rideable lawnmowers are notoriously expensive, with some models costing thousands of dollars. Purchasing a secondhand mower from a pawn shop is a cost-effective way to take care of your lawn. If you're lucky, you may even find "like-new" equipment with little to no wear.
In addition to being wallet-friendly, buying secondhand equipment, especially battery-operated and electric equipment, also benefits the environment. Any time you purchase something preowned, you reduce the need for new production, preventing waste. Think about how much you have to throw away when you buy a new appliance or other large equipment. Preowned equipment typically does not have packaging, so there's less to throw away.
Similarly, buying used equipment keeps it from going to a landfill. According to the EPA, there are over 100 million tons of waste in US landfills, a figure that gets larger every year. Common lawn care equipment is made with a combination of metal and plastic, which together make up about 28% of all landfill waste. A riding lawn mower that is still in working condition would needlessly take up space in an already overcrowded landfill.
How to shop for secondhand lawn and garden equipment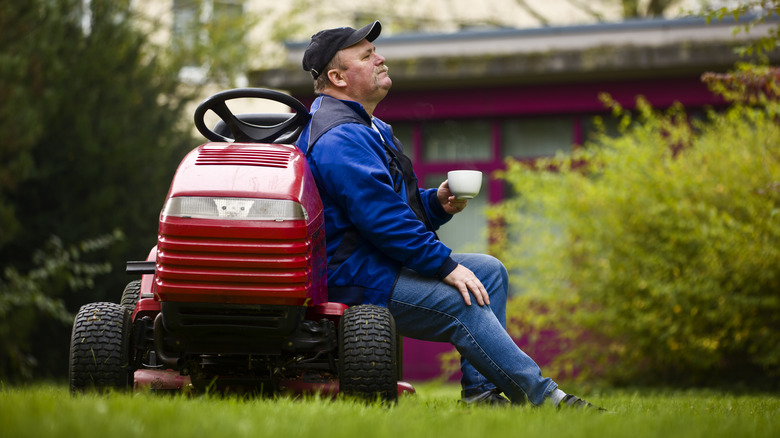 Thomas_eyedesign/Getty Images
Though pawn shops inspect their inventory, you should make your own assessments. First, research any model you find in the shop. Compare the price of a new model with the pawn shop's price tag and read customer reviews. Try to determine if it is the right equipment for your needs. Take note of common issues and repair needs so you can anticipate any potential problems. For example, if several reviews cite a hard lawn mower seat, it could be uncomfortable for extended periods. For your safety, it's also crucial that you search for any potential recalls.
Once you've decided if the equipment is worth a further look, you'll need to check it for wear and tear. If possible, find a digital version of the equipment's user guide to help you know where important pieces are located. Start your inspection by looking at key parts like handles and power sources. Check fuel caps for corrosion, sediment, or debris, as these would clog the fuel line. Next, ensure all wires are secure and intact. Use product photos to see how a certain model should look so you can make the best judgment on its condition.