HGTV's Jeremiah Brent Shares A Way To Decorate Seasonally Without Spending A Fortune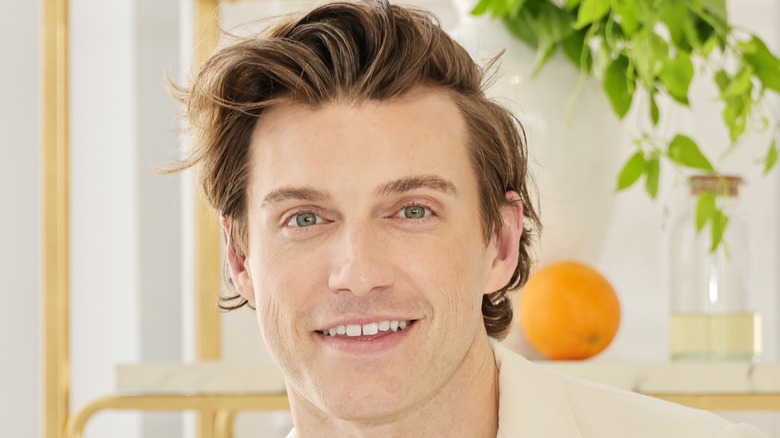 Theo Wargo/Getty Images
We may receive a commission on purchases made from links.
With every season that comes, there's a new energy in the air. A distinct sense that things are changing. To prevent life from feeling stale, you'll want to ensure that the inside of your home also embraces the change of reason. And changing your home's seasonal decor doesn't have to cost a fortune. HGTV's Jeremiah Brent offers simple tips to keep things fresh in your home without spending a ton of money.
Brent and his co-host/husband Nate Berkus of "The Nate and Jeremiah Home Project" constantly incorporate change in their house. "In our own home, we're constantly moving things twice, three times, four times a year," Brent says in a video on TikTok.
Rearranging items, switching out your bedding, bringing in some scents, adding florals, and decluttering are all low-cost ways that can completely change the entire look and feel of your home for the season. Here's how to implement these design tips in your own home.
Curating and rearranging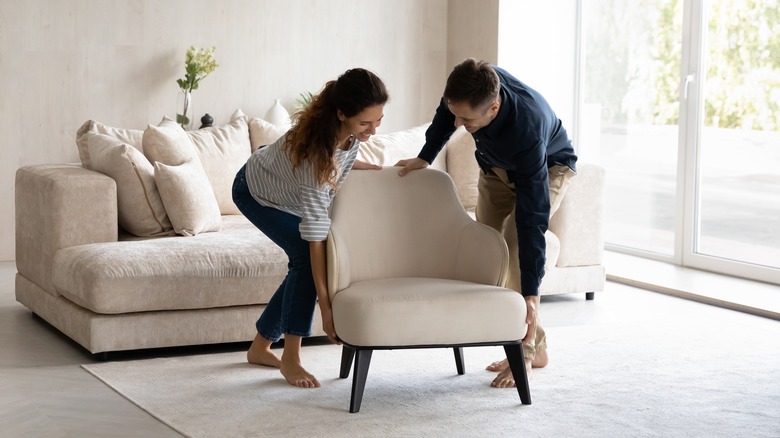 fizkes/Shutterstock
If Jeremiah Brent had to choose the most important tip for this set of advice, it would be to curate and rearrange. "My first piece of advice would be to curate your space, curate your art, move things around," Brent says. To do this in your home, you'll want to switch out some main pieces of decor and art. Choose pieces that evoke the mood of the season with color and texture.
You'll want to use bright hues and lighter tones during the spring and summer, like Robin's egg blue, daffodil yellow, or earthy neutral greens. Colors that are warmer and more bold are more appropriate for fall and winter. In the fall, you can opt for burnt oranges, browns, and deeper greens. Winter colors can include bright whites, cranberry, black, or greys.
In this season, you want fabrics that are more transparent and flowy, whereas winter and fall will require heavier and more textured surfaces and textiles. This can be incorporated into drapery, pillows, lighting fixtures, and rugs. Color and texture can also be used in your art pieces. Since you're not going to buy new furniture for each season, try moving it around in different configurations.
Moving furniture closer together can create a cozier feeling for the winter. Keeping it farther apart will make your room feel more spacious and airy in the warmer months. You can even exchange smaller items like rugs and ottomans in different rooms during different seasons.
Switch our your bedding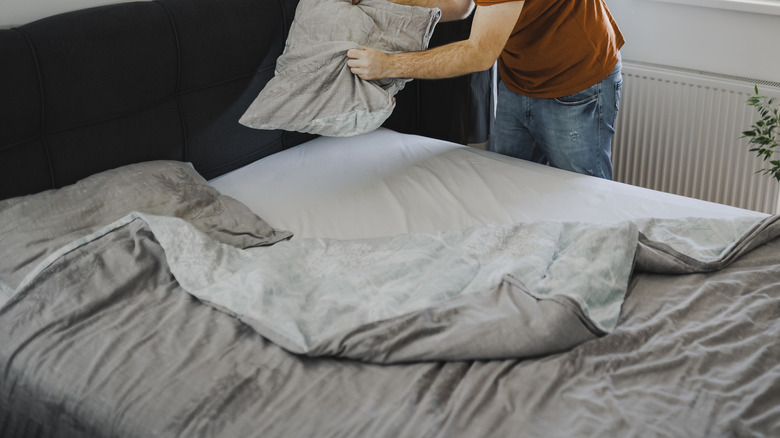 Eleganza/Getty Images
Treating yourself to a brand-new set of sheets and a comforter is the perfect way to signify a change of season in your bedroom. "They come in a series of different colors. You can kind of mix and play with them seasonally," Jeremiah Brent says. You can have two different colors for two seasons and mix and match them during the other two seasons.
In addition to choosing colors that suit the season, you'll also want to pick bed linens that are temperature-appropriate. Linen will keep you cool in the summer, while flannel will warm you up in the winter. Try percale or sateen in the spring and fall. Cotton will work during any season. Just add blanket layers to keep or cool when needed. You can apply the color and texture rules for your choice of blankets and comforters as well. Fill your duvet with a heavy insert in the winter and a lighter one when the weather is warmer.
Incorporate seasonal scents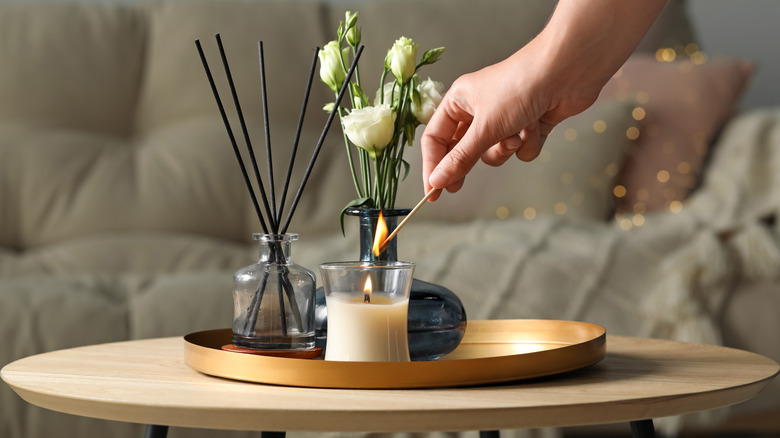 Liudmila Chernetska/Getty Images
Another way you can keep things feeling fresh and up to season in your home is with scent. It's something Jeremiah Brent says is crucial to upkeep in your home. "Something that's really important to me is scent. It's kind of a final layer to any home," Brent explains. Brent goes with brighter, happier scents that are on the softer side, such as rose, for the summer and spring.
But you don't have to go floral. Other scents for spring can include rosemary, lemongrass, grapefruit, sage, lavender, and basil. In the summertime, ylang-ylang, mandarin, and orange blossom can be soothing. Autumn invokes scents of cinnamon, vanilla nutmeg, patchouli, orange, and musk. During the winter, you can fill your home with the scent of mint, sandalwood, oakmoss, amber, and cedar. You can incorporate scents into your home using incense, candles, oil diffusers, or an electric scenting machine like this one for $50 on Amazon.
Florals, branches, and greenery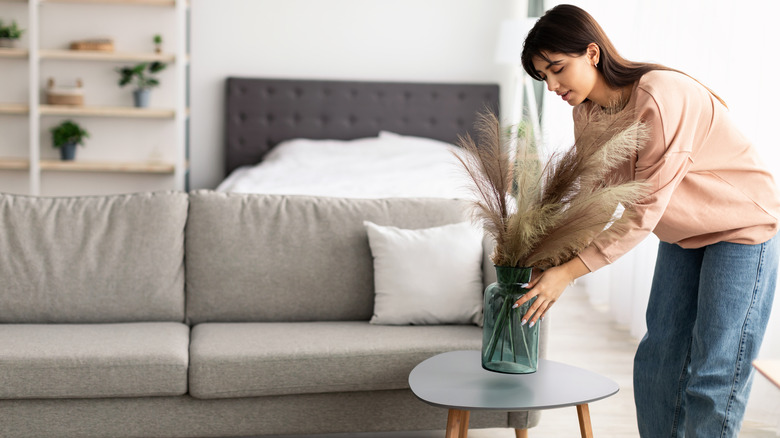 Prostock-studio/Shutterstock
Jeremiah Brent favors using lively florals, plants, and plant pieces as a way of bringing new life into space during a change of season. "I love branches everywhere. And flowers. It's really a great way to bring in a brighter pallet. It's a really creative way to make your space feel bright and fresh seasonally," he says. When winter lays the tree bare, you see a lot of branches. So, this makes the perfect season to learn how to use tree branches as home decor.
In the fall, you can fill your home with chrysanthemum flowers, a popular fall flower that doubles as a natural cockroach repellent. Bring sprays of roses, zinnias, and sunflowers into the home for the summer and hyacinth, daffodils, tulips, and peonies during the spring. You can use different colors to bring a brighter, more energetic feel to your space or warmer colors for a calmer feel.
Declutter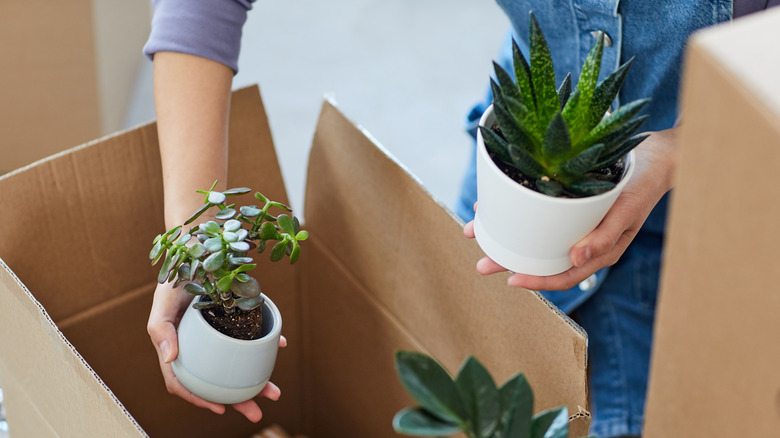 SeventyFour/Shutterstock
You don't always need to add to a space to change it up. Decluttering and getting rid of stuff can be just as effective, according to Jeremiah Brent. "There's nothing better than editing. A refresh is liberating. Go through your space, look at things, and decide, 'Is it absolutely beautiful or absolutely functional? Do I need it?' Make room for the future," he explains.
If you've answered "yes" to all those questions, then the item is something you should consider keeping. If not, then you should put it in a pile for Goodwill. If it's only functional during a certain season, store it away for a few months until it's ready to be used again. More can be less in the case of decluttering.
Removing old items that cause clutter can increase your productivity, focus, and sense of calm. It will also remove old and stagnant energy from your home and bring in new positive energy and experiences.