How To Make A Fall-Inspired Tree Out Of Dried Hydrangeas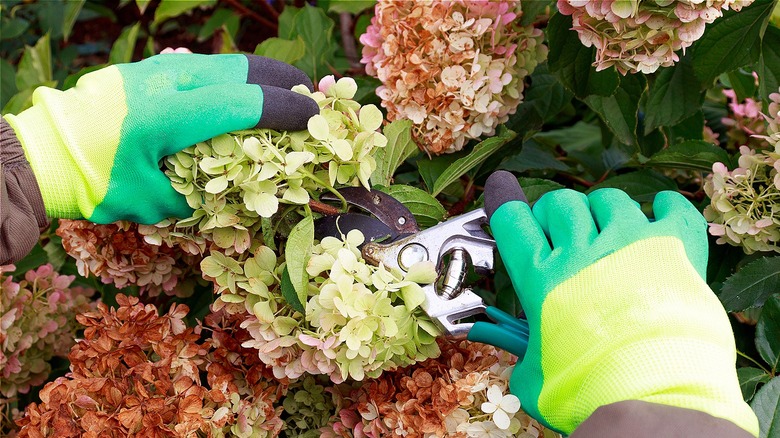 Natallia Ustsinava/Shutterstock
Finding home décor to reflect the time of year can sometimes be a challenge, particularly if you're struggling to outfit your home in those strange in-between seasons like the gap between Halloween and the official commencement of the holidays. Early November can often have you taking down the ghosts and goblins but unsure if you're ready to put up the bells and holiday trees. TikToker @marieaaaaaaaaaaaaa has an excellent way to bring the two seasons together seamlessly with this sweet and romantic fall-inspried hydrangea tree made from dried flowers, chicken wire, sticks, and an old vine wreath.
While @marieaaaaaaaaaaaaa's inspiration was a love of Christmas all year-long and an acknowledgment of the beauty of browning hydrangeas in and around her home, you can make this cool hack as a way to get through the weeks between holidays in style or as a delightful piece for either season (or both!). While the softly browning hydrangeas are a hit for the fall and winter seasons, it's a hack you can use with any favorite dried flower any time of year if you're a true holiday tree enthusiast.
Making a tree out of dried flowers
To make a dried hydrangea tree, create a framework by using a rustic vine wreath as the base and three long sticks at the desired height of your tree. Secure them in a cone configuration and glue the sticks together at the bottom to the wreath and to each other at the top. Wrap the form in chicken wire to achieve a tree shape and grid. Use the chicken wire as a framework for adding flowers with a dab of hot glue until your tree is fully covered. You can also add other elements like pumpkin picks, other flowers, ribbons, and more.
Fall-inspired, these trees are a perfect complement to romantic, cottagecore, and Victorian-themed rooms, as well as holiday décor. The dried hydrangeas will continue to brown as time passes. You can also create your tree from artificial bunches of flowers if you'd like a more consistent look the entire season. Scale it to whatever size you would like by shortening the length of the underlying sticks.
These trees, depending on how small or large you make them, will look amazing next to a fireplace, on a beautifully decorated mantel, or as a centerpiece. While the dried flowers may be too delicate for outdoors, artificial bunches would work stunningly outside flanking a front door, on a porch, or in a garden.