Where To Rent An Aerator For Your Yard This Fall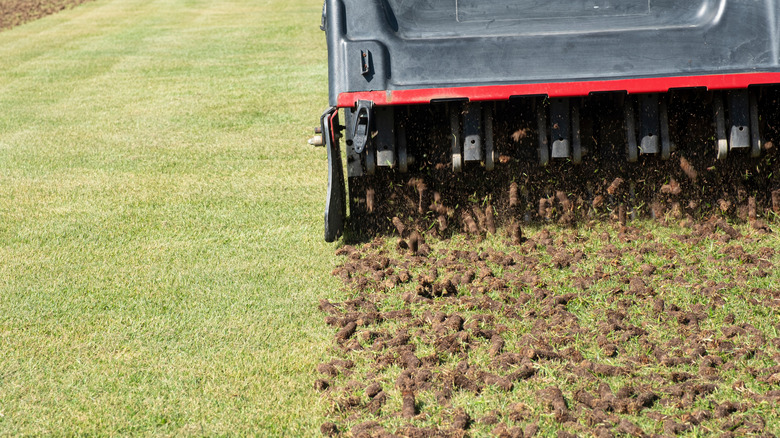 Oldboys/Shutterstock
Using a lawn aerator annually can make a significant difference in the health of your grass. There are two common types of aerators: core and spike. Manual aerators, the cheapest and least expensive option, poke holes in the soil a few inches deep with spikes. Core aerators, on the other hand, actually remove plugs of soil to loosen the dirt, creating more space for water and nutrients to seep in while providing roots with room to grow. The best choice for you depends on the condition of your lawn. If your soil is not very compacted, a spike aerator may be sufficient to help it maintain its lush appearance. However, if you have very dense and highly compacted soil, renting a heavy-duty core aerator may be the solution you need to revive your lawn.
If you're in search of a spike aerator for a small lawn, your best bet might be to purchase one since smaller push models are available for under $100. You may also find larger options available for rent at a low cost. However, if you truly need to rejuvenate your lawn, renting a core aerator can save you money and space. These powerful lawn tools can cost thousands of dollars, and you would also be responsible for their storage and maintenance. For those who have determined that they need to aerate their lawn this fall, consider leaving the hassle of ownership to the professionals by renting an aerator from one of the following locations.
Home improvement centers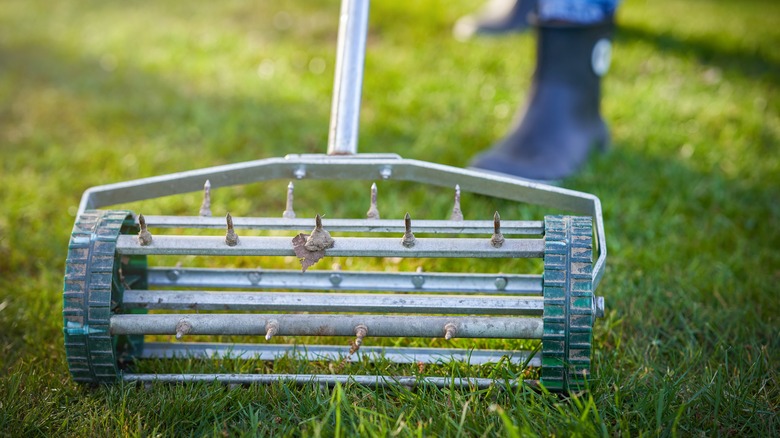 Kamil Macniak/Shutterstock
Some large chain home improvement centers offer equipment rentals. So the same place you would go to spend hundreds or thousands of dollars on lawn machinery can save you loads of money by allowing you to rent the same products for a set price per day. Before you shell out the big bucks to buy an aerator, check with stores like Home Depot and Lowe's first.
Not every home improvement center location will feature equipment rentals by the day, so you may need to call several different stores in your region. Keep in mind that retail employees may not be very experienced in the use of every piece of equipment available for rent, presenting a potential downside for this approach. Although this machinery should come with instructions, if you decide to rent an aerator from a home improvement or big box store, you may need to be prepared to educate yourself on how to use the product safely.
Dedicated equipment rentals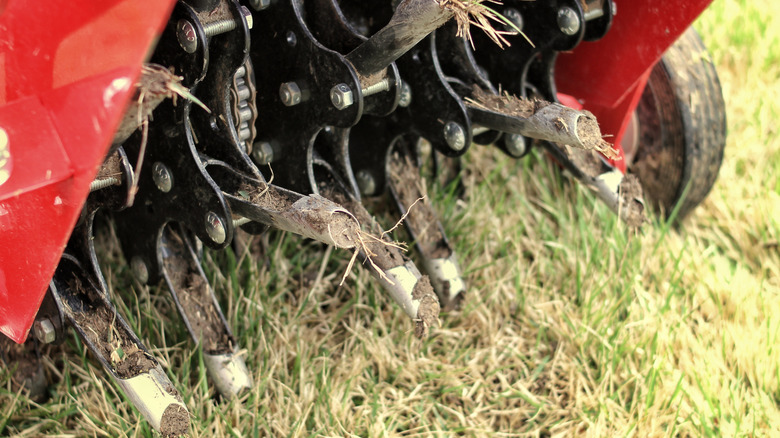 Alan Kidd/Shutterstock
Those who have little or no experience with heavy machinery or lawn equipment may want to rent an aerator from a dedicated equipment rental store. These locations have employees whose entire job is to help you find the best product for your project while ensuring you know how to use it correctly. While renting from a home improvement center may cost less for daily rental, you might actually save money by opting to visit a dedicated equipment rental location.
When you are working with heavy machinery, it's important to get the right equipment for the task. If you have a riding lawn mower and just need a simple spike aerator for regular maintenance, you may be able to rent a pull-behind option for less than a heavy-duty core aerator from a big box store. Talking to an employee with a full understanding of the rentals they keep in stock can give you the confidence to know you have just the right aerator for your lawn. They will also make sure you have all the safety equipment you need.
Local garden supply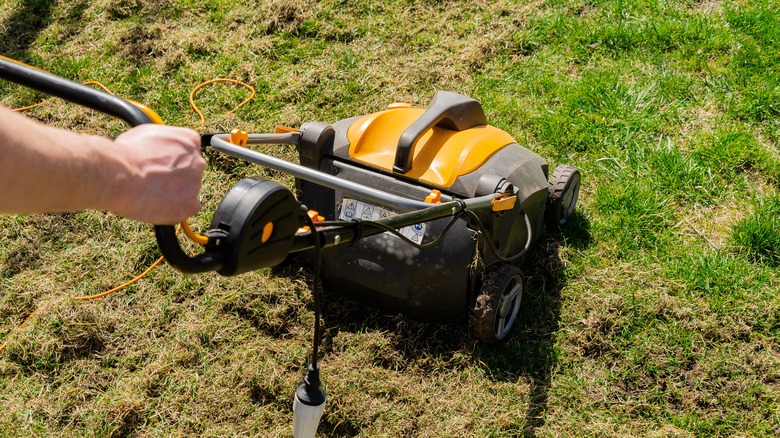 Stenko Vlad/Shutterstock
As you shop for lawn aeration equipment, don't forget to check your favorite garden supply or nursery. These locations are usually locally-owned small businesses, so any money you spend there stays in your community. It's always nice to be able to help out a small business, but this only works if they have the equipment you need.
Your local garden supply is less likely to have heavy-duty tools, like a large core aerator, but they may have a small push spike aerator to rent for a low price. They may not be expensive to purchase, but again, renting means you don't have to store them or deal with keeping the spikes sharp. Renting a small lawn aerator locally may be all you need to grow healthier grass, depending on the size and condition of your yard. Plus, while you are there, you can shop for lovely fall plants to add to your porch decor or trees and bushes to enhance your landscape.