The Renovation Project Jeremiah Brent Wants You To Try To Avoid When Updating Your Home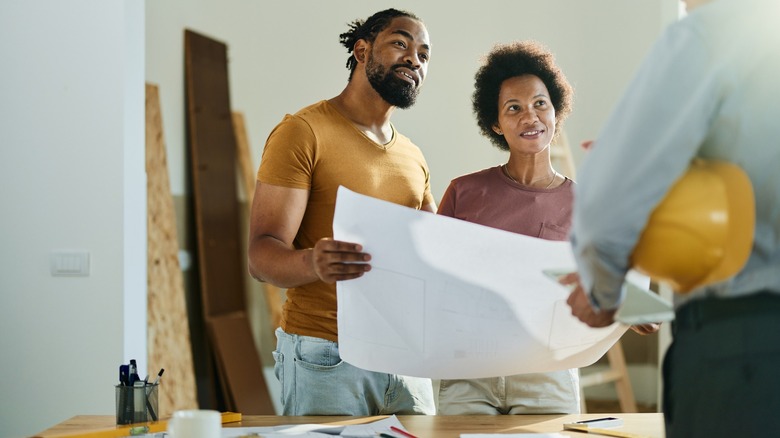 Skynesher/Getty
There are a lot of tips you can follow when renovating a historic home, but some of the most crucial wisdom for renovations is actually about what not to touch. Interior design expert Jeremiah Brent, co-host of TLC's "Nate & Jeremiah by Design," has a major no-touching rule for one element of old homes: the floors. Brent is a firm believer that historic floors are too unique to mess with and that you're much better off preserving them. "Beautiful, original floors are impossible to come by, so when you can, you should," Brent explained on TikTok. Brent noted that you can enhance the antique flooring by refinishing it or adjusting the color, but the floor itself should remain uncovered. 
Solid hardwood floors or ornate tiling often can't be replicated today, and for the instances where you can recreate a style, you'll likely be paying a pretty penny for the materials and skilled labor. If you're lucky enough to have an old home that still has its original flooring, stick to Brent's advice and hold onto it — those floors will be a major asset to both your home's value and your aesthetic enjoyment of the space. In fact, if you moved into an old house that already had updated floors, it might be worth it to take a peek underneath to check for original flooring that can be restored. With a little love, that old flooring may soon become a favorite part of your home.
Incorporating original floors in your home
Yinyang/Getty Images
You can refurbish antique flooring for both functionality and style's sake, all while preserving the authenticity and quality of the original craftsmanship. In most cases, an old home's original flooring will be solid hardwood floors. When you're trying to bring old hardwood floors back to life, there are several steps you can take, like buffing and polishing. But if the floor has too much wear and tear, restaining is an excellent choice — Jeremiah Brent tells Realtor.com that a professionally restained original hardwood floor looks much better than new flooring. Restaining can also be a great opportunity for you to change up the color tone of the wood to match your home's aesthetic by replacing any of that precious solid wood.
For original tile floors, your main focus will likely be cleaning. Having an antique tile floor is a special treat, and once you give the tile a deep clean, you'll get to enjoy a stunning display of colors, textures, and patterns. Just be sure to research the best cleaning method for your particular tiles since some antique tiles require special care, such as when cleaning a Victorian tiled floor. You may also need to have a few broken tiles fixed or replaced. If that's the case, look for a professional who has experience with old tilework. Original flooring is a beautiful feature, and when you take the time to preserve it, you can appreciate it for many years to come.