Unsellable Houses' Leslie Davis Has A Favorite Feature That'll Instantly Elevate Your Home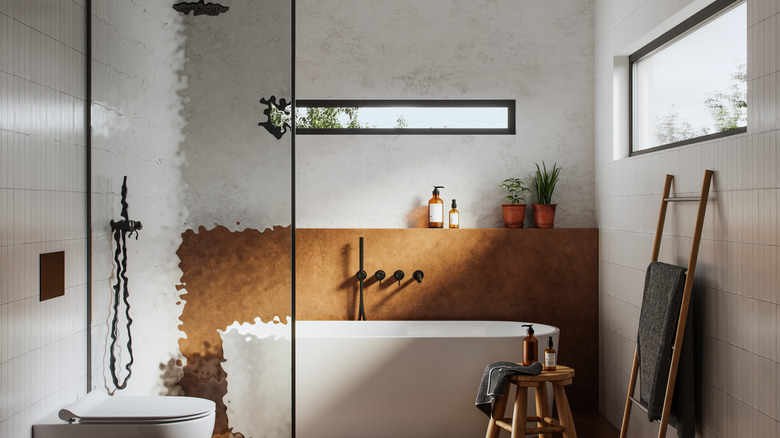 Alvarez/Getty Images
When it comes to investing in a home, many homeowners opt for bathroom and kitchen renovations. A bathroom renovation, on average, can see a return on investment between 37% and 67%. It's no wonder that a favorite feature of Leslie Davis from HGTV's "Unsellable Houses" is located in this room. The renovating guru has been "obsessed with wet rooms," according to a post on Instagram. The pair added one to their clients' primary bathroom and it "set...[the] house apart from any other home in the neighborhood." The stunning feature definitely elevates a standard bathroom to one that's much more luxurious.
A wet room is an open space where the shower floor is on the same level as the rest of the bathroom. The floors in the shower area are often slightly sloped towards a drain, allowing water to flow into the drain without getting into the rest of the bathroom. The shower section also often has a pane of stationary glass to prevent splashing. Some wet rooms have freestanding tubs, but this isn't necessary. Modern and sleek, these spaces instantly draw attention. And, having one in your primary bathroom will instantly transform it, giving it an elevated look and feel.
Why opt for a wet room
Beyond looking aesthetically stunning, wet rooms do offer plenty of benefits. It's a great option to make your bathroom more accessible because the shower is on the same level as the rest of the bathroom. This makes it easy for anyone in a wheelchair or with mobility needs to bathe without having to step over a threshold. In order to enhance the safety in a wet room, you can opt for non-slip tiles that will prevent accidents when in the shower.
Though they look like large, open features, wet rooms don't actually require much room, making them a great option if you're trying to save space in your bathroom. They don't require fittings and fixtures that can take up precious square footage and don't require a large enclosure. Plus, these are customizable and can be installed in otherwise awkward spaces, such as bathrooms with sloped or low ceilings or oddly shaped layouts.
One of the greatest benefits is that it can increase your home's value. Davis mentions in her Instagram post that this bathroom was one of the most expensive in the show's history, but the renovation paid off. Plus, many homeowners see a return on investment of between 56% and 70% after installing wet rooms.
Designing a wet room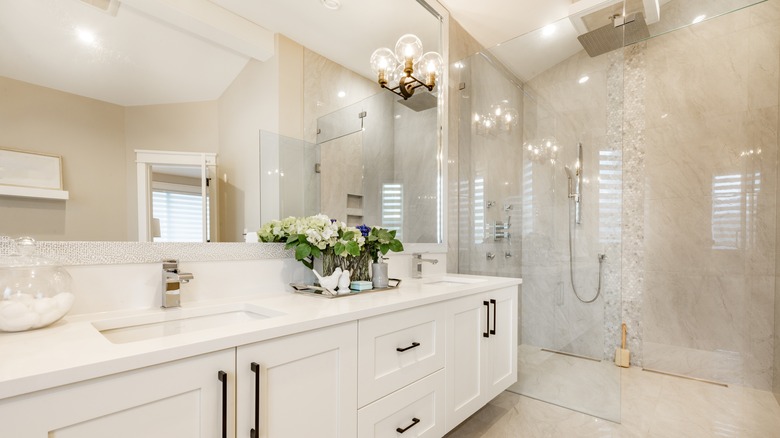 Sheila Say/Shutterstock
Wet rooms are highly customizable, allowing them to fit into any home's style. The one from "Unsellable Houses" features two types of tile. Larger, tan rectangular tiles on the walls and smaller, black, wavy square tiles on the floor. When it comes to the flooring in your wet room, you can choose any kind of tile or slab, but the most important aspect is the grip the material has. Opt for ceramic, natural stone, and porcelain, all of which have some grip underfoot. You can also look for tile that has some texture to add a bit more traction to the shower base.
As with any bathroom, ventilation is important. Without it, you can lead to a buildup of moisture that can lead to mold and mildew. You want to use windows and exhaust fans to help remove the humidity and moisture from the room. However, you may want to avoid putting a window directly in the shower area of the wet room to avoid water collecting on the sill.
Finally, you want to consider the placement of the shower head. Wall-mounted showers can send water around the bathroom, creating puddles and excess humidity even with slanted floors. Pair a wall-mounted shower with a glass screen to keep puddles from forming around the room. Or opt for a ceiling-mounted rain showerhead that allows the water to flow straight down. Still, a glass partition can help keep water contained.