TikTok Is In Love With This Flowering IKEA Stool Hack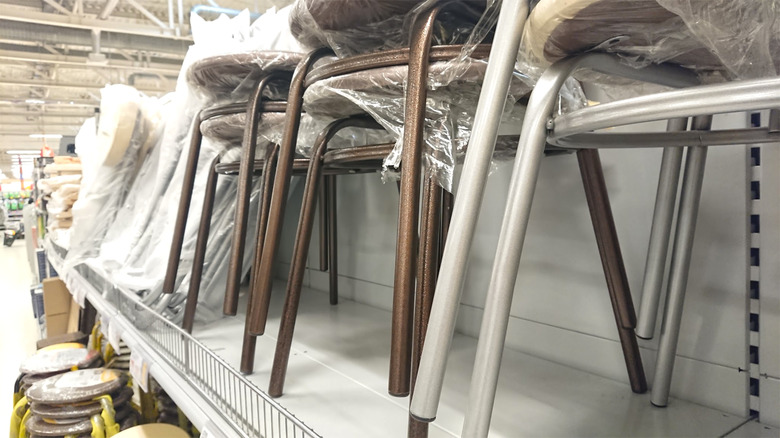 Photo-collection/Shutterstock
Truly distinctive and original furniture pieces are often tough to find, especially when looking for budget-friendly options that are both beautiful and durable. Even small stools and tables can be expensive if they boast details like high-quality materials, hand painting, or original artwork. TikTok user @ystreetstudio recently showed off an amazing hack that will help you create a cool and creative stool or small side table with a botanical flair using only an inexpensive IKEA base and some scrap wood. The result is a gorgeous floral stool that looks much more expensive than its budget-friendly price tag.
Using the $6 MARIUS stool's steel base, acrylic paint, and some wood cut in the shape of a flower, @ystreetstudio creates a beautiful piece of truly original and customized decor. It's perfect as a seat, a small side table, or a piece of outdoor decor for potted plants or entertaining. It also makes an adorable tea party table for a nursery or child's room.
Creating an original botanical stool
To create one yourself, begin by assembling the base of the MARIUS stool without adding the top piece. Instead, cut a flower shape out of a piece of scrap wood using a jigsaw or scroll saw. You can plan out your design on paper beforehand or freehand it organically, creating the outline of the flower you want for the stool. Afterward, make sure to sand down any ragged edges. Once you have the piece for the seat of the stool, begin painting your design. @ystreetdesign chose a petunia, but any favorite bloom that is circular in shape can work. A great way to get ideas and plot your design is to look up photos of 2-D illustrations of popular flowers.
Where and how you will use your stool will determine the materials. Acrylic paint covered with a coat of Mod Podge will work for more decorative uses, while you may want a more hearty, waterproof, and wear-proof glaze like polyurethane for a stool that will get high use or be out in the elements. When your flower is finished, screw the piece into the existing steel base, and voila!