What You Need To Know Before Installing Melamine Kitchen Cabinets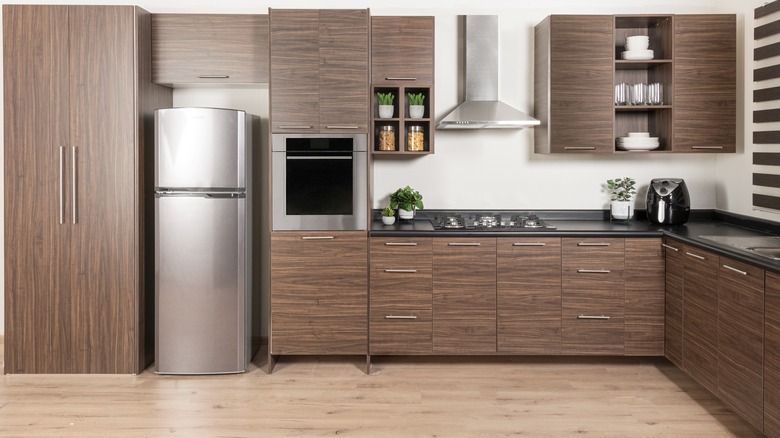 Danielcc/Shutterstock
Kitchen cabinets strongly influence the look and feel of your cooking space. So, if you're thinking of installing melamine kitchen cabinets, you must understand what they're composed of and the associated advantages and disadvantages before finalizing. Melamine wood is a fabricated laminate made up of crushed wood pieces thermally pressed between resin and paper. As such, it's heat- and moisture-resistant, incredibly durable, and budget-friendly.
The best part, though? It's available in a variety of colors and finishes. These features combined together often tick off several items on a kitchen remodel list, making these cabinets a popular choice among homeowners. However, they're not without their fair share of limitations, such as their weight. Melamine laminate can be quite heavy, and you'll have to invest in sturdy hinges and glides if you don't want it to damage the supporting hardware. Moreover, it should be installed by a professional, or it can get chipped, exposing the underlying wooden layer to moisture.
Advantages of melamine kitchen cabinets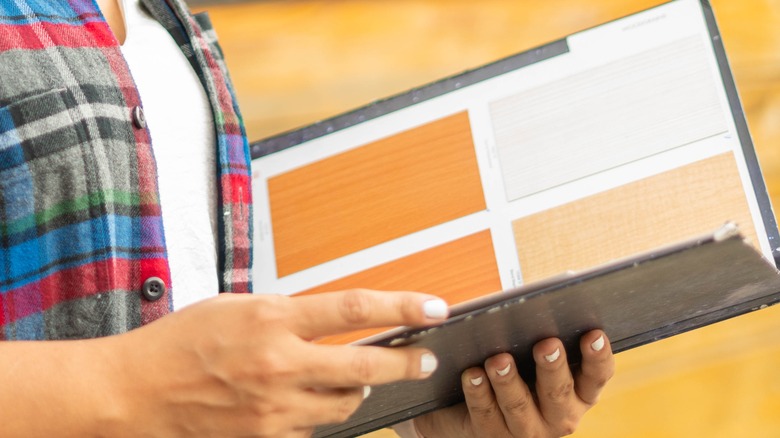 3waycolor/Shutterstock
There are several reasons why melamine is a solid material for kitchen cabinets. For starters, they can be tailor-made to fit your cooking space's aesthetic and style thanks to how customizable they are. They can even mimic the grain pattern and natural stain of wood. Moreover, the outer coating and the solid core make them durable and resistant to heat, humidity, and dirt. Better yet, it's effortless to clean stubborn stains off this material, helping you maintain and clean your kitchen cabinets without considerable elbow grease.
Melamine also mimics the look of high-quality wood cabinets but without the high price tag. While they can be customized to suit your preferences and match organic wood in appearance, they cost considerably less, allowing you to install new kitchen cabinets without throwing your budget in disarray. Further, they're carefully engineered following best practices, resulting in a beautifully manufactured piece with a uniform finish. 
Disadvantages of melamine kitchen cabinets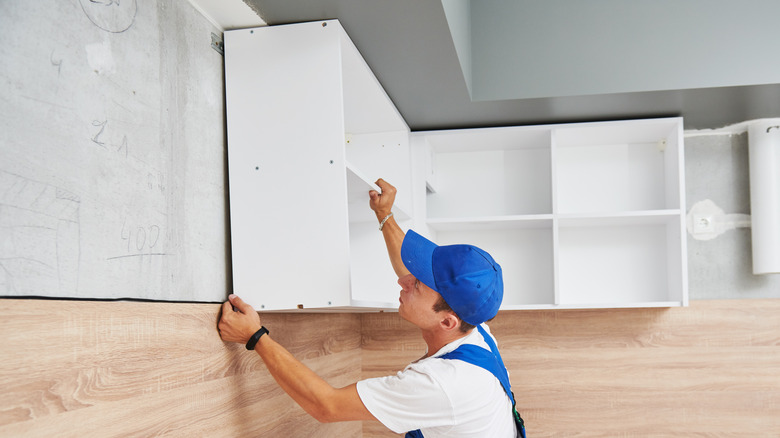 Dmitry Kalinovsky/Shutterstock
Though there are some compelling reasons why you should say yes to melamine kitchen cabinets, it's essential to look at the flip side to get a complete picture. As mentioned, they're relatively heavy and require sturdy brackets that can support their weight. Moreover, they're not DIY-friendly and should be professionally installed to avoid unwarranted damage to the material from nails and screws. Even though the resin coating makes them extremely durable and allows them to withstand regular wear and tear, they can chip or peel at the corners — and they can't be sanded and stained like wood.
Further, chipping can expose the wooden core to heat and moisture, making them susceptible to damage. Similarly, they shouldn't be installed close to a water source since they absorb water more readily than wood and can swell and warp. They might also develop mold and mildew over time and lose their inherent strength, making it difficult to shut the cabinet doors completely.