What You Need To Know About Installing Kitchen Cabinets, According To An Expert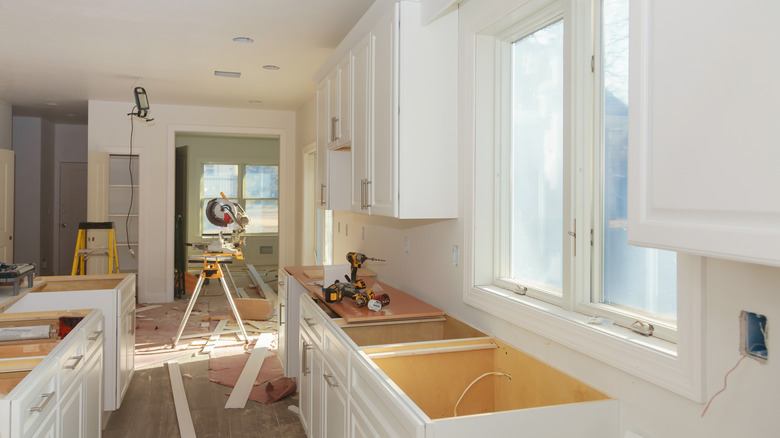 Photovs/Getty Images
Kitchen cabinets are a favorite point of focus for homeowners in the midst of a renovation. Visionary Cabinetry & Design notes that new cabinets not only improve the property's resale value but also make the kitchen a more functional and rewarding space for the homeowner. Kitchens can easily feel cramped if there isn't enough storage space in the cabinetry, and old designs or cracking paint can impart a similar drabness.
In an exclusive interview with House Digest, Jeff Palla, the president of Mr. Handyman, a Neighborly company, offered his expertise in cabinet installation. "Kitchen cabinet installation isn't something you should gamble with and do yourself if you're not properly trained; Mr. Handyman recommends hiring a professional for proper sizing and installation," he says.
The potential for a botch job is immense if you opt to DIY the kitchen cabinet fitting process. "Your professional handyman will first begin by getting accurate measurements using their many years of experience," Palla notes. "We do not recommend putting all of your trust into a tape measurer as any inaccuracies could jeopardize the entire project and cost you additional money in the long run." The process features a dizzying amount of measurement and leveling to ensure a snug, flush, and flat fit for each piece that will be installed. This includes the floor units and those that must be held up while completing the installation procedure.
Refacing may be an option for you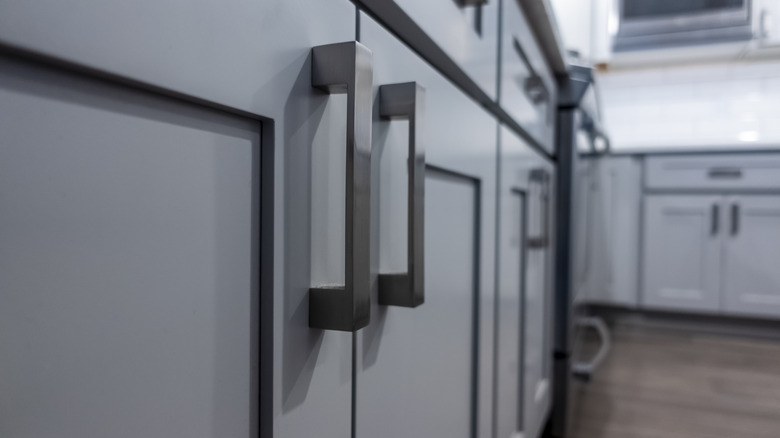 Colleen Michaels/Getty Images
Perhaps surprisingly, when you decide to tackle a cabinet installation project, you actually have many options for completing the job. "You first need to decide between replacing and refacing your cabinets," Palla says. Understanding your choices before ripping anything out is critical to getting the job done right.
Replacing cabinets entirely is the go-to option if you are searching for an entirely new kitchen framework. This may be beneficial for homeowners who've recently added in-laws to the home or welcomed a new child and suddenly need far more storage and organizational space. "Replacement involves removing all existing cabinets. Meaning, everything comes out, allowing you to redesign the storage in your kitchen to allow for more organizational space and visibility. The second option is refacing. With refacing, you use the existing boxes for your cabinetry but create updates to the fronts, finish and hardware of all cabinets," Palla continues. Refacing is often an underappreciated choice that many homeowners don't even know exists. "This option costs less money than replacement and serves more as a makeover than the partial remodel. It still has tremendous benefits and impacts the appearance of the room. Refacing is the option for you if you are pleased with the layout and number of your kitchen cabinets."
How the professionals do it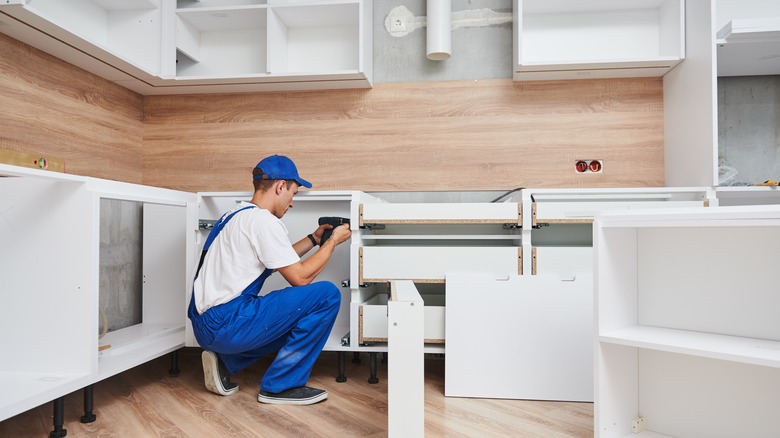 Dmitry Kalinovsky/Shutterstock
Be cautious that professionals can add a snag to the installation of new cabinets, particularly during the delivery. Pallas notes, "Kitchen cabinet installation begins by inspecting your cabinets once they get delivered. Make sure all of the parts are present and that there's no damage to any of the pieces." Cabinet boxes are generally delivered as completed units. Therefore they are more susceptible to damage than the doors or hardware. Starting an installation with furnishings that are in excellent condition will help the rest of the process flow smoothly.
"After inspection," he says, the job moves on to the functional elements of the fitting. "You will locate high spots on the floor where your cabinets will be installed. This step is key to proper installation success since you want your cabinets leveled and flat. After finding the high points, mark the tops of the base cabinets and then mark the bottom of the wall cabinets." The floors and ceilings in your home aren't necessarily level, so you should assume that minor adjustments will need to be made to fit each cabinet box flush against the walls, neighboring cabinets, and the floor or ceiling. Then, "You will need a stud finder for the next step to locate wall studs, this is where your cabinets should be mounted. Once located, select your hardware and begin the mounting process," he says.