Even The Worst Food-Stained Kitchen Chairs Are No Problem For This Cheap Cleaner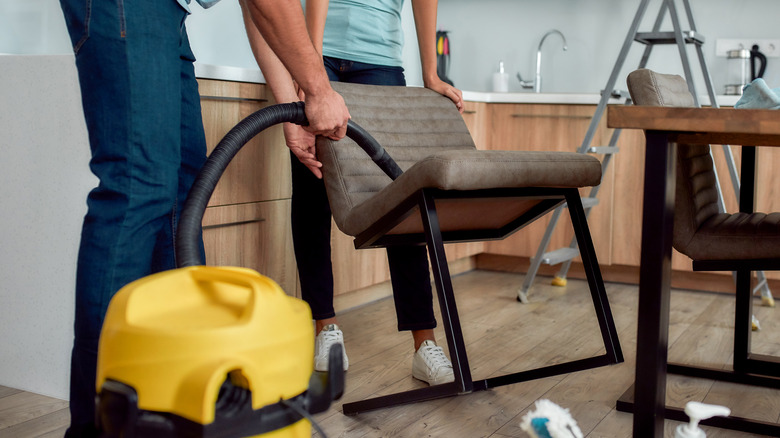 Lanastock/Getty Images
We may receive a commission on purchases made from links.
Cleaning upholstery on chairs can be tricky, especially if the stains are particularly tough to deal with. Thankfully, you don't have to spend a fortune to clean off the dirt and grime. Using a bar of Fels-Naptha laundry soap, you can transform your chairs from rags to riches, as shown by @hisdaughter_002 on TikTok. Of course, this is great news if you're on a budget and don't want to spend a significant amount getting them professionally cleaned, which can be pricey. This technique is especially helpful if you want to clean several items simultaneously. Thankfully, the steps are also incredibly straightforward, so you won't run the risk of ruining your upholstery.
If you often find yourself in a mess, then this could be the perfect long-term solution for a quick clean. In fact, you can use it on any upholstery in your home — all you'll need is a few simple items to get the job done.
Arm yourself with Fels-Naptha laundry soap
In order to clean your chairs, you'll need some Fels-Naptha laundry soap, the dirty chairs in question, some hot water, a tire scrubber, and a wet vac, like the Bissel Spotclean Pet device. You can always buy the soap in bulk if you wish, but one should be sufficient for the job at hand. To prep, all you need to do is get yourself some hot water for your cleaning device and some more hot water to put in a bowl. Now, you can dip your scrubber device into the bowl of water and rub it generously over your upholstery so it gets a nice coating. Make sure that you're covering any marks that you want to remove. Put one side of your laundry soap in the water and rub it on the upholstery. Then, work it in with your brush, ensuring that it's all lathered up so you get an even coating. If you feel as though it's not lathering, simply try adding some more soap and water.
Now for the most important part. To achieve a dazzling finish, turn on your wet vac and run it over your chair upholstery, cleaning up any soap suds. One pass-over should do the trick, but if the stain isn't gone, you can repeat the process until you feel satisfied with the results. Now, you should be left with chairs that look sparkling clean — you'd never even guess what they looked like before.
Things to consider before trying this technique
The reason this trick works so well is the marriage between the Fels-Naptha and the wet vac. Fels-Naptha is a tried and true stain remover that's been used in households for well over a hundred years, while the wet vac's suction power helps to lift the stains out of the upholstery. In order to get the most out of this technique, however, you need to apply a sufficient amount of soap to your chairs. Before starting, you should bear in mind the severity of the stain and consider that it may not work on all types of fabric. If you find that it doesn't work as well as it should, you may need to try a substitute stain remover. 
Additionally, you may want to test the remedy out on a small section of your upholstery before diving in. After all, you don't want to end up damaging your chairs. In addition, make sure they are thoroughly dry before you use them again — letting them air out outside should help.