We Used A Pool Noodle To Save Our Windowsills From Pet Damage And Unleashed A Great Outcome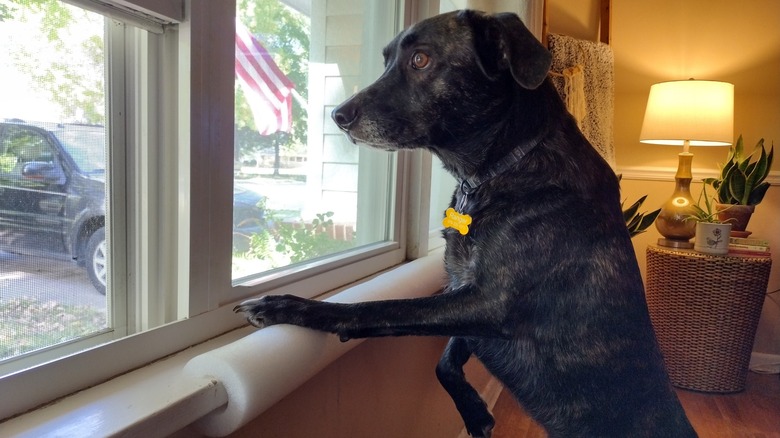 Tiffany Selvey/House Digest
We may receive a commission on purchases made from links.
Ranger is our guard dog, and he is a fierce protector. Our precious two-year-old pooch has saved us from countless outdoor cats, people walking their dogs, and, on a daily basis, the mail carrier. It's safe to say he is obsessed with what happens on our street, and that obsession is damaging our 70-year-old window trim. We had new windows installed in our 1950s home, so we need to repaint those windowsills. The problem is that our faithful guardian likes to prop himself up to see outside. 
While we work on training him to become less reactive to everything happening outside, we needed a way to preserve the paint around our windows. Since pool noodles have so many uses, we wanted to see if we could use one to protect our windowsills from pet damage. If so, we can paint now and then reinstall the pool noodles to protect their fresh finish. When he has reduced this reactive behavior, we can remove them. Before we got to work painting the trim around our 10-foot wide windows, we bought some pool noodles from Amazon to start our experiment.
Purchasing and preparing the pool noodles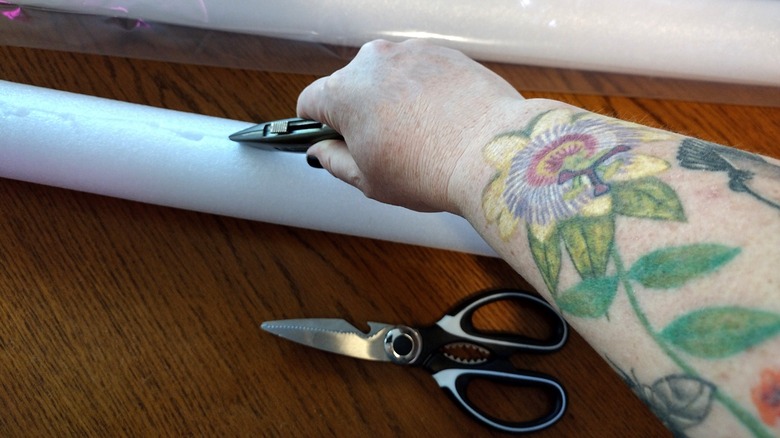 Tiffany Selvey/House Digest
Since we don't want our windows to look like the protective barriers on fast food play areas, we tried to find a color that would actually blend in with our home's neutral color palette. Everything at the local big box stores were bright shades of blue and red, but thankfully, Amazon came to the rescue with white pool noodles. We purchased the standard size so they wouldn't be obnoxiously thick. The set of five was about $23, and we already had the box cutter, so that was our entire cost for this project.
Preparing the pool noodles to install around our windows was pretty simple. We wanted to slice each item long ways to slide over the lip of our sills. We tried cutting with scissors first, but that was a little too arduous. A box cutter worked perfectly, giving us a straight-ish slice from one end to the other. These pool noodles aren't particularly dense foam, so a sharp blade moved through them almost as well as a hot knife through butter.
Installing pool noodles on our windowsills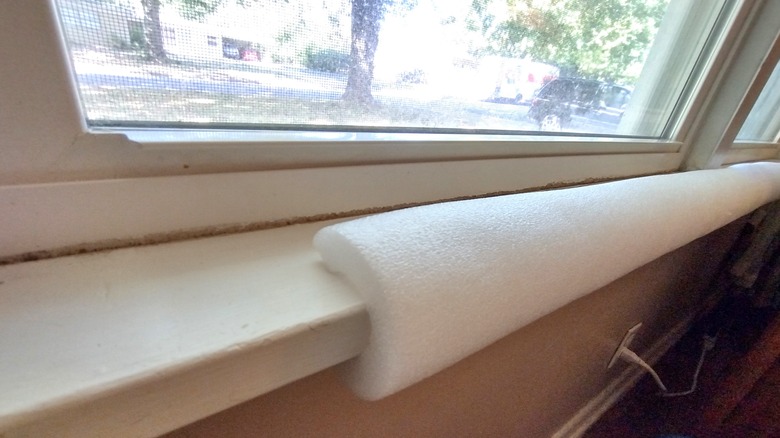 Tiffany Selvey/House Digest
Since the pool noodles are a temporary installation, we didn't use any glue or other adhesive. We hoped the tension of the pool noodle would keep it in place, even when Ranger goes wild over people walking up the street. We should note that our old house has deep windowsills. There are 2 inches between the edge of the sill and the wall behind it on the bottom, and they are about 4 inches deep on top.
We placed our white pool noodles over the sills of our dog's favorite two windows in the house: our office and the living room. These are the areas where he does the most damage because that's where we usually are, and he's right there providing guard dog duty. We simply spread the sliced part of the pool noodle wide enough to slip over the windowsills. They slid on smoothly. The time we spent preparing two noodles and installing them was only about 15 minutes, so this was a super quick and easy project.
Results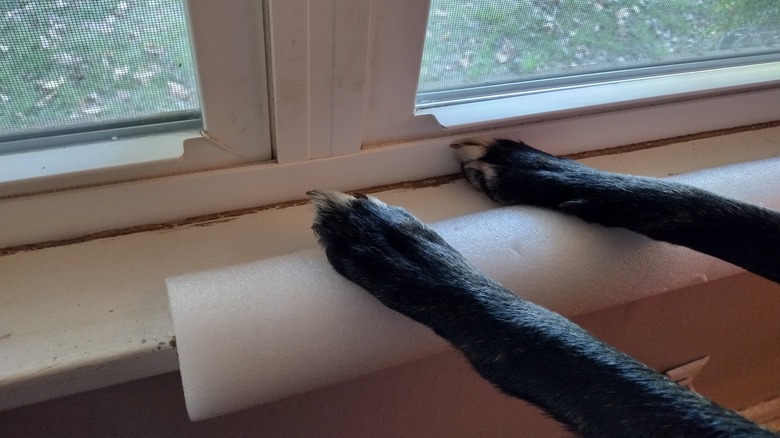 Tiffany Selvey/House Digest
We are really pleased with how well the pool noodles have stayed on our windowsills without any adhesive. Despite Ranger's wild moments, those tubes have not budged. We can also see the areas where his nails would have otherwise scratched the windowsills because there are spots where the foam has scratches and holes. This brings us to the only downside: installing thin pool noodles on a windowsill is a temporary solution. Of course, since the goal is to only have them on our windows while we train our dog, it's not a problem for us. We certainly do not want to spend the rest of our lives looking at foam pool noodles flanking our nice new windows.
Overall, this project was a huge success. For the price of less than $25, our windowsills are temporarily protected from claw damage done by our sweet, if slightly overwhelming, pup. A word of warning, though. If you have a dog that loves to destroy furniture or actually chews on walls and around windows, this will probably not work for you. But, if you just need to spare your woodwork while you train your dog not to jump, this was a frugal and effective solution for us.