Grab Your Drill To Carve An Epic Halloween Pumpkin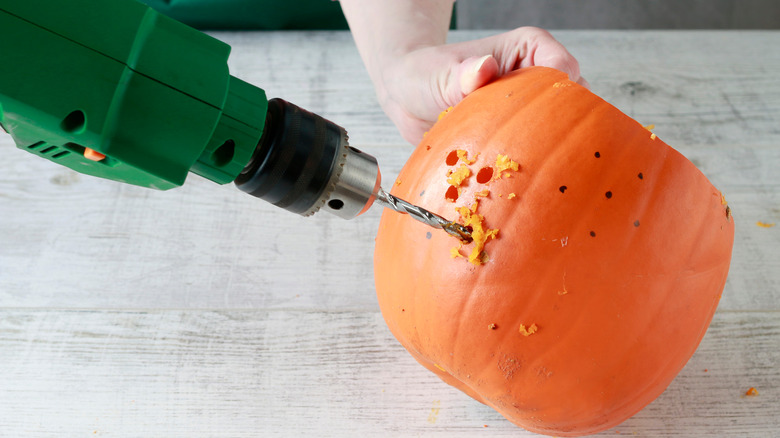 Agnes Kantaruk/Shutterstock
When the leaves change colors and the air takes on a cool but welcome bite, you know it's time to head to the pumpkin patch to find the perfect canvas for your Halloween décor. But the same old jack-o-lantern scowl can be a bit boring to recreate, with its signature toothy grin and triangle eyes. And by the time you've waded through all of the pumpkin guts and seeds, it can be overwhelming to think about carving an entire design with your kitchen knives. To avoid the additional labor while creating a beautiful design, you only need one tool: a hand drill. 
While a drill might not be ideal if you're planning on making a classic laughing jack-o-lantern, it's great for creating ornate patterns by drilling little holes around the pumpkin. Keep in mind that even though you're using the drill for a fun and easy craft, it is still a power tool and should be handled with as much care and caution as you would use for home improvement projects. Do not let children use the drill to decorate their own pumpkins. 
Get creative with your power tools
To get started, cut into and hollow out the inside of your pumpkin as usual. Then, it's time to decide on a pattern. You have a few options here; you can freehand your design, draw a pattern with a dry-erase marker, or write out a simple phrase like "Boo!" You can even trace a traditional jack-o-lantern image like a bat or ghost and just drill holes along the outline. For more intricate mandala designs, we recommend printing a pattern out, taping it to the pumpkin, and using toothpicks to mark where you're going to create holes with the drill. After you've marked out where you want to make holes, it's time to start drilling. Because you're working with a power tool, use any protective gear, such as gloves or goggles. 
Using your drill, press the bit into the pumpkin gently. Remember to lighten up on the pressure — your pumpkin is a much softer canvas than typical building materials. You can use the drill bit to carve out circles of varying sizes or use multiple drill bits to achieve different looks. Once you've drilled into the circles for your pattern, wipe down the pumpkin to remove any excess skin and splatters. Then place a candle inside, and just like that, you have a totally stunning and unique Halloween pumpkin — all without the tiresome work of carving and cutting.