Prep Your Room For Paint In Record Time With The New Gadget TikTok Is Blown Away By
Painting a room in your home can be a daunting — though totally worthwhile — task. In fact, there's a fair share of work to be done before you even pick up a paintbrush. That includes potentially moving furniture, putting tarps down to cover your floors, and prepping your walls for painting. When it comes to the latter step, you may want to ensure that you're choosing the right kind of painter's tape and putting it up properly so that it protects the trim and windows. Although this can take quite a while if you do it the old-fashioned way, there happens to be a new gadget that's popped up on TikTok and has seriously blown people away with how awesome it is in an epic time-saving way.
Shared by social media user @moosepainting, the video shows the pro using 3M Hand-Masker Painter's Tape and Masking Film Dispenser. While it kind of looks like a paint roller with an attachment to hold to keep it steady, the item also has a roll of tape attached to it. After easily rolling out the tape, there's a blade that can be used to cut the length to the perfect size. When the tape is sealed firmly, a section of pre-attached masking plastic is pulled down from the tape to cover the window below. Finally, more tape is applied to the three remaining edges of the plastic and that's it! That is, other than a few key steps.
How to use 3M Painter's Tape and Masking Film Dispenser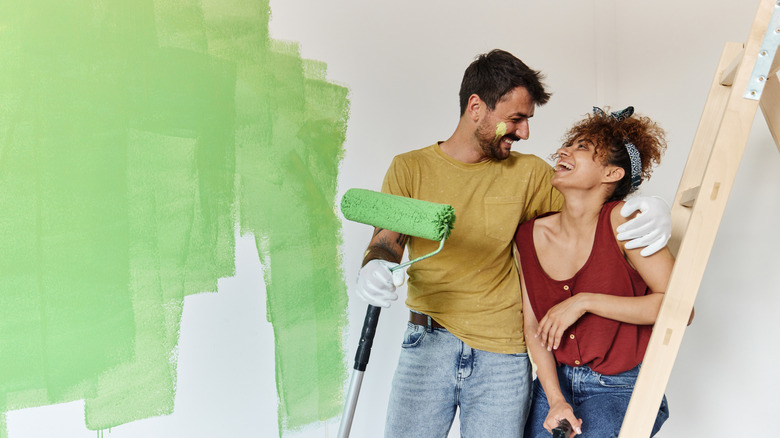 Skynesher/Getty Images
If you like the idea of using the 3M Painter's Tape and Masking Film Dispenser, then we can fill you in on a few tips that may make it your new favorite gadget. First, when you prep the piece, be sure to take care when putting the tape in place beneath both the black and yellow tabs (this will keep it secure and on track). You can also choose between different tape sizes and set the gadget to the appropriate setting before you get started.
When you're ready to apply the tape, make sure that you use a touch more than necessary and ensure that the tape is tight so that you can use the blade to cut a clean line before you remove the unneeded remainder. When the tape is secure, release the plastic and unfold it until it covers whatever you want to protect. If necessary, add more above, below, or beside the first piece of plastic masking in order to create a full protective barrier. Once you've tackled all spots that need some TLC, then you'll be ready to paint.
"It's a game changer. I always use one," one person wrote in the TikTok video's comments, assuring others that this tool is worth picking up and trying out. Another obvious fan of the product also added their opinion, writing, "I use it as an industrial painter! Saves so much time and my back!!"