Give Your Home A Touch Of Old World Charm With The Unique Fixtures Jenn Todryk Loves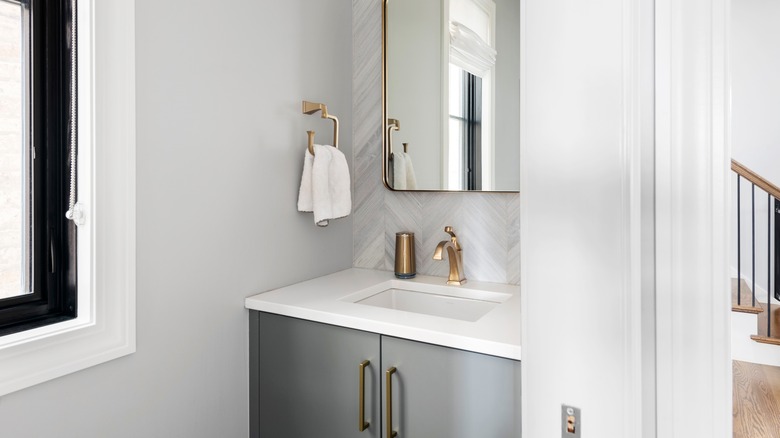 Fio Creative/Shutterstock
Jenn Todryk is known for her stylish but accessible style and remodels on her HGTV show "No Demo Reno." She recently remodeled the better part of a home for a couple that included small but impactful changes that don't require major demo or rebuilding. The home's bathroom, which was outfitted with dreamy blue-green tile in the shower and dark wood cabinetry also featured a fixture that Todryk says she enjoys in her own home – unlaquered brass drawer pulls. While usually inexpensive to purchase, these pulls lend an enduring and classic sense of age and patina to any room. 
The pulls, which boast an unlaquered finish, are a perfect way to add an antiqued feel even to newer cabinets. When combined with the rich dark cabinetry and drawers in this particular bathroom, they evoke a century-old feel that meshes well with Todryk's other elements in the home. Todryk tells Realtor.com that over time, with moisture and touch,  the finish  "naturally starts to oxidize," which "gives it a lot of character," she says."  The pulls, which have a decidedly Victorian feel already, grow even more beautiful as they age.
The allure of unlaquered brass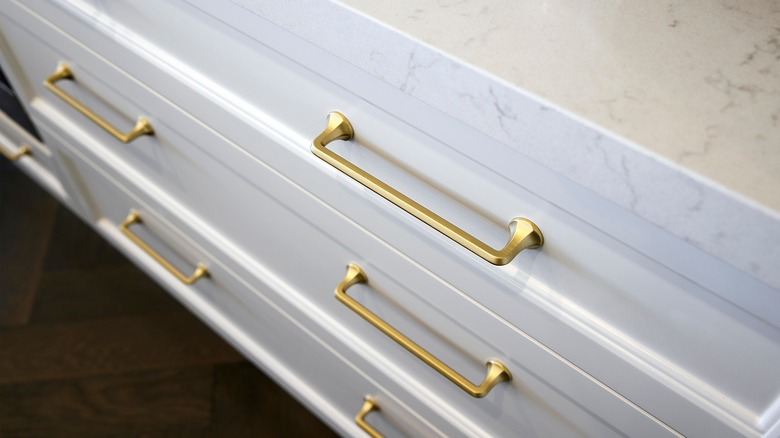 PhotoMavenStock/Shutterstock
Brass drawer hardware like Jenn Todryk's comes in a variety of designs at various price points, from more antique-inspired designs with a lot of curves and intricate carving to more streamlined classic designs in the same material.  An inexpensive finish, it's a great way to instantly transform your cabinetry on a budget even without changing anything else. No matter the style and age of your cabinets, this material on pulls and handles instantly elevates the look far more than silver or basic black, making even the plainest and most austere modern cabinets look stunning by combining a sense of old and new.
Try pairing your brass pulls with other fixtures for a streamlined and pulled-together look, such as echoing the material through plumbing accents and lighting fixtures. As a material, the unlacquered brass adds an interesting layer of both metallic color and texture that is great in rooms that are more minimal or neutral-driven. The brass pulls work equally well in both streamlined modern bathrooms or kitchens, as well as the more rustic styles of cottage and farmhouse decor. They also are great used in other rooms on pieces such as cabinets, armoires, and desk drawers.