Decorate Your Pumpkin Without Any Carving With This DIY From Unsellable Houses' Leslie Davis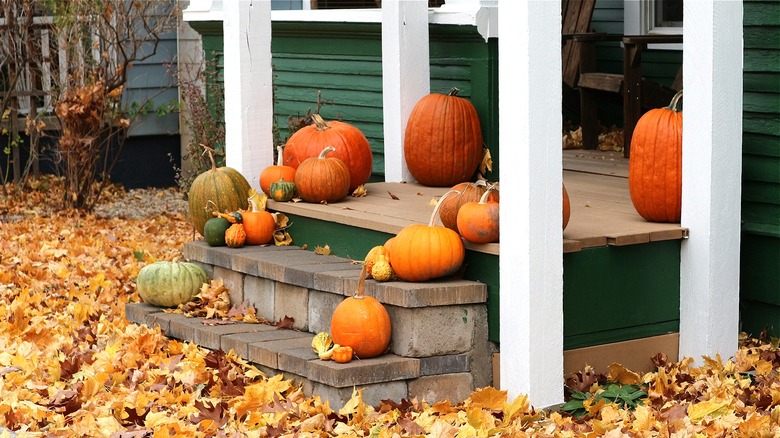 Leif Ryman/Shutterstock
Pumpkin carving is a fun-filled tradition for both Halloween and the fall; however, you don't always have to carve pumpkins to join in on the seasonal spirit. Just ask host Leslie Davis from HGTV's "Unsellable Houses." Davis doesn't only know how to transform a home, she also knows how to transform a pumpkin. Her easy, no-carve decoration ideas use construction paper, stencils, paint, scissors, and hot glue — no carving required.
Uncarved pumpkins can keep fresh between 10 to 12 weeks, which means you can decorate them earlier and leave them up to display for much longer. This seems to have been a factor in Davis' no-carve ideas. On the Lamb & Co. blog, she asked, "Am I the only one who loves the look of having decorated pumpkins on the front porch but hates how quickly they go bad on the front porch?" Further, decorating pumpkins without carving can also be a good, safe DIY option for younger kids.
Get a little batty with this creative pumpkin DIY
The supplies you need for Leslie Davis' no-carve pumpkin decoration are easy to gather, and, as Davis says, you may already have some of them in your home. First, of course, you'll need a pumpkin. To replicate Davis' flying-bats design, you may want to opt for a white pumpkin, too, to serve as the moon. But, any color will prove festive and work just as well. In fact, you can also paint the pumpkin to give yourself a custom color. If pumpkin painting, acrylic paint is the best option because it dries quickly and cleans up easily.
You'll also need black construction paper or poster board, scissors, and a hot glue gun. Finally, you'll need bat silhouettes of different sizes to trace. Make sure they look like they're in flight. You can print bat clip art out or find bat stencils at a craft store. You could also try drawing them freehand.
Once you've gathered your supplies, trace the bat silhouettes onto the construction paper or poster board, then cut them out. Next, simply place them onto your pumpkin. Davis suggests placing the smaller bats at the bottom of the pumpkin and the larger ones at the top to make a dimensional illusion. To make them look like they're in flight, Davis says to fold the bat wings away from their center.
Skip the carving and go straight into decorating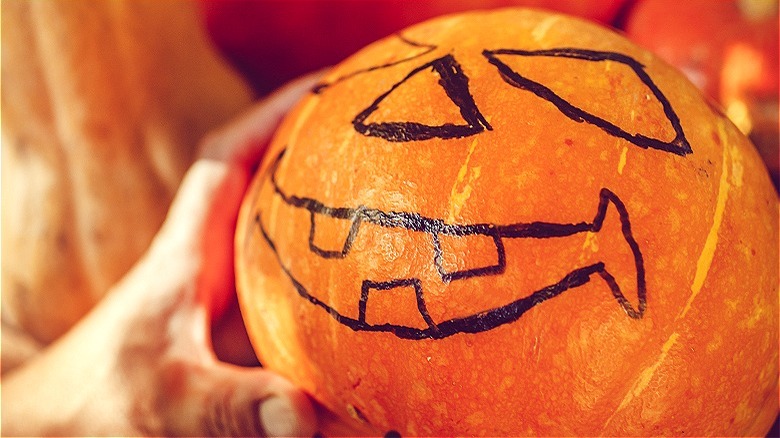 Artmarie/Getty
A pumpkin with spooky, flying bats isn't Leslie Davis' only no-carve pumpkin idea. On Lamb & Co.'s blog, she offers three more ideas that require similar supplies and are easily made for kids or adults. A simple option that requires only paint is a candy corn pumpkin (seen above in slide 2). This one uses white and yellow paint on an orange pumpkin to create the iconic Halloween treat. To make your own, paint a band of white on top, a band of yellow on the bottom, and leave the center orange.
Another decorating idea is to wrap and glue a white pumpkin with gauze and add on two googly eyes to make a mummy pumpkin. And the third idea for a painted pumpkin is to make a play on the classic jack-o'-lantern. To do so, first, paint a pumpkin a solid color like black and then add a face.
Before painting your pumpkin, ensure it's clean by wiping away dirt and debris. Use a soft cloth to avoid scratching, and make sure it's dry if you use water. Though optional, you can use a base primer to create a smoother surface to paint, and once the primer is dry, you can paint your design. After your design is finished and completely dry, you can apply another clear top coat to seal the paint in. This can help prevent scratches and keep the colors lasting longer.