Unsellable Houses' Leslie Davis On Pros That Will Pay For Themselves When Selling Your Home - Exclusive
Getting a home to sell can be surprisingly difficult and expensive, especially when the house itself needs a few repairs or updates. If you've ever decided to take the risk, pick up the hammer, and renovate a home on your own, you may have realized halfway through that the project wasn't going as smoothly as you'd hoped. Or perhaps you got lucky and everything turned out just fine! But according to Leslie Davis, co-star on HGTV's hit series "Unsellable Houses," you could be making a mistake by trying to do everything yourself. 
In an exclusive interview with House Digest, Davis offered some of her best advice for helping a house get more positive attention from potential buyers. While she and her sister often perform DIY fixes on "Unsellable Houses," one of Davis' biggest tips is to know your limits when it comes to improvement projects. "Not trying to bite off more than you are able to chew is so important," she said, "because in the end, you're going to end up having to bring somebody in [to fix it], and that's going to cost you more in the long run." In particular, she feels two essential aspects of selling a renovated home are best left to the professionals: flooring renovations and listing photos.  
Tread carefully when it comes to flooring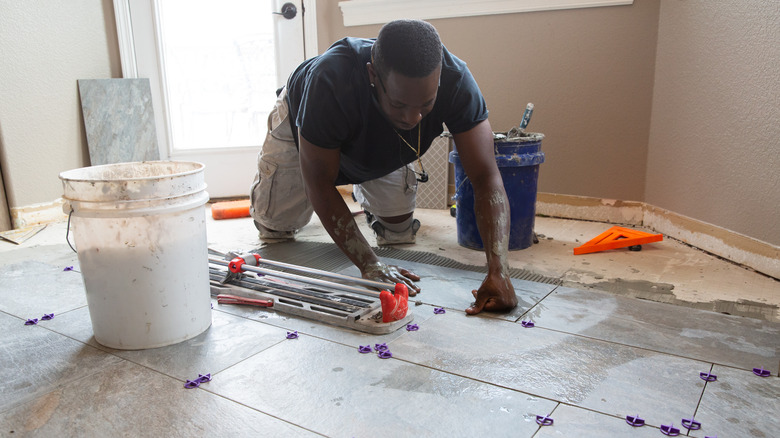 Andrea Kessler/Getty Images
In "Unsellable Houses," Leslie Davis and her sister, Lyndsay Lamb, often have to think creatively to renovate homes and stay within their budget. DIYs are a huge part of that cash-saving creativity. Landscaping, painting, wallpapering, and millwork are some of the changes Davis believes can be done by first-time homebuyers, but there are some more expensive and permanent renovations that she says you won't want to repair later. "Do the things that you are comfortable with and that you feel like you are capable of, but leave the items that need to be done by a professional to a professional, because you will end up having to redo them," she advised. 
This philosophy could extend to anything you're not totally comfortable with, but Davis warns fans about flooring, in particular. "Although that is going to cost you money, you need to make sure that you leave the tiling for a tile setter or the install of hardwood floors for a floor layer," she explained. The national average cost for flooring renovation and installation is around $7 per square foot. To avoid paying this hefty price twice, it's better to choose a reputable flooring professional instead of sticking the floor down by yourself.
A professional photographer is completely worth it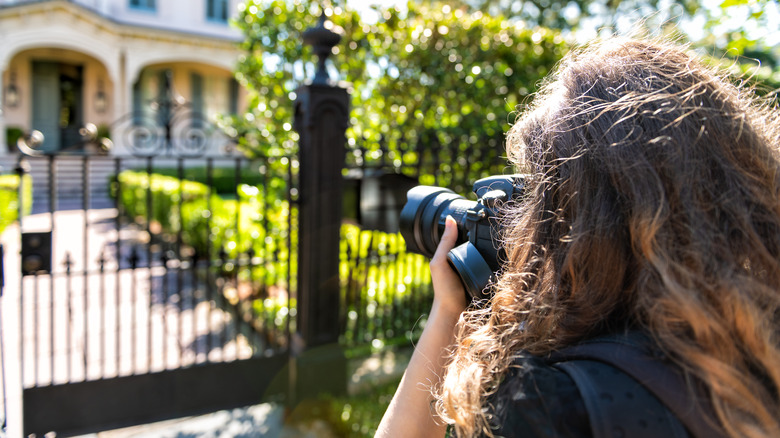 Andriy Blokhin/Shutterstock
Who's the other most important person to have on the scene when selling a home? A professional photographer, according to Leslie Davis. While capturing photos of your home may seem doable enough on your own, there's something about a glossy, professional, balanced photo that motivates buyers to take a closer look. "You have one shot to make a first impression on a buyer," she said. "Buyers make their opinion of your home in the first couple of seconds of viewing that initial picture that they see, and we have to capture them immediately."
An average real estate photographer may cost around $170-$230 total, but Davis explained that's a small price to pay in exchange for a successful, fast-moving sale. "Hiring a professional photographer absolutely pays for itself. Even though we have these amazing phones that have great cameras, they still are not capable of getting the angles, getting the multiple levels of exposure, and editing your pictures the way that a professional can."
A professional photographer can also do more than just point the camera; they can also stage your home like a professional so it looks great in photos. "It's really important not to rush the staging or photo-taking process," Davis concluded. "Take your time and make sure that you do it right because that first impression is everything."

Season 4 of "Unsellable Houses" premiered Sunday, September 10 at 8 p.m. ET/PT on HGTV. New episodes will be available to stream the same day on Max and HGTV GO.