The Pumpkin Varieties For Your Garden That Are Best For Carving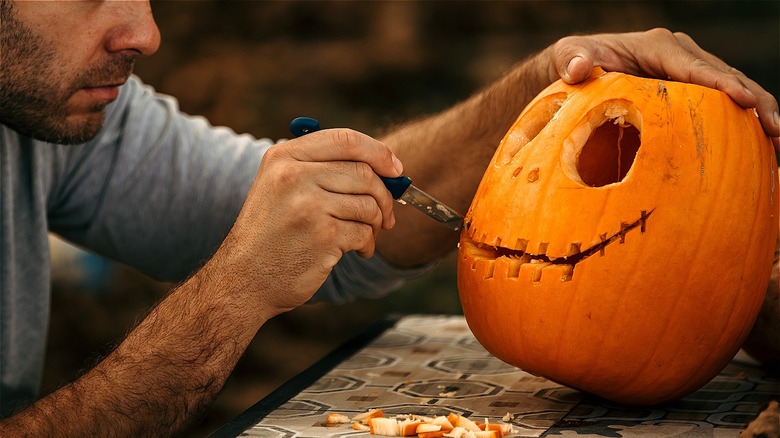 Studio4/Getty Images
Orange pumpkins are a common sight every fall, overflowing from the stalls of country markets, crates filled with hay at a favorite grocery store, and, of course, outside in your own garden patch. From there, this popular winter squash makes its way into homes, where people often take the most interesting ones to try out new and creative carving ideas for Halloween. While you can technically carve any pumpkin into a jack-o'-lantern, some varieties lend themselves to the task more than others, either by virtue of size, skin texture, or color.
Since farmers and grocery stores like to concentrate on one of two varieties like Captain Jack or Jack-O'-Lantern pumpkins, which offer desirable qualities like shallower ridges, rich color, and less flesh and seeds inside that make carving easier, there are a number of other pumpkin varieties that offer their own benefits in terms of beauty and interest. If you're looking to grow your own pumpkins from seed in your garden, there are several other options with similar growing seasons (around 105 days) but offer a bit of variation and greater license for designing your perfectly carved pumpkin come Halloween.
Orange pumpkin varieties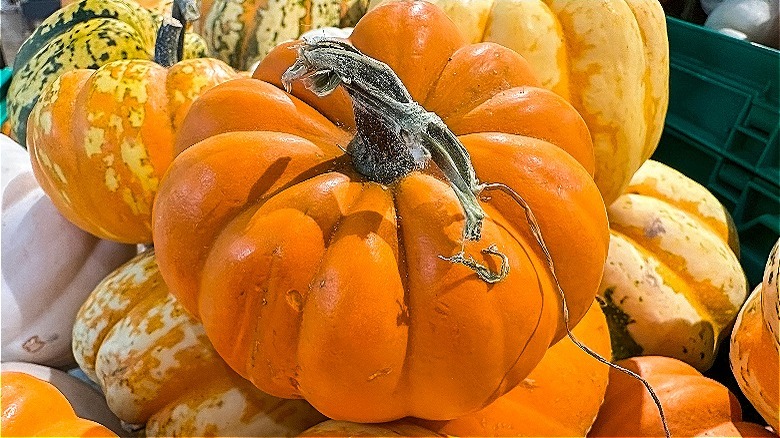 Evrim.Funda/Shutterstock
While the ribs of many store-bought pumpkins are shallower and the outer skin smoother, certain pumpkin varieties like heirloom Ol' Zeb pumpkins and Howden pumpkins have a greater sense of texture and deeper ridges that can be beautiful even when uncarved and used for decoration. They both boast a deep rich, bright orange. If you're looking for a taller pumpkin for carving, however, try growing the Harvest Jack, which is more oblong in shape, offering greater vertical space for your design.
Montana Jacks, meanwhile, which are a squatter, rounder variety topping out at 15 pounds, are particularly great for shorter growing seasons or late plantings. Unlike most of the above varieties that require a late May or early June seeding, Montana Jacks can be planted in your garden as late as mid-July and still be ready in time for Halloween. They work great for pumpkin carving parties and classroom activities where other varieties may be too large to store or handle.
White or cream pumpkin varieties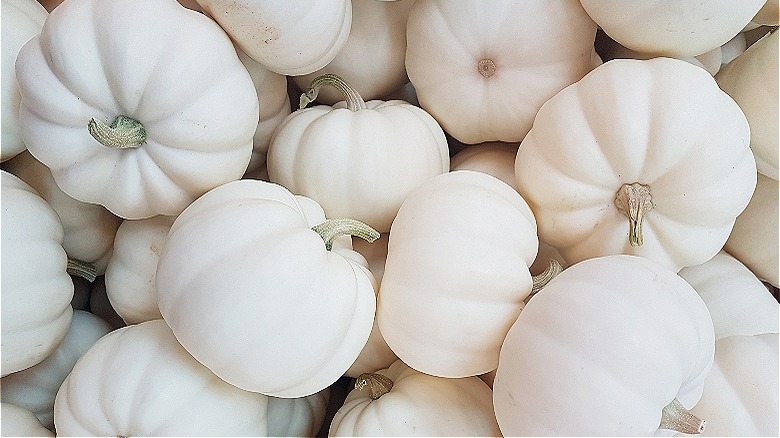 Momo5287/Getty Images
While the classic jack-o'-lantern is usually orange, you may want to consider a pumpkin variety from paler options that have grown in popularity in recent years. With such pumpkins in your garden, you can mix up the expected Halloween colors, particularly if you desire a more neutral palette for decorating. New Moon hybrid pumpkins, for example, which require a slightly longer growing season of 110 days and can get as large as 45 pounds, are a great option for carving your design into its alpine white flesh.
For a slightly smaller pumpkin variety that ranges from 12 to 15 pounds, the appropriately named Casper pumpkin is even whiter and brighter with albino white skin. This provides a good surface for carving ghost faces in lieu of the traditional jack-o'-lantern or for use in black light displays, where the white will cast an eery glow. This seed takes seven to 10 days to germinate and 90 to 105 days to reach maturity.