This Is HGTV's Erin Napier's Favorite Style Furniture To Blend Minimalism Decor With Maximalist Design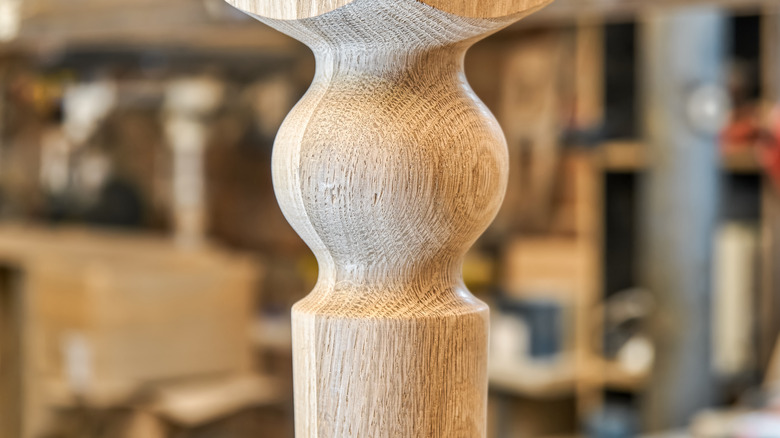 Timltv/Getty Images
We may receive a commission on purchases made from links.
While furniture styles and trends come and go, some have remained popular for decades, sometimes even centuries. Bobbin furniture, sometimes called spool furniture, is known for its ornate ribbed carving that resembles antique sewing implements. Such carved accents can be found on many furniture pieces, including table legs, chairs, bed frame finials, armrests, and more. They've remained a popular style of furniture since they were first introduced in the 1700s and are commonly found in both antique pieces and manufactured or hand-carved pieces today, particularly in traditional-styled rooms. 
HGTV host Erin Napier of "Home Town" reveals her love of bobbin furniture on Instagram, where you can glimpse her gorgeous terra cotta wood bobbin bedframe and other pieces that fit well into Napier's usual aesthetic of antique influences and maximalist décor style. According to experts however, maximalism and traditional styles are not the only aesthetic in which these bobbin pieces can work, with many designers suggesting that the antique flair and cultural style of bobbin and spool furniture can work just as equally well in more streamlined and minimalist spaces. 
Antique meets modern
Simran Kaur of Room You Love tells Homes & Gardens, "Since the design industry is going back to sustainability without compromising on beauty and aesthetics, bobbin furniture is the perfect fit — it fulfills both criteria," she says. "It similarly arouses those childhood emotions of feeling those ornamental designs with your hands, their sturdiness, and the texture they bring to any room." The unique style's hallmark ornate carving and craftsmanship can look just as amazing when occupying space in more minimalist aesthetics, allowing the carved elements to demand the attention they deserve. While maximalist rooms have no shortage of visual interest, minimalist rooms can sometimes suffer from monochromatic flatness and lack of dimension.
Rooms with bobbin pieces mixed with more modern elements create a striking juxtaposition of old and new that is incredibly stylish and modern. Placement in contemporary spaces allows these intricately carved pieces to take center stage and stand out as not just a piece of furniture, but as a piece of art. By mixing more antique pieces with modern accents like industrial lighting, modern art, and more contemporary accent pieces, the effect is layered and endlessly multidimensional. Consider adding a bobbin-style piece to your modern room, like this Safavieh Home Collection console table from Amazon or this cute World Market bobbin pedestal side table. Smaller ways to bring include these sculptural Mairbeon bobbin-style glass candle holders from Walmart or this minimalist-friendly bamboo table lamp from Target.