The Striking Marble That Will Make Your Kitchen Countertops Stand Apart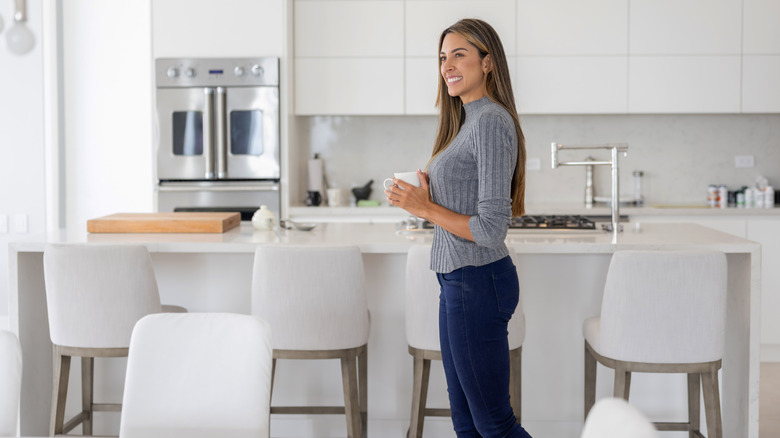 Hispanolistic/Getty Images
If you want to make a statement in the kitchen, there's a spectacular marble that can make your countertops stand out significantly. While marble countertops are often a popular design choice among homeowners, dalmata marble, or Nordic White, offers an intense contrast of black and white that is both opulent and bold. Extracted from quarries in various parts of the world, including Italy and South America, dalmata marble features a variety of highly distinctive black-veined designs that mingle between the shades of light and dark. Additionally, the natural stone is supremely durable while easy to maintain, making it an ideal surface for kitchen countertops.
Dramatic, yet stylish, you can showcase dalmata marble in a variety of areas within the kitchen. Depending on your vision, you might cover entire countertops with chic, black and white vibes throughout a modern minimalist design. On the other hand, you could display a singular slab within a more traditional motif for optimum attention. With variegated patterns of black and white, dalmata marble would set the tone of a kitchen, while complementing various color palettes. While Nordic white may be pricey, between $5,000 to $6,000 a slab, the striking marble will make your kitchen stand apart for years to come.
Dalmata marble designs are highly detailed and versatile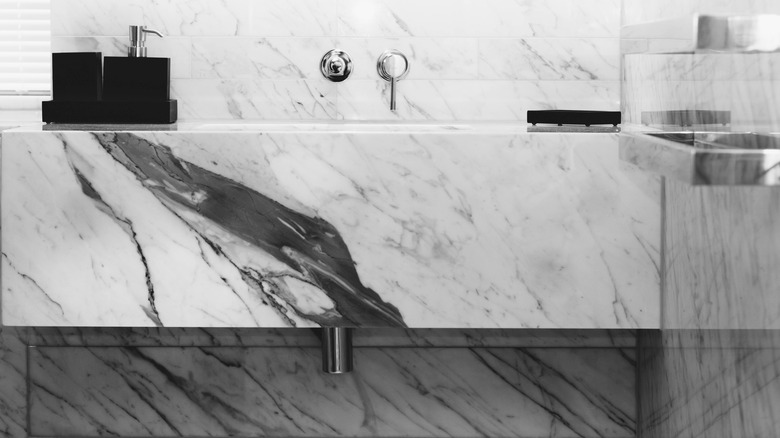 Zaain_k/Shutterstock
With intricate designs and high contrast, dalmata countertops are naturally entrancing. Like the stark pairing of a Dalmatian's black and white coat, the impressive marble has similar eye-catching shades with a white base and dark gray or black veins that course through the slab. You might display dalmata marble as a prominent piece upon a kitchen island or feature a desirable pattern further with a gorgeous waterfall countertop. For a seamless look, you could accentuate galley style countertops with a congruous design while extending it as the countersplash. Additionally, heighten a butler's pantry or wet bar with a remarkable light and dark design for an exclusive meeting place or work area.
Whether it's a neutral or colorful scheme, dalmata marble countertops can complement a variety of elements within your kitchen. Allow the remarkable marble to exude from all-white cabinets for a bright, contemporary look while mixing gray through stainless steel appliances and fixtures. Make the layout a bit more eclectic by adding pops of color through a vibrant red rug and/or runner, including personalized artwork. You can also implement moody blue or olive green cabinetry for a rustic aura, including gold or brass faucets, handles, and light fixtures. Bring out more earthiness through natural pine wood paneling or handleless cabinetwork for a subdued, mid-century modern style. However you style it, dalmata marble stands strong independently or when mixed with other aspects that support its ceaselessly striking features.