The Best Paint For Creatively Decorating Your Pumpkins Like A Pro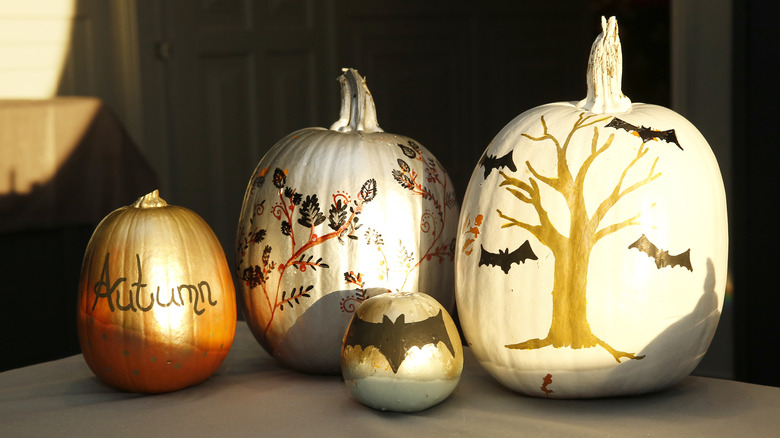 Sebastian Reimold/Getty Images
Pumpkins are a staple in autumn decorating, whether the orange fruit is hallowed with a scary face or hanging from a rustic wreath. A simple way to elevate the decor and add your personal touch is with paint. However, picking the right paint is the key to a smooth operation. With spray stains, watercolors, oil-based pigments, and fabric dyes, there are many options to choose from, but acrylic paints are the best pick for coloring your pumpkins. You don't have to stress about runny paint, messy clean-ups, or your masterpiece taking forever to dry.
It is a stellar DIY pumpkin craft that involves no carving. Slapping on a coat of your favorite hues is easier and more accessibility-friendly than carving thick-skin gourds — dare we say it's more fun too. There is no danger of accidentally hacking your finger or the slimy process of scooping pumpkin guts. Plus, carved pumpkins only last three days to one week. The round produce is the perfect blank canvas that will last all season, especially when decked out with acrylic paint.
Acrylic paint is best for painting pumpkins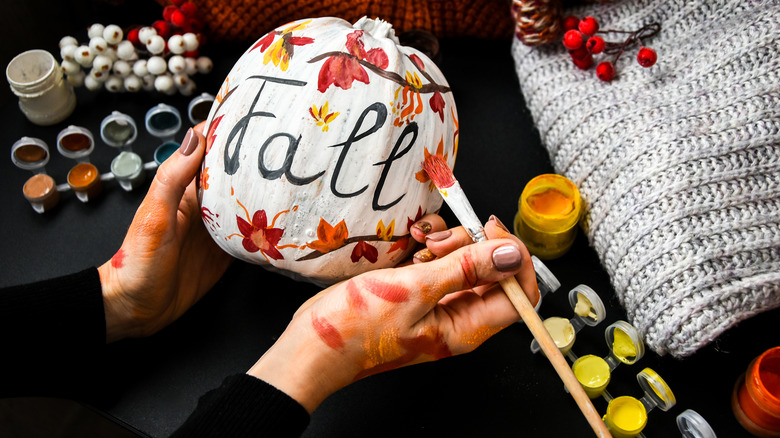 yanishevska/Shutterstock
Acrylic paint is the way to go for decorating your pumpkins. It is inexpensive, readily available, and easy to use. Overall, it is convenient for your art session as thin layers of the color dry in roughly 10 minutes, and when it dries, it is permanent, so your pumpkin is forever transformed. There is also little concern when it comes to safety. Its pigment is nonflammable, and you don't need to brace yourself for toxic fumes, like with spray paint.
What makes acrylic paint ideal for the autumn craft is its water-based formula. Unlike oil-based paints that require a chemical like alcohol to remove, you can correct any mistakes with water. Just take a damp cloth or paper towel and wipe away the error. Then, let the spot dry before the next go-ahead of trying to get a straight line on the round gourd. Acrylic dyes are also hassle-free when it comes to cleanup. Your brushes, hands, and tabletop only need a light scrub with mild soap and water to free themselves from the colorful stain. Plus, you can store leftover acrylic paint with a dollar tree hack and be ready for the next craft party.
How to paint a pumpkin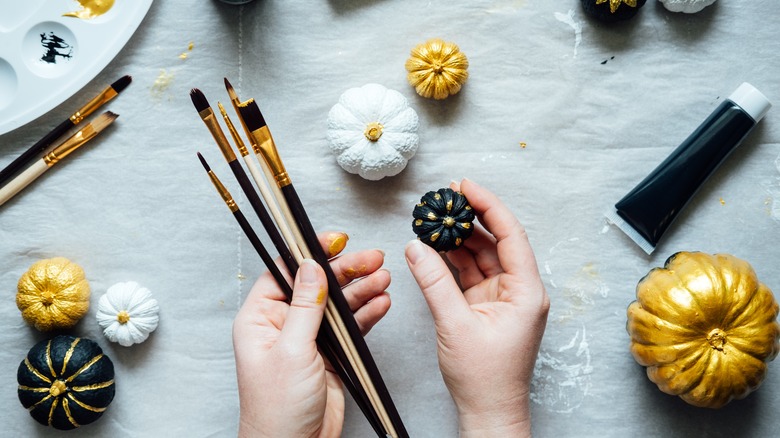 Iryna Imago/Shutterstock
There are a few tips to keep your decorated pumpkin looking its best until the first frost. You want to clean your pumpkin first before brushing on the acrylic paint. Wipe the autumn fruit with diluted bleach or vinegar, then let it dry to eliminate any bacteria or seeping sugars that can interfere with the painting process. Once it's clean, prime the rind, as a base coat may help the paint to stick better and last longer.
Now, you can go in with your creative designs and cover your gourd to your heart's content. It may take a few layers, but acrylic paint dries fast. There are also acrylic paint markers that are better suited for intricate detailing. After the paint dries, add a sealant to lock in your artwork. A clear varnish will create a protective barrier so your pumpkin can endure the elements and be less inclined to scratches. Lastly, display the masterpiece indoors or out and enjoy your handy work.