12 Popular Plants That Need To Be Overwintered Before Temperatures Start Dropping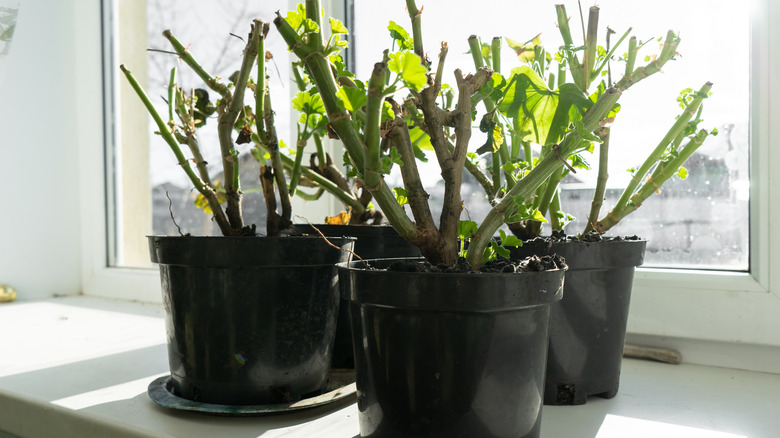 Tarasenko Andrey/Shutterstock
During the warmer months of the year, it's common to enjoy vibrant blooms and fruitful harvests from just about anything growing in your garden. However, as the temperatures start to drop, it's important to identify those you're going to have to let go of, the plants that thrive in winter weather, and the types that may need a bit of special treatment but can make it to spring with some extra care. This extra effort is referred to as overwintering and typically involves bringing your outdoor plants indoors or covering them with an insulating layer to better protect them from cold weather.
Most of the time, it's necessary to overwinter plants because they're not able to survive freezing soil and consistently-chilly air. If you live somewhere where you face a particularly dry or wet winter, these conditions can cause issues as well. In some situations, it's significantly easier to just buy new plants once spring rolls around. However, overwintering can give you the opportunity to hold on to particularly rare specimens, save plants that you've put a lot of effort into, and decrease your spending once it comes time for another garden refresh. Luckily, many common plants that otherwise wouldn't survive the winter can stay alive and even thrive if overwintered. Therefore, if you're willing to give them a bit of extra care, you can ensure you start spring with an already-lush garden rather than a pricey trip to the plant nursery.
1. Citrus trees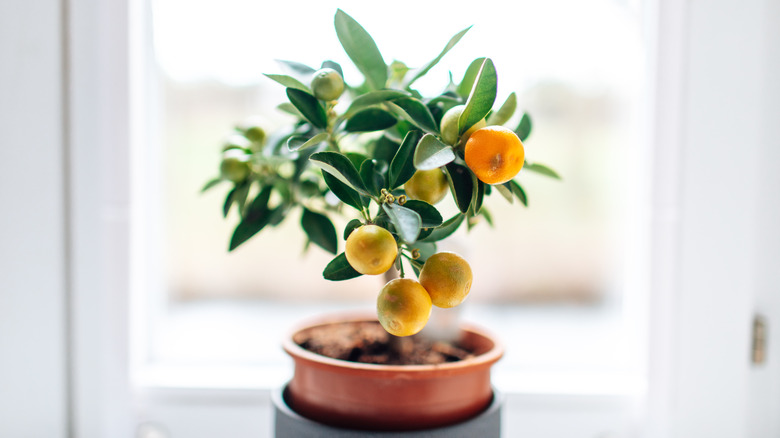 Denise Hoffmeister/Getty Images
Citrus trees thrive in warm weather and full sun, but that doesn't mean that they can't make it through a chilly winter with proper care. Once you start to feel the first fall chill, if possible, transition your potted outdoor citrus plants to a slightly shadier spot for a few weeks, then bring them inside. Place them in direct sunlight but away from extreme temperatures — both chilly drafts and hot air from vents — and cut down your watering. If you can't bring them inside, continue to give them water and cover them with materials like cardboard or frost cloths during cold weather.
2. Herbs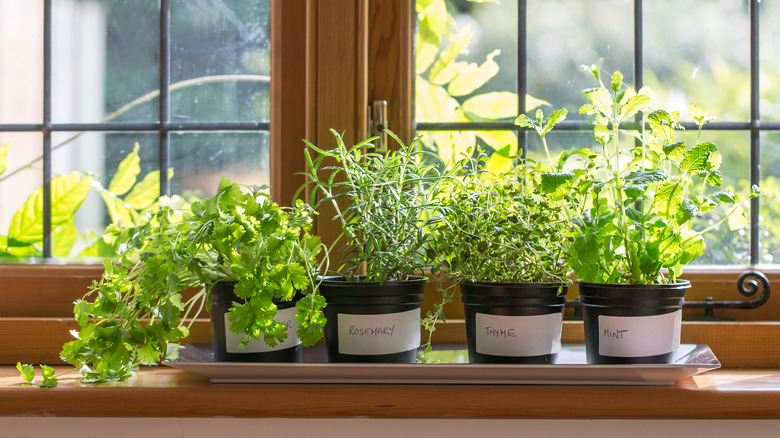 Cbck-christine/Getty Images
Most herbs are a bit more fragile than other plants we cultivate in the garden, but they can survive both indoors and outdoors throughout the winter with proper care. If you're able to, bring your potted herbs indoors and place them in a windowsill to allow them to thrive. If you've planted them outside and don't want to dig them up, give them a trim as temperatures begin to drop, then cover them with mulch and a protective layer like burlap or plastic. The leaves above ground might die, but you should notice new growth from the root in the spring.
3. Peppers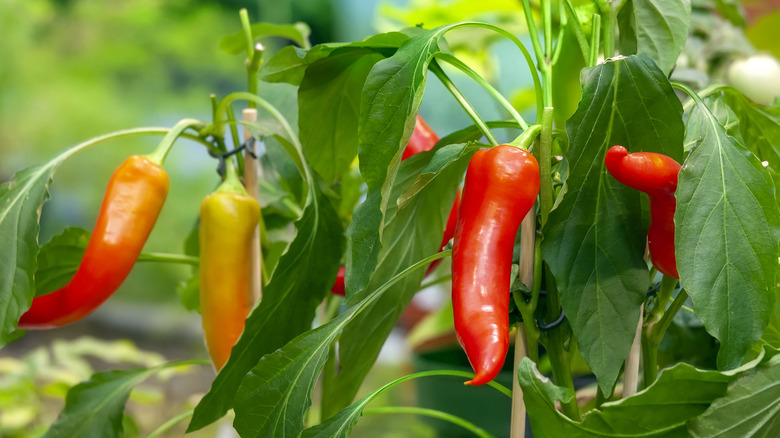 Tatianamironenko/Getty Images
If you want to ensure your peppers survive through the cold months of the year to give yourself a head start in the spring, you need to overwinter them. Peppers will do best overwintering indoors, so it's necessary to gently repot them to reduce transplant shock. Clean out a pot, uproot your plant, completely prune back the leaves, remove the soil from the root ball, and place the plant in fresh soil. Once you're done, put the pot near a window and keep the temperature around 60 degrees Fahrenheit. Your plant might look like a dead stick, but it will flourish again once the temperatures warm back up.
4. Rex begonias (Begonia rex-cultorum)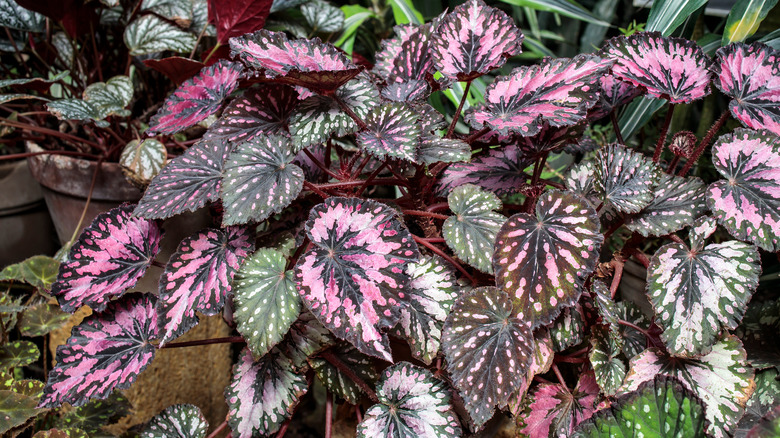 Elena Rostunova/Shutterstock
Rex begonias are a popular choice both for outdoor and indoor plants thanks to their distinctive and colorful leaves. With a plant this beautiful, it's no surprise that many people will put in some extra work to ensure it survives the chilly months of the year. Luckily, overwintering rex begonias is as simple as bringing them indoors as houseplants once temperatures cool down. Keep them in a more humid and shady spot in the house or place them over a tray of gravel so enough moisture can evaporate. They thrive as houseplants, so you shouldn't notice any issues even in the dead of winter.
5. Boston ferns (Nephrolepis exaltata)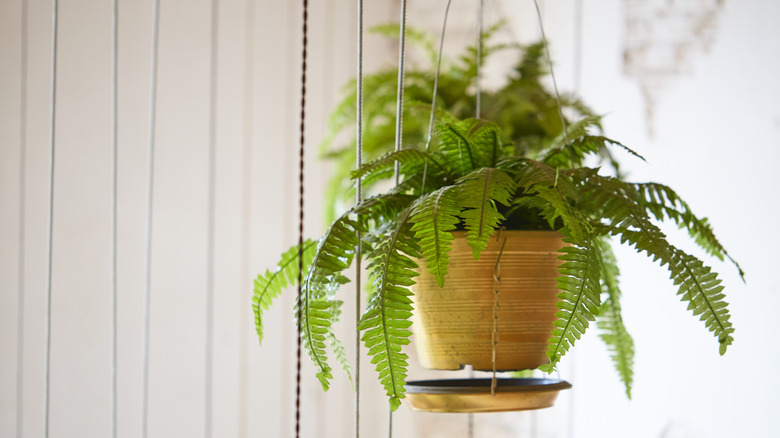 Jadezmith/Getty Images
Boston ferns can do well as houseplants if exposed to enough humidity and indirect sunlight. If you're not willing to create that environment in your home, you'll have to let them go dormant in a garage, shed, or greenhouse. To get them ready for overwintering, prune back the leaves, decrease your watering schedule to once a month, and don't fertilize the soil. Once temperatures get warmer, gradually increase the water supply, fertilize the plant, and slowly transition it back outdoors. Once it's acclimated, you should notice that the fern will begin sprouting new leaves.
6. Coleus (Solenostemon scutellarioides)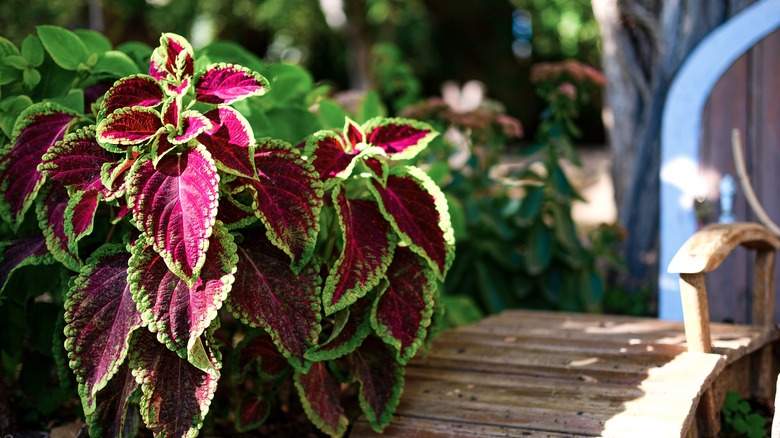 Mukhanova/Shutterstock
If you intend to overwinter your coleus, the easiest way to ensure you're left with healthy plants in the spring is to cultivate cuttings. Once you start to feel a chill in the air, cut a few inches off of the tip of your healthy plant and remove the bottom few leaves from the clippings. Dip the cut edge in rooting hormone to encourage growth. Then, after you notice roots, plant the cuttings in individual pots. Keep them in a sunny area indoors to protect them from the frost, and you should be ready to plant them once spring rolls around.
7. Hibiscus (Hibiscus rosa-sinensis)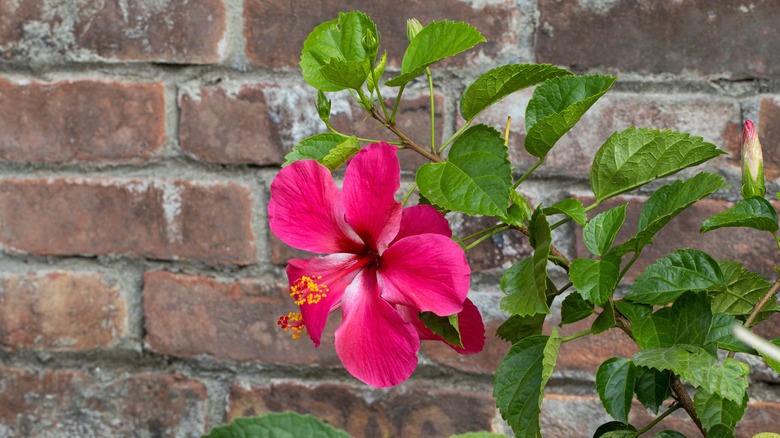 Anamul1981/Shutterstock
Hibiscus flowers are immediately recognizable as a tropical plant, so it's no surprise that they likely won't survive several months of cold, wintry conditions. If possible, it's best to overwinter your hibiscus plants indoors and treat them as houseplants. They will thrive in warm, humid conditions with plenty of light, so somewhere like a bathroom with a window is your best bet if you're not willing to create these conditions artificially. If you're lucky enough to have cultivated hardy hibiscus, however, these plants can survive temperatures as low as -20 degrees Fahrenheit and don't need much help to make it through the cold months.
8. Geraniums (Geraniaceae)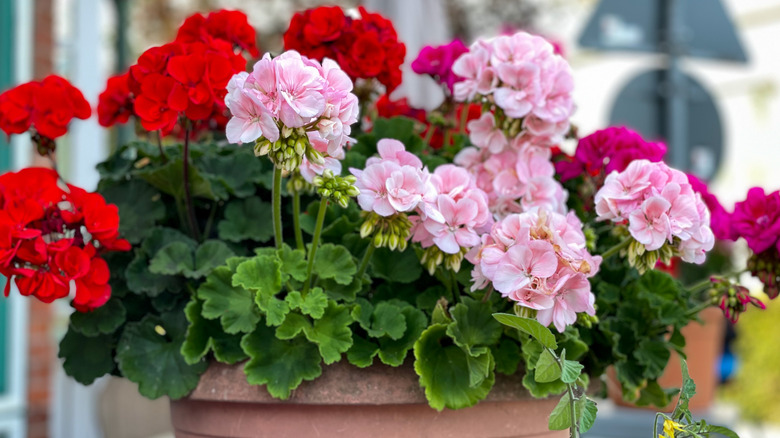 Lapa Smile/Shutterstock
If you live in a chillier area and want to ensure your geraniums survive until spring, you have a couple options for preservation methods. You can overwinter the plants inside the house, take trimmings like you would a coleus, or store them until planting season. If you choose to store your plants, you'll need to uproot them, remove all the dirt from the root ball, and place them in a paper bag or hang them in a cool, dry space. The foliage will die over the next few months, but after a quick trim, you'll be able to replant them when the weather warms up in the spring.
9. Elephant ears (Colocasia)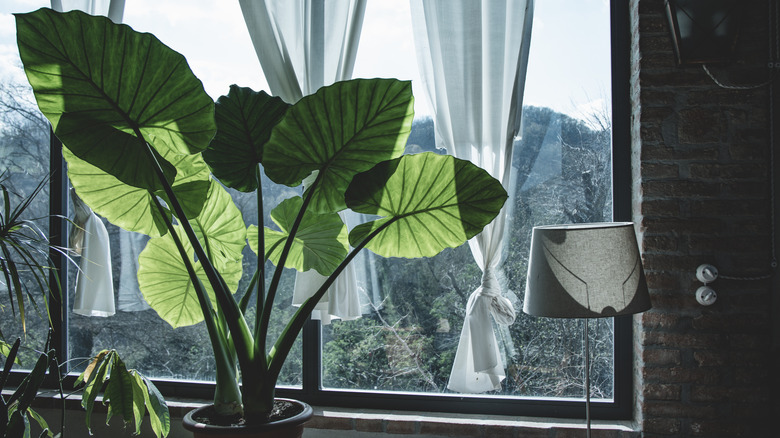 Wanderlust Media/Shutterstock
Elephant ears are a striking and unique plant variety thanks to their massive leaves, but this trademark characteristic doesn't fare the best once temperatures start to drop. Plants that are in pots can be placed indoors or somewhere less prone to icing over, but plants that are directly in the ground or in an especially cold or wet climate need to be removed and stored. Cut down the stems but leave about 6 inches, then store these tubers in soil and peat moss in a cold and dark location. They should go dormant but survive the winter so they can be replanted in spring.
10. Jasmine (Jasminum)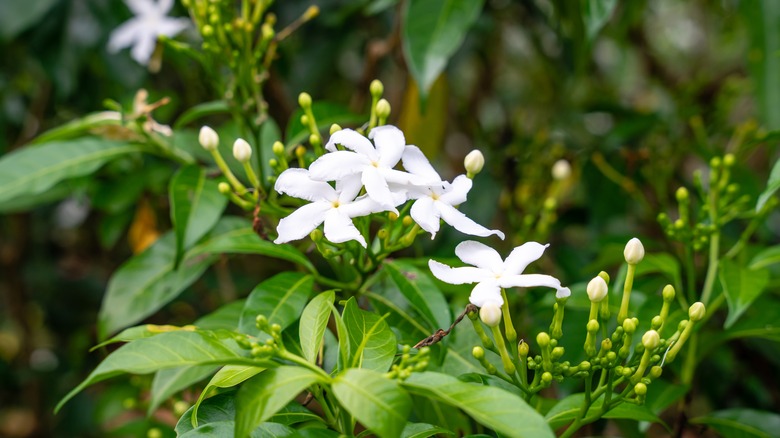 Michaelnero/Shutterstock
Jasmine bushes are well-known for their beautiful blooms and sweet scent. However, unless you live in a warm climate, you'll likely have to give your plants a bit of special care once the temperatures begin to drop. If your specific variety of jasmine can survive in your area's hardiness zone, all you need to do is add a thick layer of mulch to help protect the plant's roots during chilly nights. If temperatures are more extreme, bring the plant inside and place it somewhere that has plenty of sunlight and adequate humidity, especially if you're running your home's heater around the clock.
11. Palms (Arecaceae)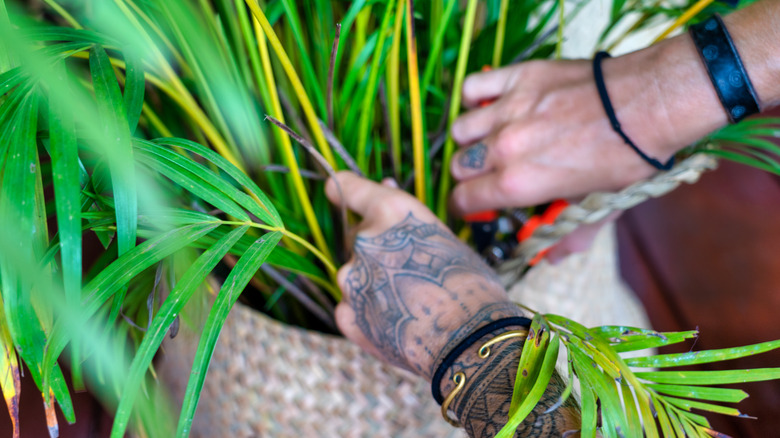 Placebo365/Getty Images
If your palm plants are in pots, they can thrive indoors throughout winter when placed in direct sunlight. If not, however, the best thing to do is to protect the trunk. Wrap large trees with a blanket, then add an extra layer of non-LED Christmas lights around the outside to provide a constant stream of heat. For smaller palms, cover them completely with mulched leaves, adding on a blanket or box over the top if nights get especially cold for a few days. However, remove the covering during the day to expose it to sunlight, as constant and complete coverage can cause the plant to die.
12. Touch-me-nots (Impatiens)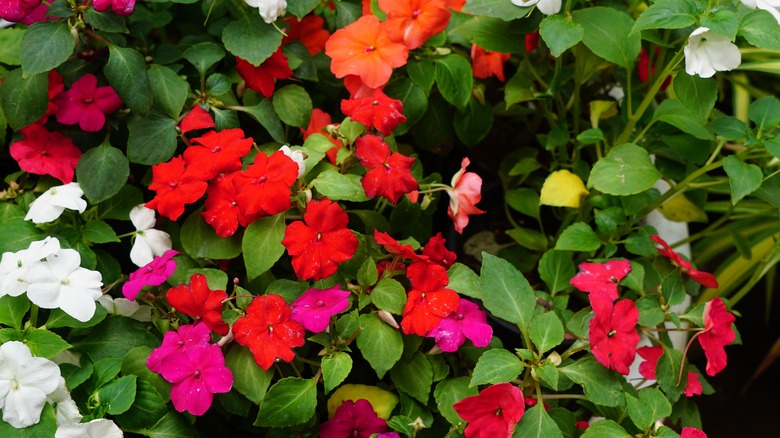 muralird2008/Shutterstock
Touch-me-nots can deliver a beautiful dose of color to your garden during the warmer months, but they typically don't do well once temperatures start to drop. If you're able, plant them in a pot and place them in direct sunlight as a houseplant to overwinter them. If this isn't an option, you can also remove cuttings so you'll still have living plants that can go back in the ground once spring rolls around. Root these cuttings in water, then transfer them to pots in a garage or shed, just like you would with coleus plants.