No Knife Is No Problem With These Spooky, No-Carve Pumpkin Decorating Ideas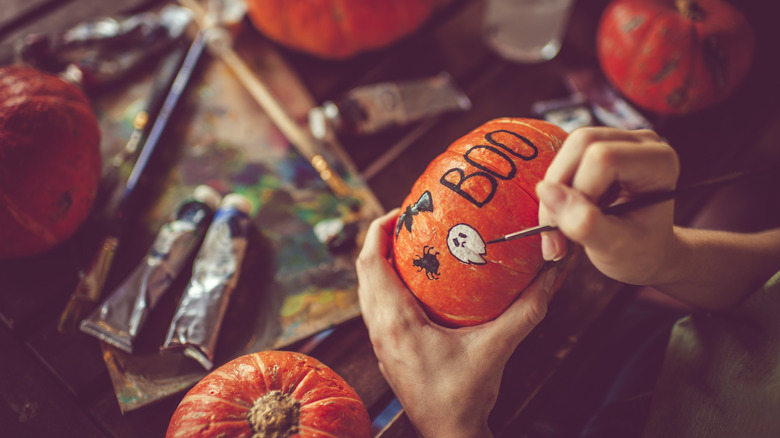 Artmarie/Getty Images
Autumn is pumpkin season, with this plump variety of winter squash bedecking haystacks, front porches, and interior decorations everywhere. The most common form is the spooky jack-o-lantern, whose hollowed-out and sometimes horrific visage is one of the most popular decorating ideas for using pumpkins. While carved pumpkins can be a great way to greet trick-or-treaters on Halloween night, there are just as many great pumpkin ideas for decorating that don't involve chopping up your pumpkin. Many involve materials like paint, decorative doo-dads, rhinestone accessories, glitter, and other materials instead. 
Uncarved pumpkins not only last longer throughout the season, preventing that sad sunken pumpkin head on your porch after the first frost, but they also have a longer window of use for turning them into baked goods or snacks. There may also be a number of reasons to forgo a knife for safety reasons, like if you are doing the activity with children. You may also just be looking for creative and innovative ways to decorate, none of which involve sharp tools or messy pumpkin guts. 
Painting faces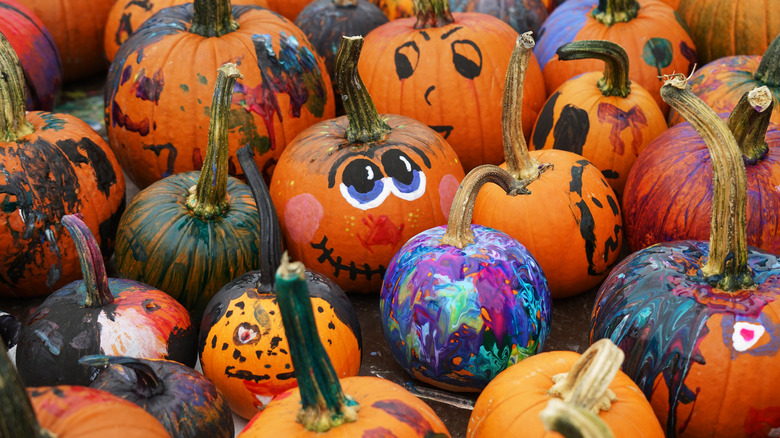 ND700/Shutterstock
While many stand by the tried and true black triangle-eyed jack-o-lantern face, using paint on your pumpkin offers up a greater range of face designs, including Frankensteins, ghosts, black cats, and adorable woodland animals. Sketch out your face with a pencil before filling it in with paint markers or a small brush using acrylic paint. 
Neon pumpkins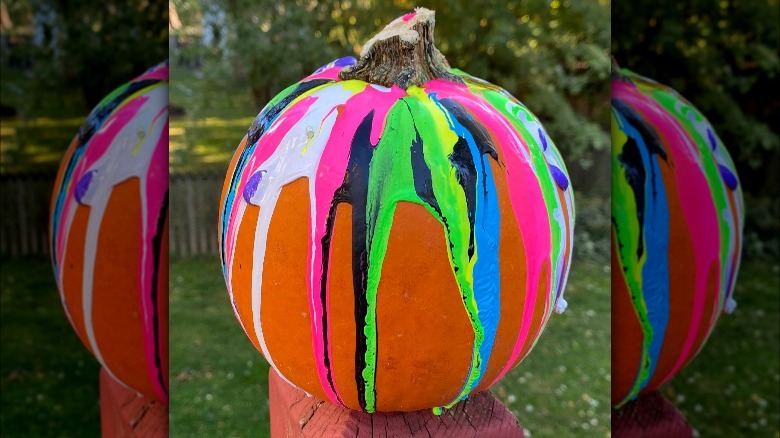 Kathleen S Hetzer/Shutterstock
Using fluorescent and black light-friendly paints will cast an eerie glow even without a candle inside. Use the neon paints to create a traditional jack-o-lantern face or create an entire cute or scary Halloween scene in neon.
Spooky scenes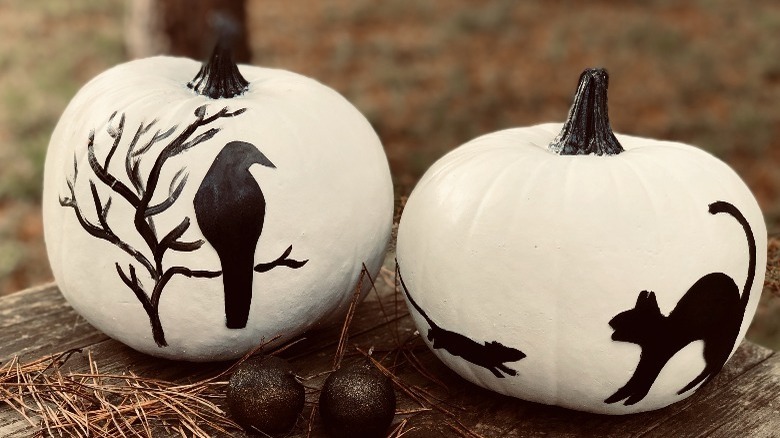 Natalia Novikova/Shutterstock
For even more intricately painted pieces of art, paint the entire pumpkin using black or other colors to create a scary or cute Halloween scene. Paint an image on one side or have it wrap around the perimeter of the pumpkin to tell a story.
Floral pumpkins
Botanical imagery can be applied to pumpkins, such as adhering paper cutouts or dried flowers to create decoupage pumpkins. For other floral pumpkin designs, try using glued-on embroidered floral appliques from the craft store or fun temporary tattoos, which can be applied to the surface of the pumpkin with water.
Glam centerpiece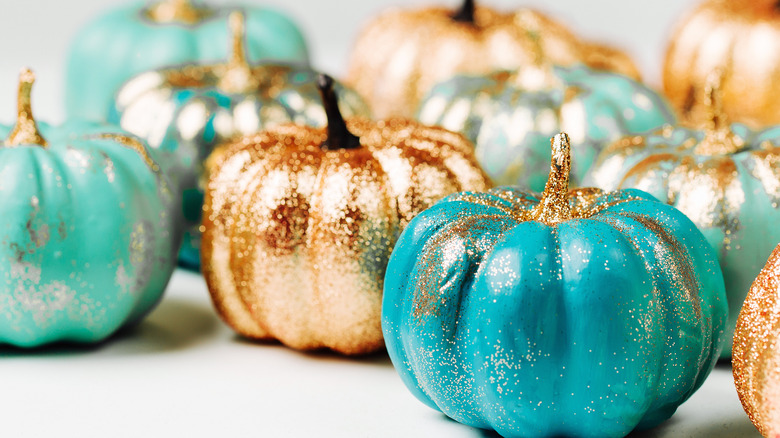 Igisheva Maria/Shutterstock
Apply gold leaf, gold glitter, or gold paint to pumpkins for an elegant centerpiece. The glimmer of the pumpkins will be beautiful when lit by candles. 
Pumpkin people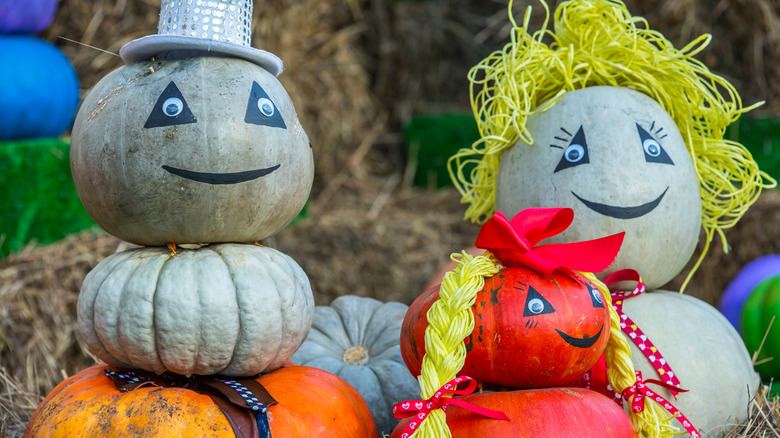 Valery Bocman/Getty Images
Stack several pumpkins together to create snowman-like forms that you can add hats, scarves, eyes, and mouths to for your porch or yard. They look adorable in a small group scene with haystacks and other fall accents. Make a jack-o-lantern face — Mr. Potato head-style — by adhering other veggies and objects to the pumpkin with toothpicks or adhesive.
Stenciled pumpkins
To get an even more perfect and clean design, if your art skills fail you, try using a stencil with either a small brush or spray paint. You can also apply paint over a fragment of lace or a paper doily for a delicate Victorian look.
Monstrous messages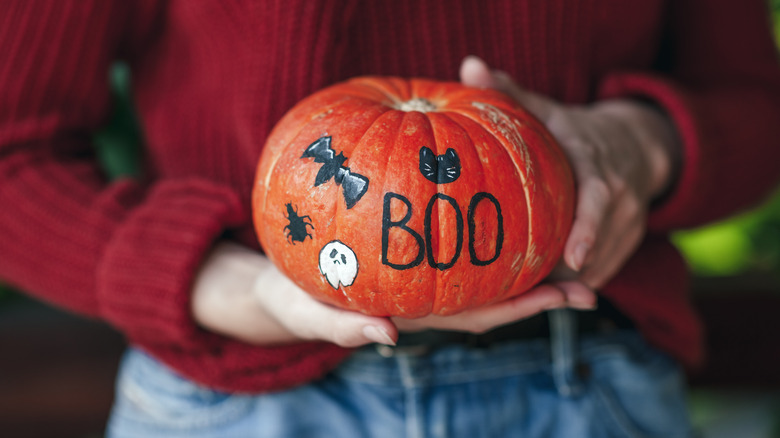 Artmarie/Getty Images
Adding your favorite spooky saying or word to a pumpkin is a great way to welcome visitors. You can free-hand with a paintbrush or marker or use a stencil to get your message just right. 
Pumpkin sculptures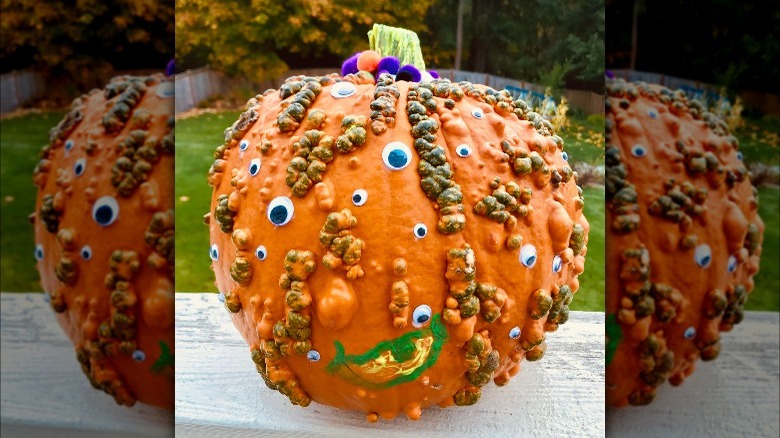 JDM Photos/Shutterstock
To create a unique pumpkin design, look around your house for 3-D elements you can add to your painted pumpkins, like bat wings, googly eyes, cat ears, devil horns, and plastic spiders. 
Wrapped pumpkins
Wrap your pumpkins in fabric to get a soft and cozy look that matches existing colors and textures in your home. Try velvet or sequined fabric for a glam look, or plaid or gingham for a cute country-inspired pumpkin.