Nate Berkus Swears This Vintage Item Can Add Tasteful Charm To Any Room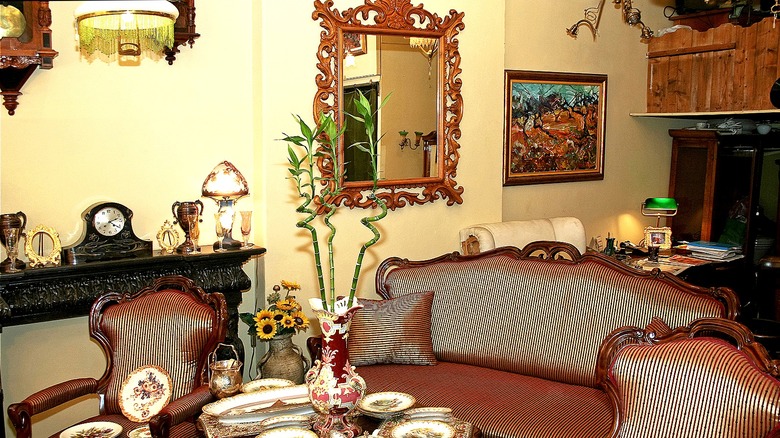 Baloncici/Shutterstock
We may receive a commission on purchases made from links.
Knowing how to decorate with mirrors can serve you well when designing a space. For example, a well-placed mirror can brighten up a room and manipulate the perception of the space with its décor style or size. Gold and gilt mirrors, in particular, can instantly add a feeling of age and grandeur to any room. HGTV's Nate Berkus recently showed Instagram followers his appreciation for a corner gilded mirror in the home he shares with fellow host/designer Jeremiah Brent and their children. A genuine antique, the piece is a stunning bit of age-old grandeur amid more modern and sleek décor.
Antique and antique-looking mirrors, while always popular, are experiencing a current renaissance, with many home retailers offering modern-day versions of mirrors with a centuries-old look. These mirrors, along with the antiques that inspired them, are a great way to add both the space-opening and light-reflecting properties of a mirror with a dose of glamour and charm that fit a variety of room aesthetics, including popular glam, maximalist, and boho styles.
Adding charm to a room with vintage mirrors
As in Nate Berkus' home, such mirrors are especially striking when paired with more austere and modern elements, like a modern candelabra, for example, or a geometric pedestal table. In a home where modern touches abound, Berkus notes in his caption, "Like I have always said, a vintage gilded mirror instantly adds patina, charm, and character to any space ..."
If you're wondering how to shop for an antique or vintage mirror for your own home, some great ones can often be in antique shops, estate sales, and flea markets. Thrift stores, while the pieces are likely to be more recent, are also a place to look, especially for a deal. Many home retailers that cater to all price points offer gorgeously intricate carved mirrors. Anthropologie, for example, sells its Gleaming Primrose Mirror in three sizes and prices — $548, $898, $1,598 — and four colors: gold, antique black, white, and silver. You can find ornate mirrors for lower price points, too, such as this arched mirror from WAMIRRO, available at Amazon for $129. There are also a great number of DIY tutorials for creating a similar look with newer mirrors by adding decorative millwork, gold paint, and gold leaf.