Why IKEA's RASKOG Cart Is A Must-Have For Extra Bathroom Storage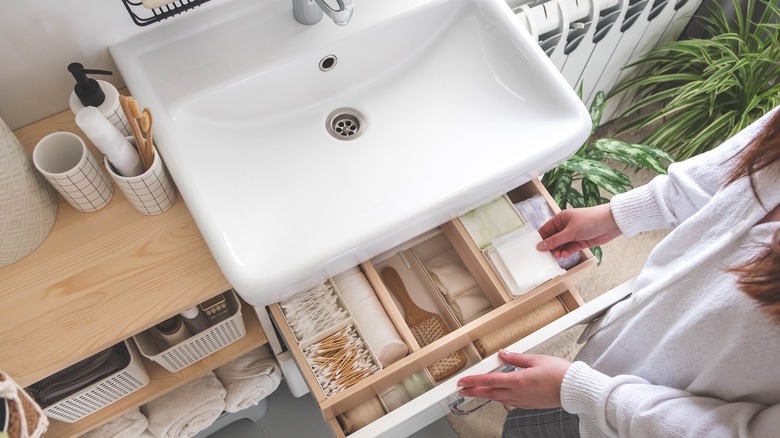 Kostikova Natalia/Shutterstock
Bathroom storage is always a hot topic, especially for those who feel like they always need more of it. This room is responsible for housing everything from bath and shower products to linens, medications, cosmetics, and every styling tool in between. If your space is lacking the proper storage to keep everything accessible and organized, IKEA is once again saving the day. While their versatile products are always useful in a pinch, the RASKOG cart is one of the most clever hacks for small bathrooms that need a bigger arsenal for all of your products. You can turn this three-level cart into your personal caddy, filling it with towels, personal products, and even a touch of decor to add some aesthetic flair.
Having more items than your bathroom can hold is fairly normal, but it can still be frustrating when the sink overflows with toiletries and every other surface is just as crowded. Medicine cabinets and under-sink storage only go so far, but by adding this small cart in a spare corner, you automatically triple your available space with three shelves. The perk of using the RASKOG over building shelves onto the wall is that you can shift it as needed depending on your design and open areas.
How to make the RASKOG work for you
The perk of using the RASKOG over floating is that you can shift it as needed depending on your design and open areas. Free-floating shelves can be limited in how much they can hold, and a cart provides easier access that doesn't require reaching to grab needed items. The RASKOG costs just under $40, and the 13 3/4x17 3/4x30 3/4 " dimensions mean it can fit against walls and in tight spaces, still leaving room for people to use the bathroom comfortably.
Rather than just filling the RASKOG up with as many items as it can hold, it might be best to create a plan so it looks chic and organized, especially since it will become a focal point in the bathroom. Add towels to the middle or bottom shelf so guests and family members can get to them easily, rolling them to save space. The top shelf would benefit from some favored toiletries, sprays, or cosmetics that lend a hand to your existing designs, so stick to products of the same brand and consider adding a framed picture or fun ornament that fits in. A candle can also be a nice touch, and the cart will free up other shelves or surfaces. Depending on your color scheme, opt for the black or white version for neutral themes, or try the yellow for a pop of color in a farmhouse, eclectic, or more modern bathroom design ideas.