Save Your Fall Leaves To Easily Create A Stunning Autumn Candle Holder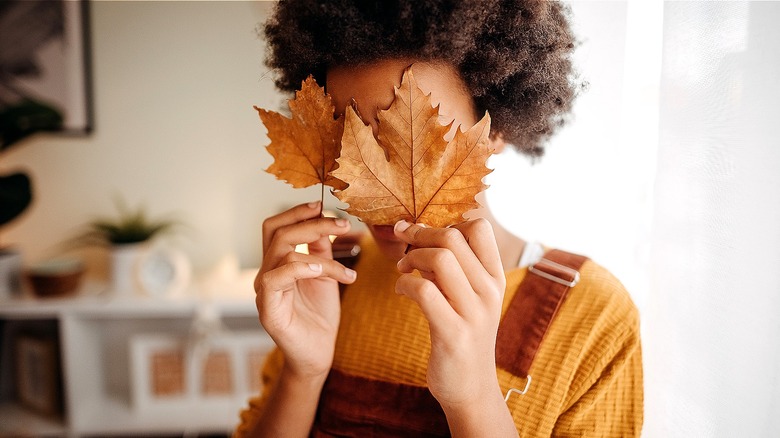 Enigma_images/Getty Images
Crafting with seasonal plants is an eco-friendly way to add some festivity to your home. So, while others are raking and tossing their fallen foliage, you could save your fall leaves for an easy-to-make autumn candle holder. With a glass container, dried leaves, Mod Podge, and an iron, you'll be able to create a piece of décor that instantly brings warmth to your space. This DIY candle holder is a fun autumn craft that can be done with children so long as there's an adult to use the iron. (However, there are alternative steps you can substitute for ironing.)
An autumnal candle holder is one of the many creative ways to use fall leaves in your décor. Red, yellow, and orange leaves are rich in color, making them perfect for bringing fall into the home. You can pair this DIY holder with pumpkin spice and cinnamon candles for a beautiful luminary that smells heavenly and captures the season. Further, crafting with fallen leaves is a great way to do your part in reducing, reusing, and recycling an organic material that might otherwise be treated as waste.
Craft your own autumn candle holder
For this DIY décor, all you need are fall leaves, a glass vase, Mod Podge, a brush for the glue, and crafty embellishments of your choice, such as twine or ribbon. While this project is meant to repurpose fallen leaves from your backyard, making the most of your autumn garden, you could craft this candle holder just as easily with artificial leaves.
Note that when working with real leaves, you'll need to cleanse them first. Leaves are prone to mold spores once they've carpeted the ground. To kill any mold before crafting, gently buff mild soap onto the leaves and rinse with warm water. Then, lie them flat to dry. After, you can place the leaves between towels and iron them flat. Alternatively, you can set the leaves between wax paper and then place the wax paper into a book.
Once your leaves are dry and flat, prep your vase or glass container with a thin layer of Mod Podge. Then, simply press your leaves onto the glass. When the leaves are in place, brush on another layer of Mod Podge to seal everything. For a shimmery finish, add glitter while the glue is still tacky. Then, seal it with an additional layer of Mod Podge to lock it in place. Embellish by tying a ribbon or twine bow around the candle holder's neck, then add a candle or battery-operated light inside, and you're done.