Grow Your Fruits And Veggies Into Fun Shapes With This Creative Gardening Trick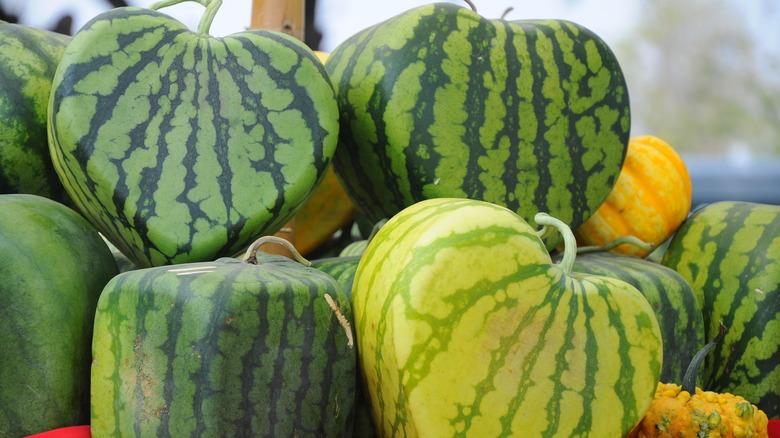 nutua/Shutterstock
We may receive a commission on purchases made from links.
Growing a flourishing vegetable or fruit garden is a long yet rewarding process. If you're an avid gardener, you might want to add some spark to your yard and make the wait more fun. Well — we have just the thing for you. Why not try growing your fruits and vegetables into fun shapes? From hearts and stars to soccer ball designs or Buddha statues, the possibilities are endless. You might well wonder just how fruits or vegetables can be grown in different shapes — the trick is using a fruit mold.
The fruit mold concept first became popular when a square watermelon was grown in Japan. The square fruit mold was invented by Tomoyuki Ono in 1977, who wanted the watermelon to taste the same but with a different shape. While this odd concept intrigued many folks, the square watermelons were sold for $20 instead of their usual $9, making them overly expensive. Now, they're often sold for over $100 each, yet you can grow watermelons in any shape right in your own garden, here's how.
How to grow your fruits and vegetables into different shapes
You can purchase molds from a Chinese company called Fruit Mould, which sells various shapes for you to use on a variety of fruits and vegetables. The molds range from $25 to over $100, depending on your desired shape and size. They're made from high-quality polycarbonate and are effortless to use. However, for a more affordable option, Amazon sells a few molds, such as this Buddha mold for $14.59 or a square mold for $24.94.
Once your fruits and vegetables begin to grow, place them into the mold and secure them with the nuts and bolts. As they develop into their mature stage, they'll fill the mold's shape. They have a small opening at the top for the vine to fit through so that the fruit can continue to receive water and nutrients from the soil. Once they're fully developed and have filled the entire container, you can remove the nuts and bolts, and the produce will be ready for consumption. Molds can make growing vegetables fun and can also help get your kids excited about gardening and eating their veggies.