Protect Your Home From Termites With These Top Tips From HGTV's Mina Starsiak Hawk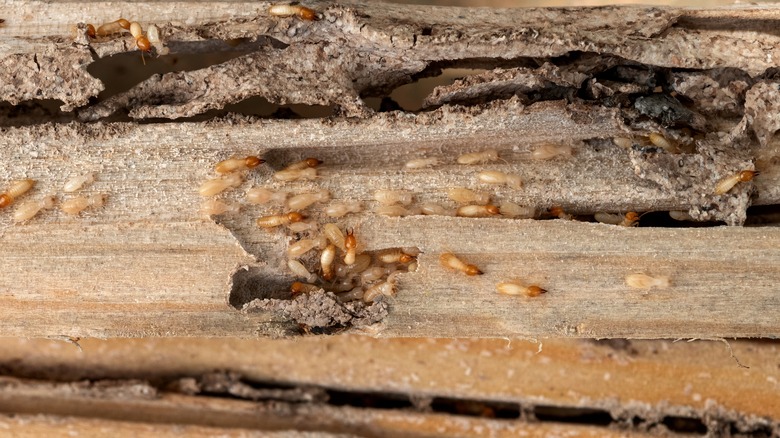 chomplearn/Shutterstock
Termites are one of the quietest pests that do an exponential amount of damage to a home. Ensuring your lawn, roof, and interior are well-kept will help prevent them from attacking your home. But when basic maintenance doesn't cut it, and the termites keep coming, there are a few additional things to look out for. HGTV's "Good Bones" star, Mina Starsiak Hawk, says placing wood piles on high platforms and keeping mulch away from siding can help deter termites. They'll have to work harder to get inside, which could discourage them from trying to find a way.
You'll never truly see early signs that termites are in your house because they can make their way through underground tunnels into the base and through small cracks. They cause extreme damage to the foundation since they eat at the wood as they journey and make their way around the house. According to the National Pest Management Association, every year, homeowners collectively pay more than $5 billion in property damages due to the pests. Depending on how severe the damages are will determine the treatment cost to get your home back in shape. Avoid termites damaging your home and putting a dent in your bank account by implementing Starsiak Hawk's tips into your maintenance routine. Taking these precautions will decrease the chance of a termite infestation.
Keep the home's surroundings clear of wood and mulch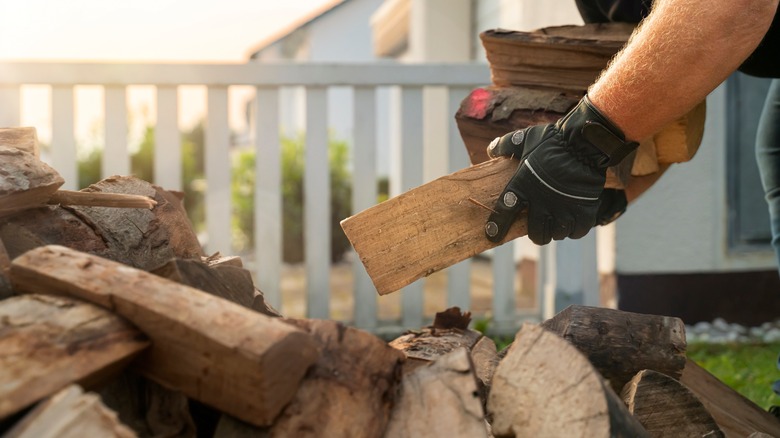 Tanja Esser/Shutterstock
If you're an expert DIYer or woodworker who often uses wood for your projects, you might be more susceptible to inviting termites into your home. That's why it's crucial to place your wood piles strategically. If possible, refrain from keeping them outside the house where termites can easily find them. When they get wet from sprinklers or rain, termites will invade quickly. If you do keep your wood outside, HGTV's Mina Starsiak Hawk says to "move [it] away from your house and put it on something that's not a wood platform" via CBS8. If you don't have space to put them in the garage, store them outside on a tall, metal platform where termites won't bother climbing.
On the other hand, if you're a gardener who loves planting shrubs, flowers, or trees alongside your house, they should be planted a few feet away from the house. When you grow any shrub near the base, avoid spreading mulch right next to your house because it creates the perfect entrance for termites. Starsiak Hawk advises, "Keeping planting beds low enough down so your mulch isn't touching your trim plate or your siding outside the house," per CBS8. Or, you can plant shrubs that require inorganic mulch, like gravel or rocks that don't attract termites.