Use TikTok's Dollar Tree DIY Craft For Your Very Own Seasonal Dishware Decor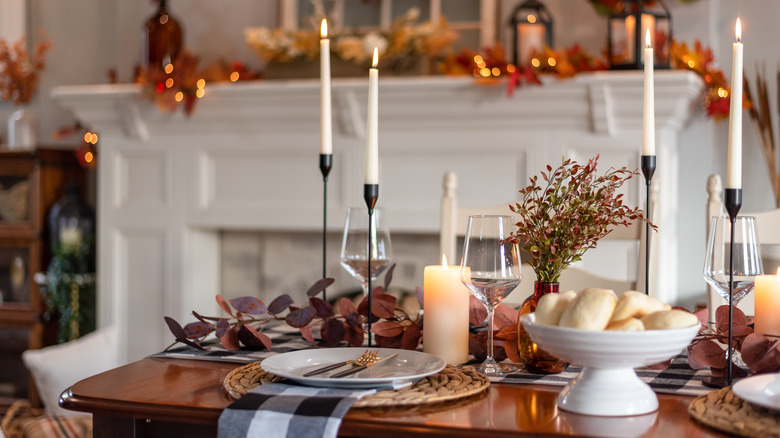 Kristen Prahl/Getty Images
If you're looking for a way to make your fall or Thanksgiving decor more interesting, this TikTok hack is for you. With just a little fall-themed fabric, clear glass plates, and Mod Podge, you can create beautiful plates to brighten your Thanksgiving table or decorate your dishware cabinet. You can find fall-themed fabrics at Joann Fabrics, like this turkey pattern or this elegant pumpkin print.
The hack, posted on TikTok by Unicorn Dust Designs, shows how to make the easy, inexpensive craft. In the video, it's suggested to use glass plates from Dollar Tree, making this project extremely cost-effective even if you're creating several plates. While these plates could just be used as decoration, it is also possible to make a functional version. Since the Mod Podge does not touch the front of the plate, it's safe for food, but you'll need to use dishwasher-safe Mod Podge or another sealant to be able to wash the plates.
How to craft seasonal plates
To start, lay your plate upside down and drape your chosen fabric over the back. You can either trace the edge of the plate with a pencil to determine where to cut your cloth or start by cutting out the appropriate size and shape. Before applying your Mod Podge, make sure to thoroughly clean the plate to remove any smudges. Once your dish is spotless, cover the entire back with Mod Podge and place your fabric over it. You'll want the design of the cloth to be face down so that it shows through the front of the plate.
If there are any wrinkles or air pockets, stretch the fabric or smooth it out to ensure it's completely flat against the glass. Now, you can cut the excess cloth around the outside of the dish. When your fabric is adjusted properly, cover it with several more coats of Mod Podge, but make sure it has time to dry between each coat. If you use dishwasher-safe Mod Podge, you'll be able to easily wash the plates, but it could take almost a month for it to cure. Liquid epoxy could also be used to seal the fabric and make the project waterproof.