Make A Bedroom Office Work In Any Space With Hilary Farr's Expert Advice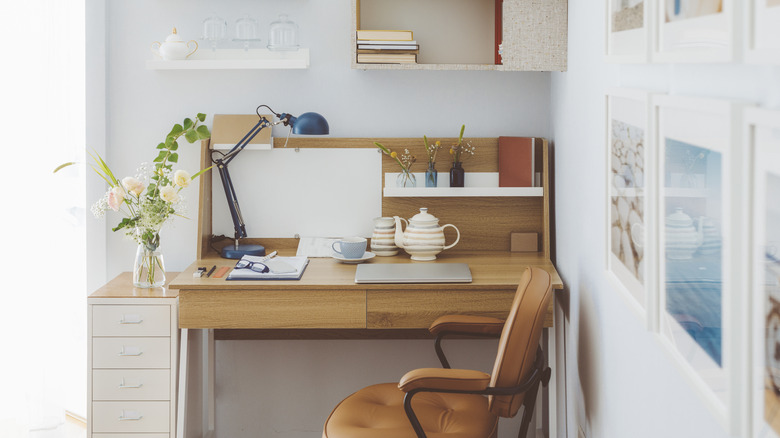 Eva-katalin/Getty Images
We may receive a commission on purchases made from links.
Having a quality home office is essential for anyone who works remotely, and even folks who don't work remotely can still establish a productive office at home. But, unfortunately, having a dedicated space isn't always an option, and if you're stuck having your home office tucked into the corner of your bedroom, you're not alone. Hilary Farr, expert designer and host of HGTV shows "Love It or List It" and "Tough Love," has a helpful tip for making your makeshift bedroom office feel a little more comfortable and cohesive. "If you need to have your home office in your bedroom, find a decorative [privacy] screen," Farr shares during an interview with HGTV.
While it might be necessary to keep your desk and computer in your bedroom, Farr doesn't think that's a reason to keep them on display 24/7. With a decorative panel, you can keep the office out of sight and separated from the rest of the bedroom. Distinguishing between work and rest areas will help contribute to a more relaxing bedroom environment. For this reason, Farr suggests keeping the television behind the screen, as well, to best ensure good energy for the bedroom. A privacy screen also makes it easier to share the space with a partner — nobody wants their bedroom to be taken over by another person's workspace, after all. Furthermore, from an aesthetic perspective, concealing unattractive office elements, like a large monitor, ensures that your home office won't detract from your overall bedroom design. 
Using a privacy screen for a home office
Pixel-Shot/Shutterstock
To separate your space in style, you'll need to put some thought into it. When planning a bedroom office, Hilary Farr recommends considering what items make up your work environment, telling HGTV, "Do you need a printer? Two screens? ... You need to be able to tuck it out of sight so it's out of mind." In other words, use the equipment that you need, but try to keep things as compact as you can so your work doesn't sprawl all over the place. To draw a clear line between work and the rest of your life, keep your office items behind the privacy screen: Areas like nightstands or dressers should stay off-limits for work items.
Additionally, make sure the privacy screen is the right size to cover your desk and, if possible, opt for one that folds, so you can easily move it out of the way when needed. The decorative style of the screen matters a great deal, as well. It should look good in your bedroom, but it can also serve as an appropriate background for video calls, so be discerning when choosing a design. There are plenty of options to choose from, like this bamboo room divider from Amazon, or this folding option from Wayfair that allows you to customize the number of panels. With a quality privacy screen, your office will be neatly concealed and your bedroom can be restored to a truly peaceful space.