36 Decorative Room Divider Ideas To Separate Your Space In Style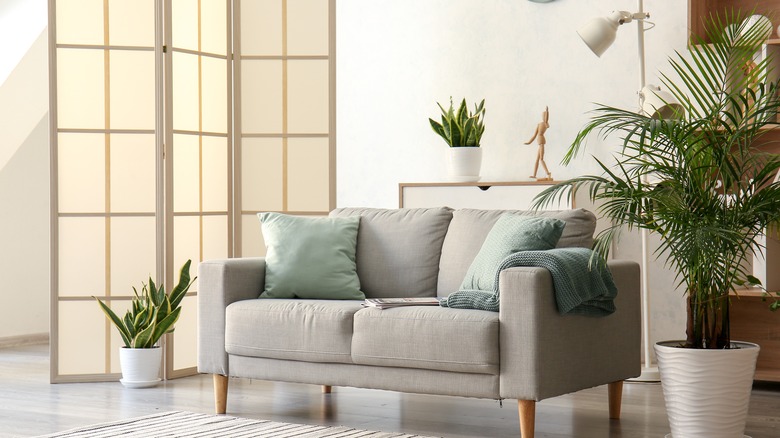 Pixel-Shot/Shutterstock
Room dividers can fulfill a variety of functions that go far beyond just dividing spaces. Not only are they lovely in multi-use rooms, open-concept plans, lofts, and studio apartments, but they can also be a strong decorative element in a room that ties things together. A well-placed screen can provide privacy in front of a window while allowing light to flow, while a screen placed in a corner can add height and vertical interest to a room. They are also usually lightweight and portable and conserve valuable floor space as an alternative to heavier, bulkier furnishings
Whatever your needs, if you are looking to add a room divider to attractively segment or tie together your space, there are plenty of styles to choose from. There are also a few alternatives to folding screens that work to successfully divide up a larger room or carefully define smaller areas, many of which provide valuable additional display and storage needs. Here are 36 different styles to draw inspiration from.
1. Dividing multi-use rooms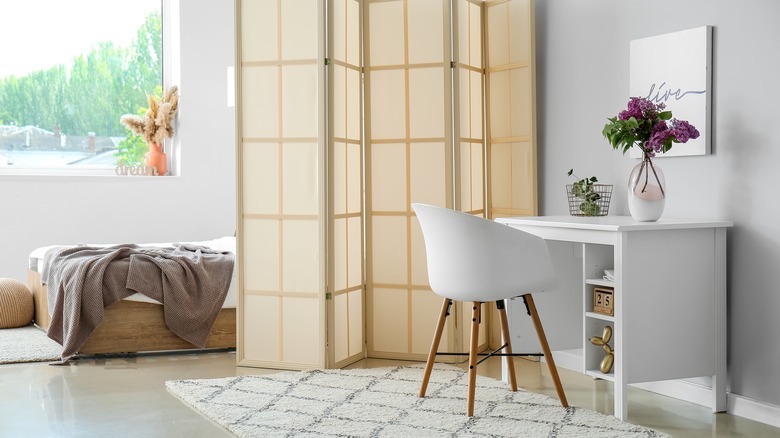 Pixel-Shot/Shutterstock
This canvas screen is great for separating the sleeping area from the desk area, which would work well in a guest room or combined bedroom/office while still allowing both spaces light and airflow.
2. Low bookshelves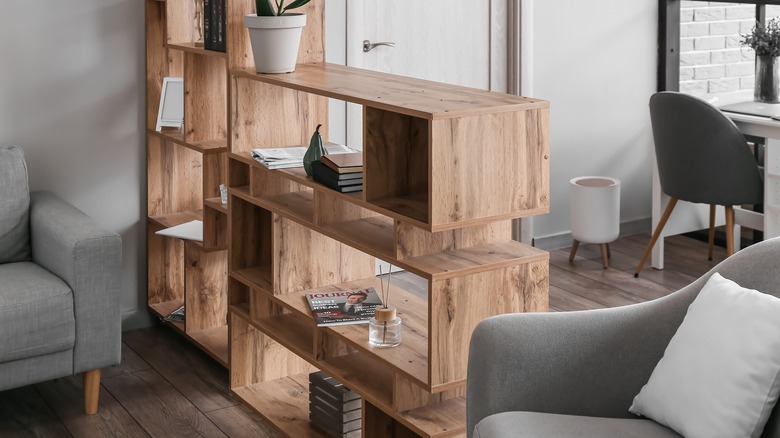 Pixel-Shot/Shutterstock
Low shelves are a perfect solution to both room division and storage needs, particularly in tighter spaces. These unique mid-century modern bookshelves are semi-open, which gives them a lighter feel and accessibility from both sides. 
3. Paper screens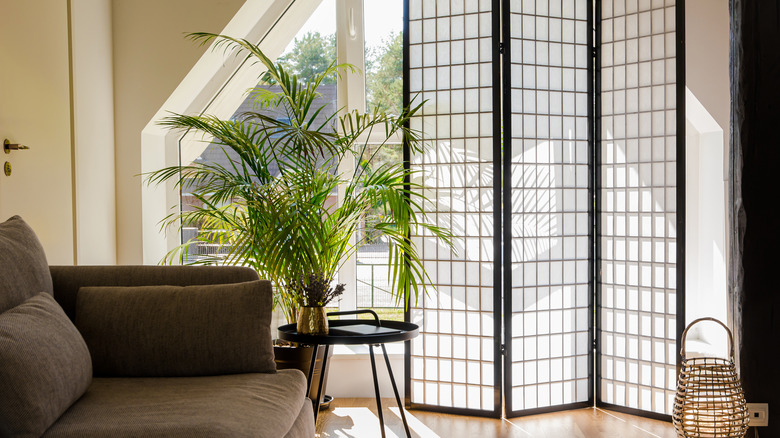 FotoHelin/Shutterstock
Paper and other lightweight, transparent materials are perfect for using room dividers as privacy screens in front of a window, particularly here, where having traditional window coverings would be harder to implement and cover up a uniquely shaped window. 
4. Ladder shelves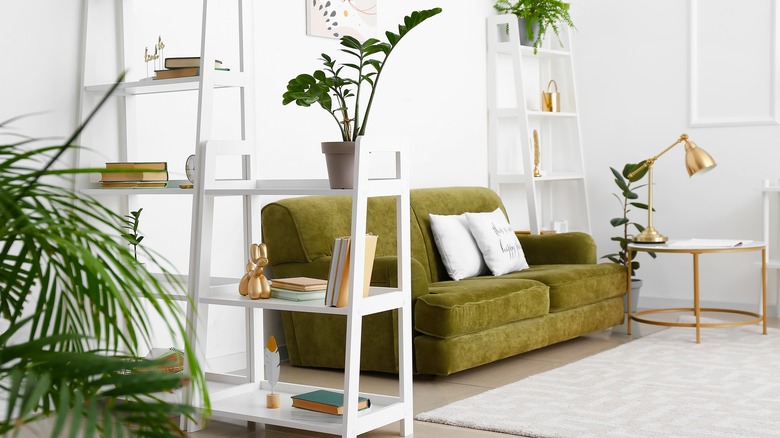 Pixel-Shot/Shutterstock
Ladder shelves are popular for providing additional space for décor and books while still remaining open, giving an illusion of spaciousness. Painted white, they can easily blend into the walls and almost disappear while still offering division. 
5. Bamboo screens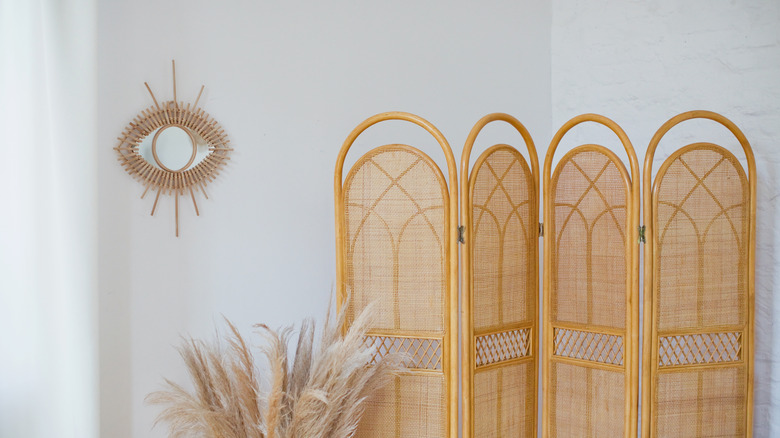 aprilante/Shutterstock
A pretty element in any boho-inspired space, these uniquely shaped bamboo panels allow light and airflow while giving off vintage and tropical charm. 
6. Rugs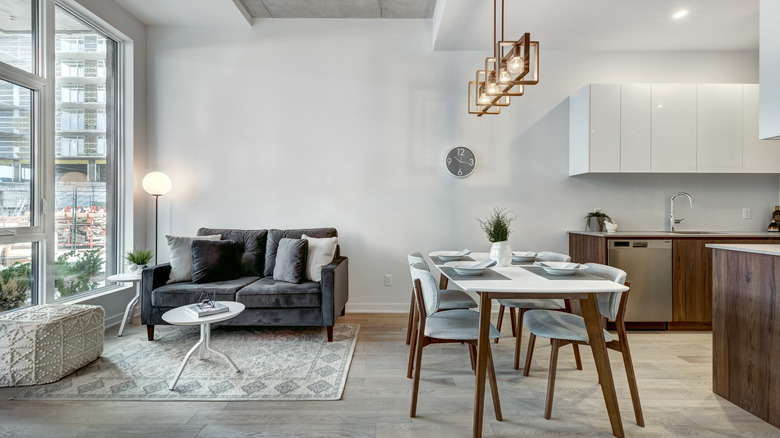 Anatoli Igolkin/Shutterstock
Another great way to divide a room without a vertical divider is to define different areas of a space with a large rug, which works well to ground a seating area and differentiate it from other parts of the room visually.
7. Bathroom screens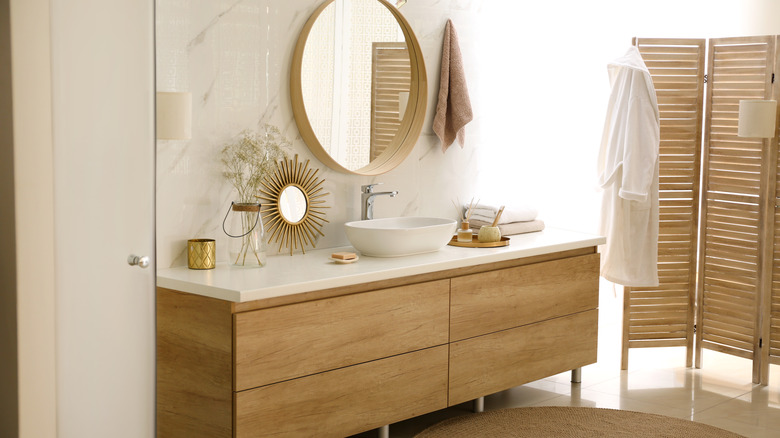 New Africa/Shutterstock
Larger bathrooms can sometimes feel too open and out of scale. By adding this raw wood shutter-style screen, smaller areas within the room can be defined for more coziness. 
8. Desks and tables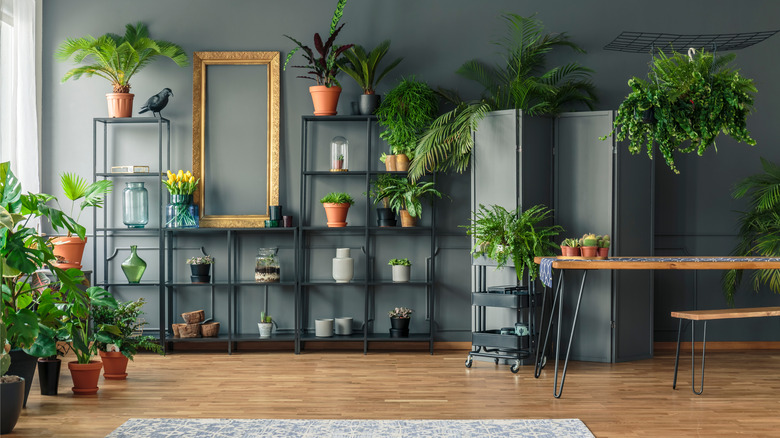 Ground Picture/Shutterstock
Desks or tables placed perpendicular to a wall can be an easy way to both define a space and open up more room along the perimeter without adding additional visual clutter at eye level.
9. Artwork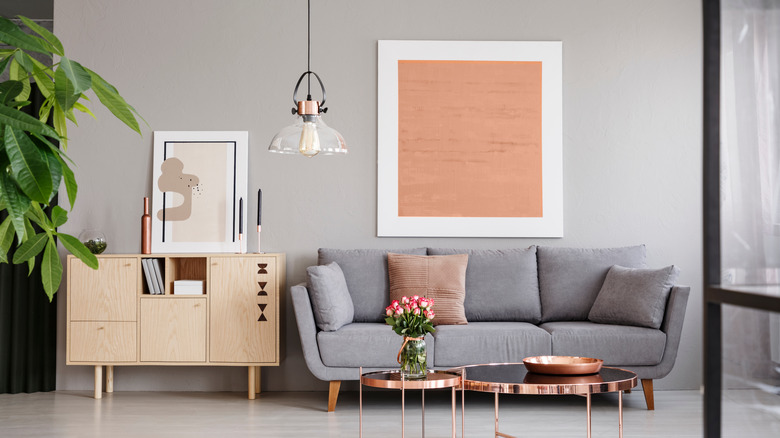 Ground Picture/Shutterstock
Like rugs, artwork placed on the wall can help create zones in a any space, particularly larger pieces of art, which serve as a focal point that breaks up the room.
10. Windows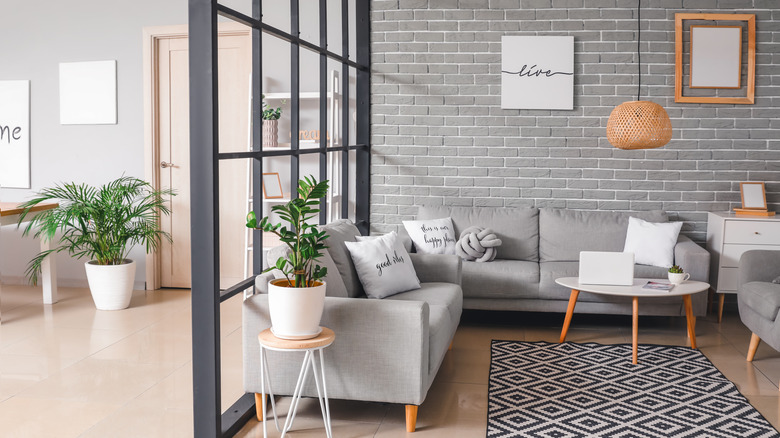 Pixel-Shot/Shutterstock
Glass window grids work well to allow divided spaces more light while still providing definition. Here, a seating area is open to natural light while also remaining visually separated from the rest of the loft space. 
11. Iron gridwork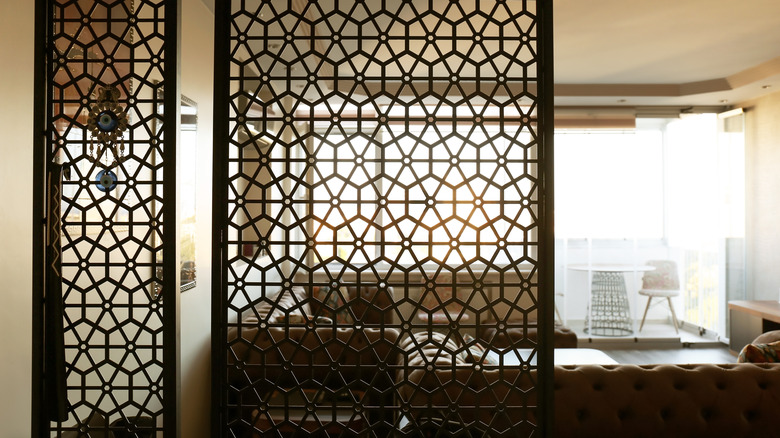 New Africa/Shutterstock
Wrought iron grids are not only functional for dividing spaces but also can be highly intricate and decorative while still keeping sight lines open and allowing light into the interior.
12. Curtains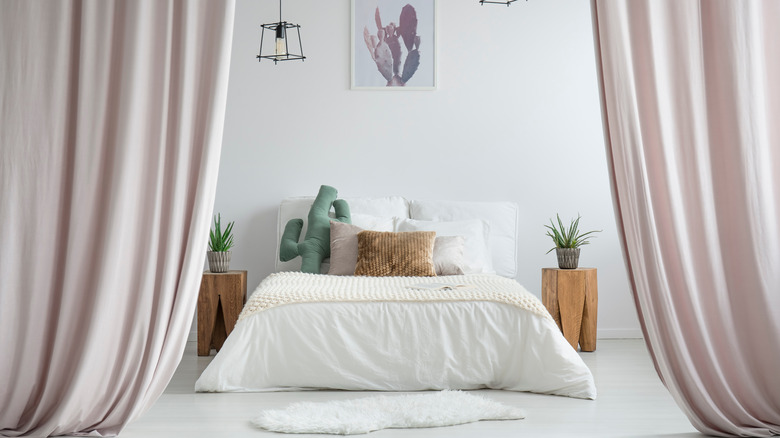 Ground Picture/Shutterstock
An alternative to a screen divider is to use curtains to define the space. Even if you keep them open most of the time and don't require privacy, they add a cozy, glamorous feel to a room. 
13. Kitchen island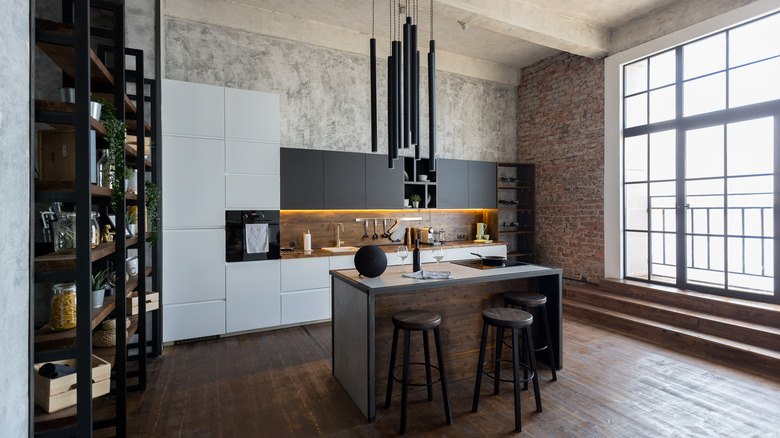 Pinkystock/Shutterstock
Particularly useful in studio apartments or loft spaces, an island can make an open-plan kitchen feel much more defined while also giving additional counter and seating space.
14. Canopy bed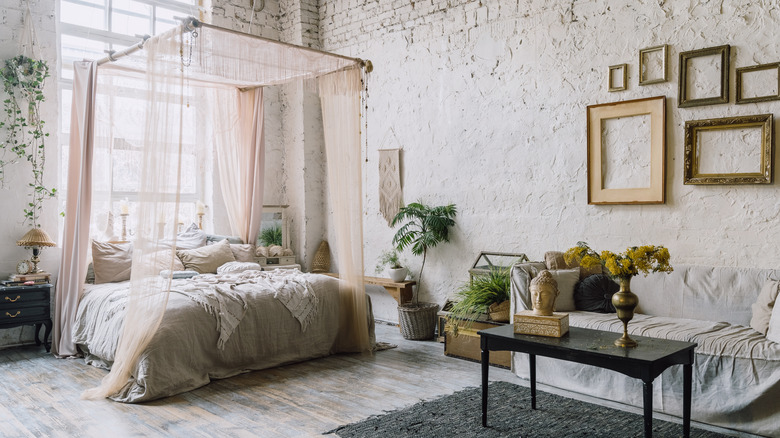 brizmaker/Shutterstock
If you like the feel of curtains but are unable to hang them from the ceiling, try a canopied bed for a similar effect. Here, dreamy sheers define the sleeping area from the rest of the space while not blocking any light from the large window. 
15. Furniture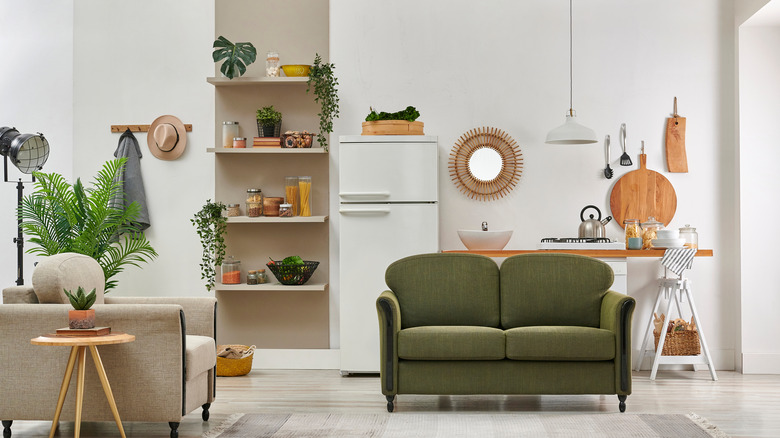 united photo studio/Shutterstock
Furniture placement can also work to efficiently divide a room into more defined areas. By placing the couch with its back to the kitchen area, the piece divides it into two distinct living areas effectively. 
16. Patterned screen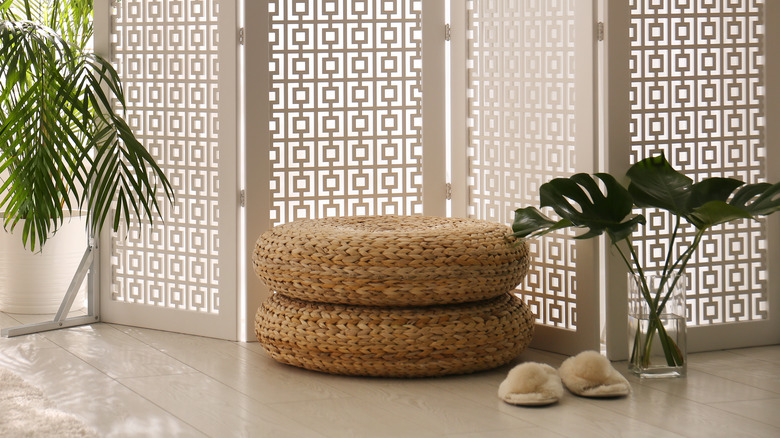 New Africa/Shutterstock
Room dividers come in a variety of materials, finishes, and design styles. Here a white, retro patterned gridded design works beautifully for a boho-inspired interior. 
17. Painted screen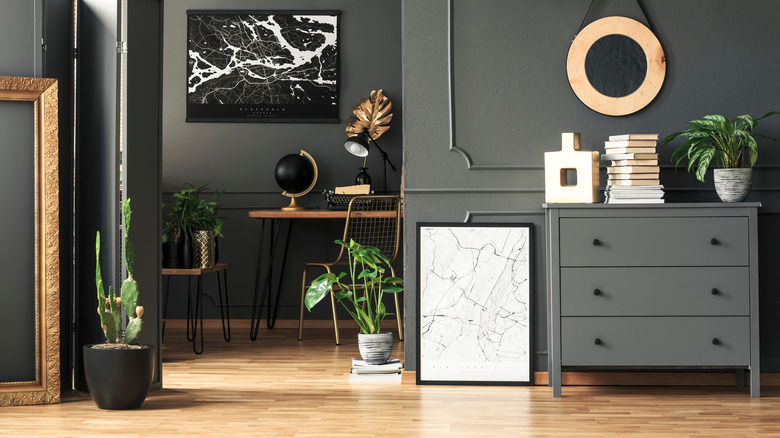 Ground Picture/Shutterstock
If you'd like your room divider to fit cohesively within your room décor without calling attention to itself, try painting it the same or a similar shade to the walls.
18. Accent color divider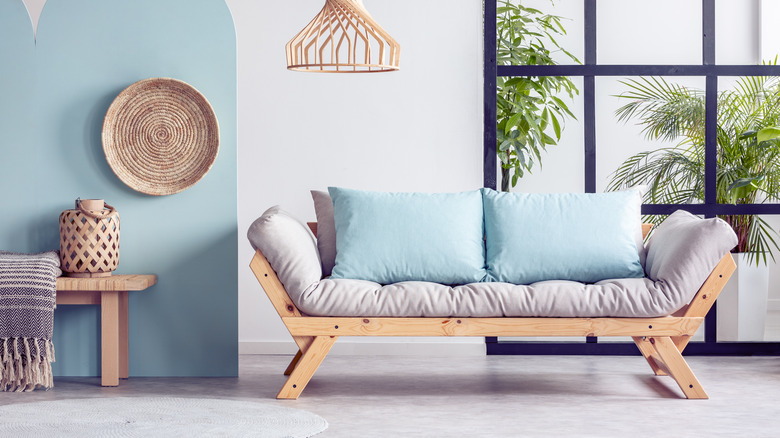 Ground Picture/Shutterstock
You can also use your divider as a way to bring in an additional accent color to a room, like this pale blue shaded screen that echoes the blue of the cushions on the sofa perfectly. 
19. Dressing screen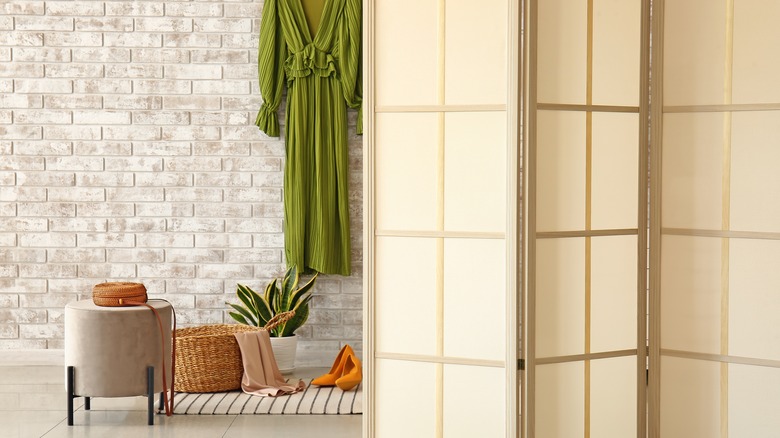 Pixel-Shot/Shutterstock
For bedrooms with limited closet space, a useful way to divide a room is by using a screen to define a wardrobe/dressing area in a corner or off to the side.
20. Decorative touches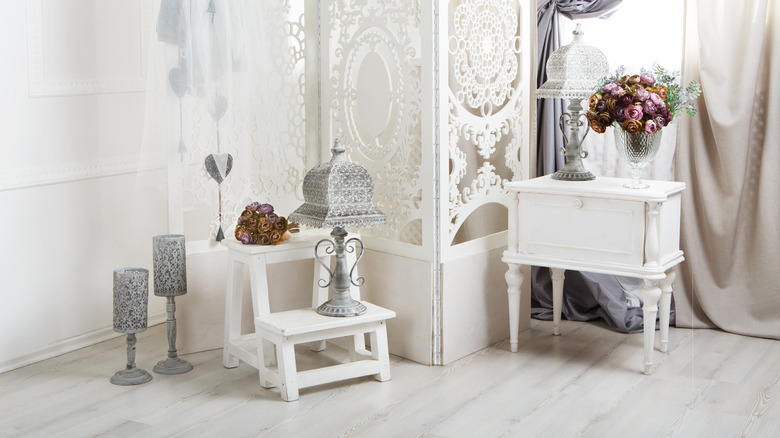 Prostock-studio/Shutterstock
Even placed in a corner, a decorative screen is key for adding visual interest to walls and a sense of depth to corners. Here, the lacework of the screen also becomes a stunning backdrop for similar accent pieces. 
21. Open shelving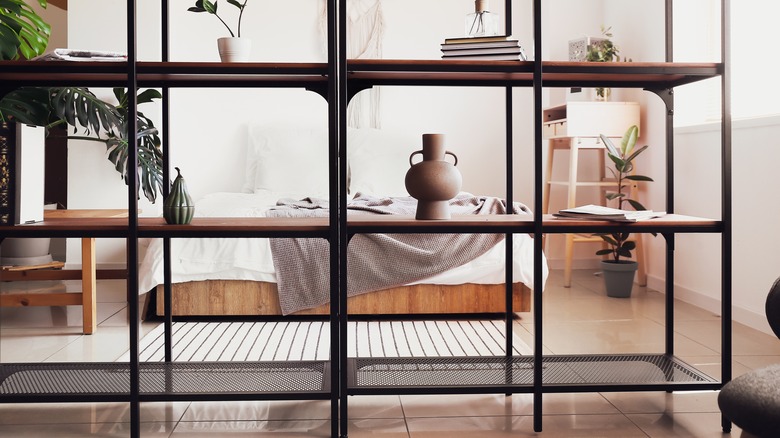 Pixel-Shot/Shutterstock
High, open shelving is a functional way to divide your space into distinct rooms. The openness of the simple metal shelves keeps light flowing through the entire space while also solidly defining the sleeping area. 
22. Combining elements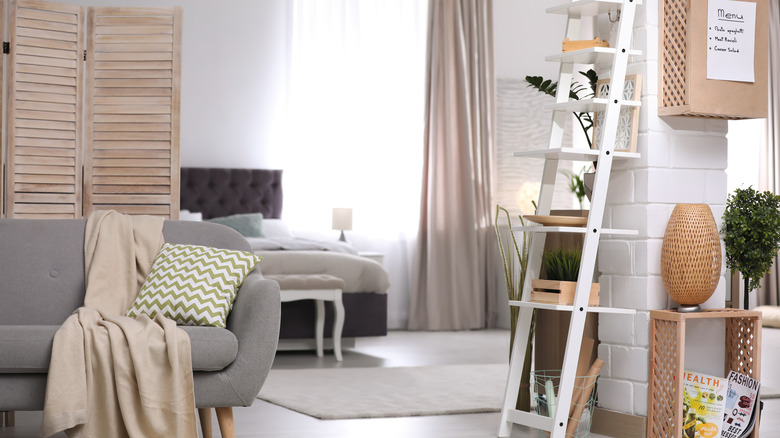 New Africa/Shutterstock
Definition in this open loft space is achieved not only by the screen behind the sofa but also by building out the footprint of the column with ladder shelving and other decorative elements that close off the bedroom from the seating area. 
23. Soft lighting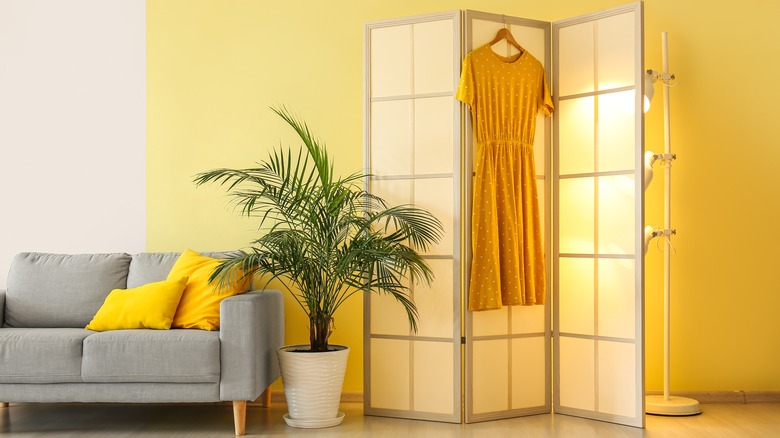 Pixel-Shot/Shutterstock
A perfect way to add a soft, romantic light is to place a floor lamp behind a white or colored screen in the corner. It can also hide unattractive cords or unstylish fixtures.
24. Greenery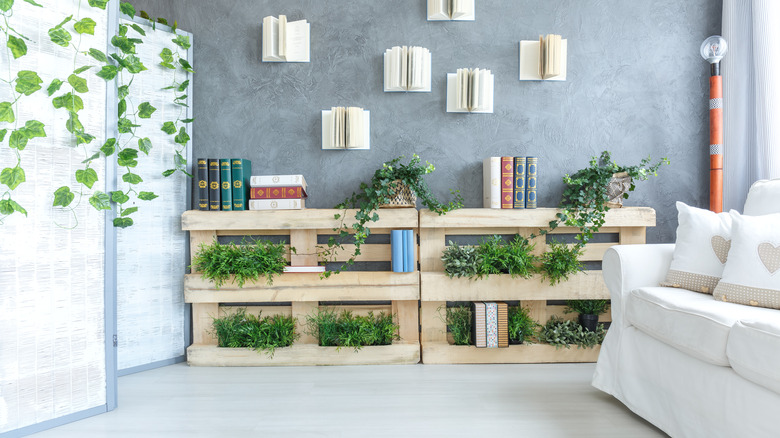 Ground Picture/Shutterstock
Room dividers and screens not only add verticality and privacy but can also be a great spot for both hanging and climbing plants for a natural look. 
25. Vertical orientation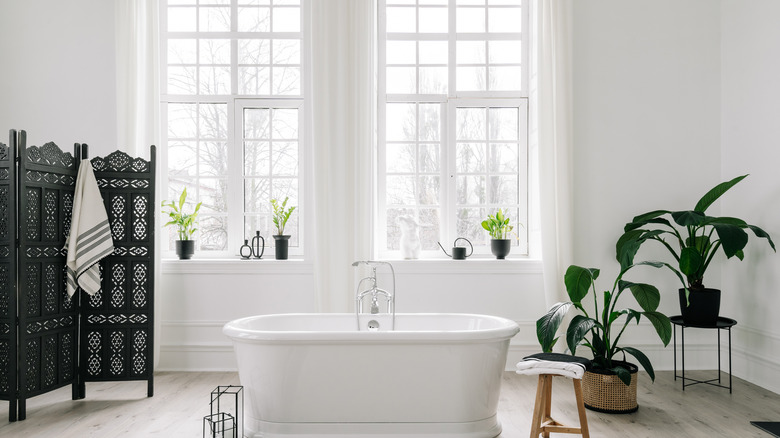 brizmaker/Shutterstock
Adding height through a screen is particularly helpful in rooms where things seem too low to the floor. This black decorative screen provides privacy and complements the more horizontal lines of the tub and plants.
26. Outdoors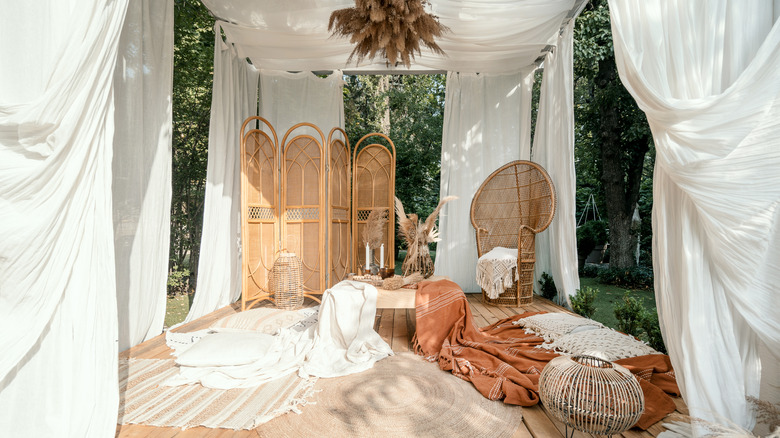 brizmaker/Shutterstock
Privacy screens are not just for the inside — they can also be an attractive way to block sunlight, weather, and prying eyes outside on patios, porches, and decks.
27. Shelved dividers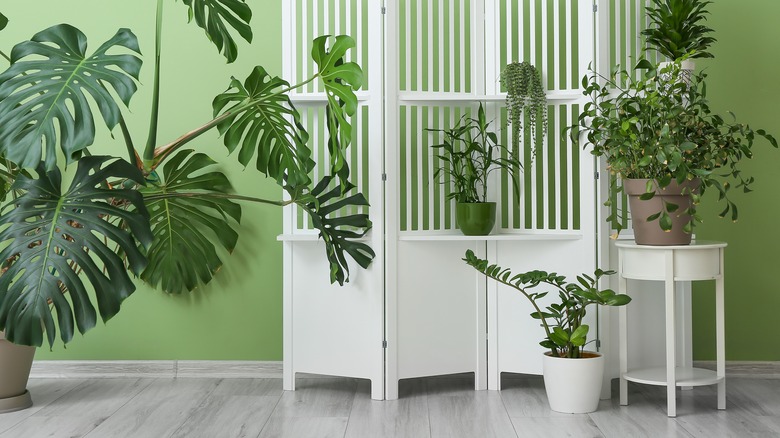 Pixel-Shot/Shutterstock
If you are looking for additional display space for plants or other items, opt for a divider with small, built-in shelves as an alternative to bulkier shelving units.
28. A wall of plants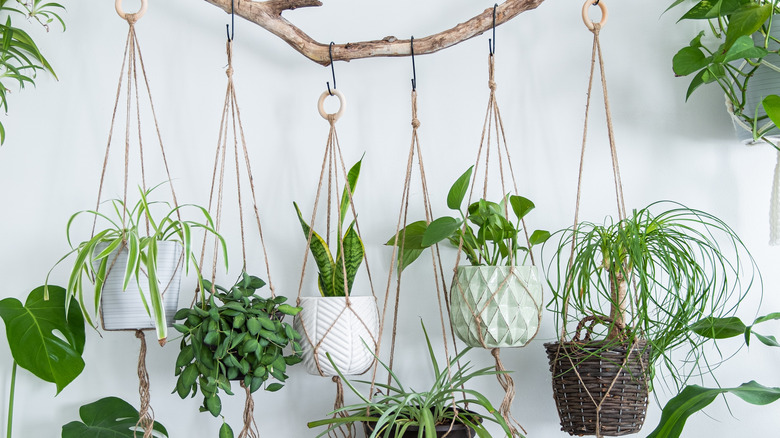 TippyTortue/Shutterstock
A fun way to divide one space from another is to create a wall of hanging plants. Try suspending a branch from the ceiling and hanging plants at different heights along its length. 
29. Beaded curtains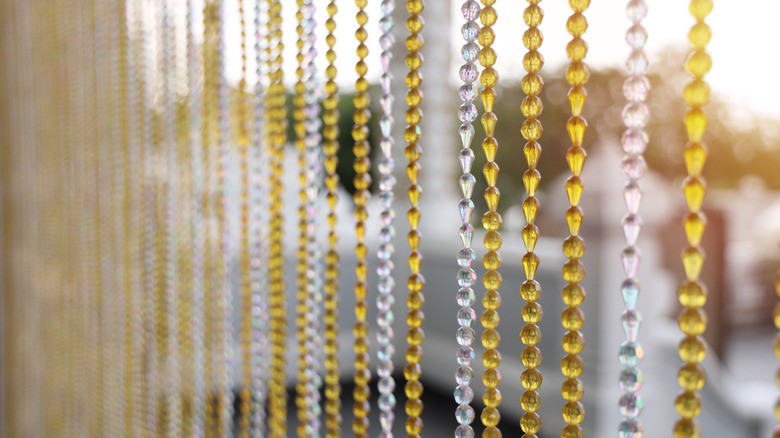 phol_66/Shutterstock
A retro and boho-inspired alternative to fabric curtains, beaded curtains come in a variety of colors, textures, and densities, including neutral woods and vibrantly colored glass. 
30. Gathered curtain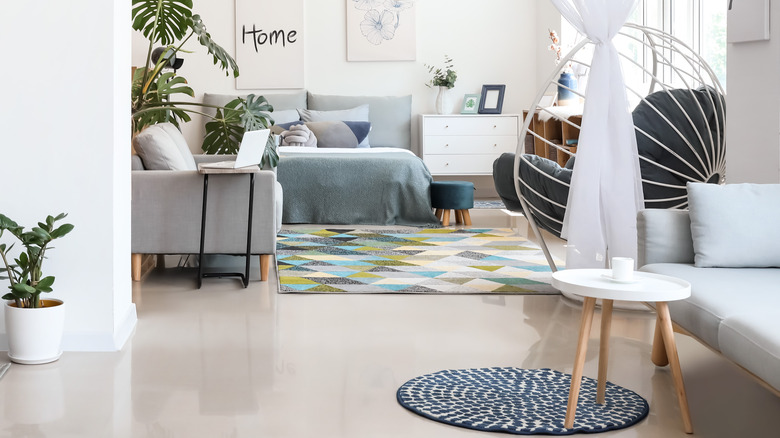 Pixel-Shot/Shutterstock
If you lack the space for heavier drapes or curtains to divide up a space, try hanging a single gathered curtain. Visually, it creates a separation without taking up additional room or blocking the light. 
31. Folding door fakery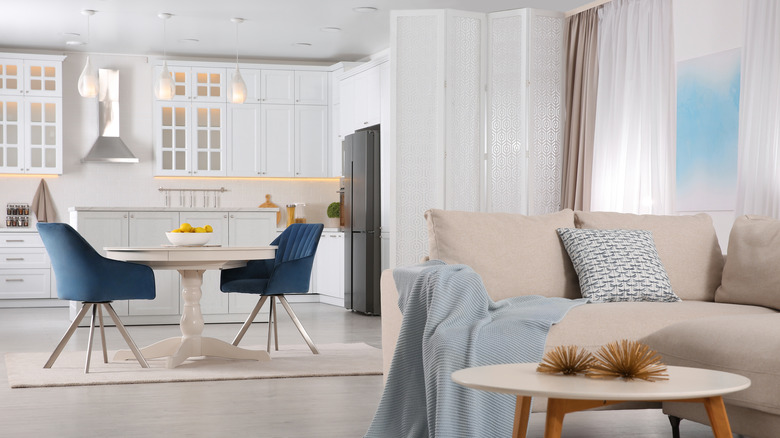 New Africa/Shutterstock
A well-placed folding screen can easily mimic the look of more custom built-in folding dividers and doors when placed against a wall. Here, a narrow screen looks like a retractable room divider while not taking up any additional floor space. 
32. Storage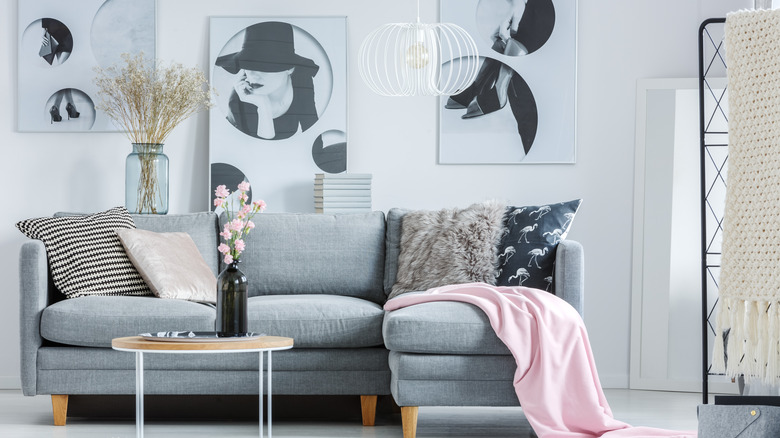 Katarzynabialasiewicz/Getty Images
Room dividers can fulfill a variety of functions for display and storage, including as a perfect place to hang throw blankets when not in use. It also serves as a stylish alternative to the more ubiquitous blanket ladder. 
33. Indoor swing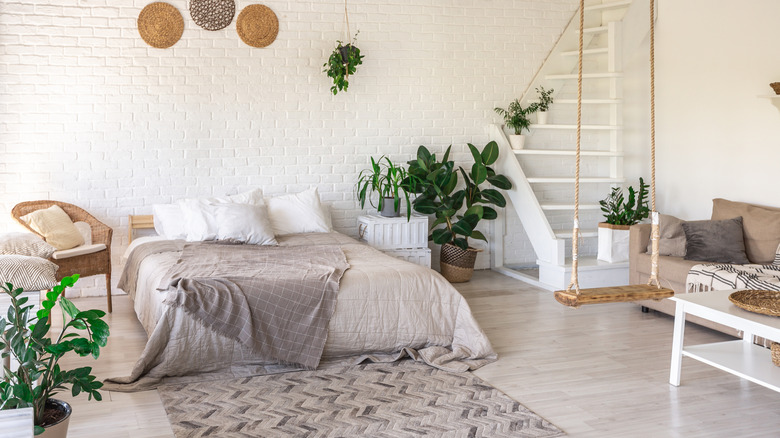 Pinkystock/Shutterstock
This unique swing in a loft space not only provides a fun option for seating but effectively defines the sleeping area from seating while not taking up any additional space and providing vertical interest.
34. Half wall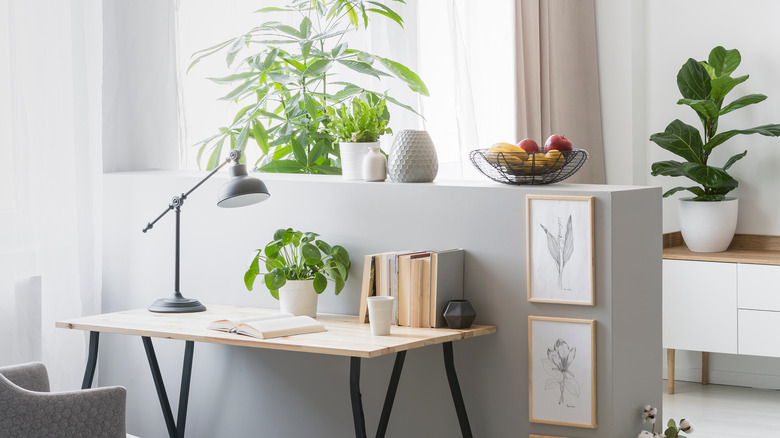 Ground Picture/Shutterstock
A low half wall is a solid way to permanently divide a space while keeping an open, light-filled feel. Here, it provides a cozy spot for the desk and a useful surface for art and display. 
35. Outdoor style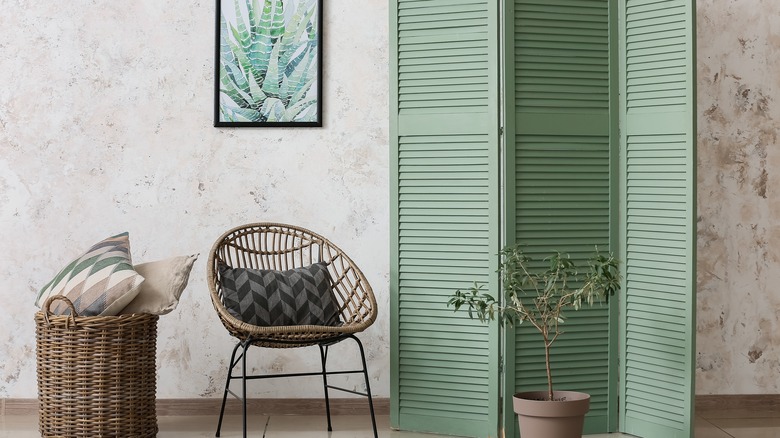 Pixel-Shot/Shutterstock
This vintage-look shutter screen in a fresh green shade is a beautiful way to bring an outdoor feel to the inside, especially when complemented by natural material accent pieces and greenery. 
36. A touch of glam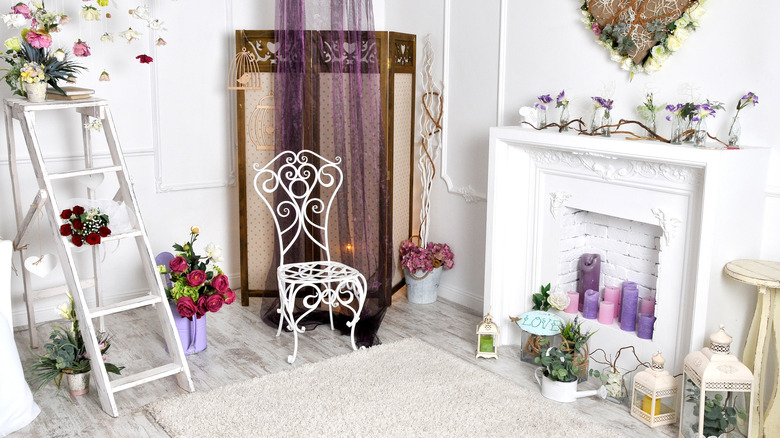 Funlovingukrainian/Shutterstock
Dressing screens are often key for adding a touch of vintage glamour to any style of décor. Here, intricately carved wood and antique fabric are stunning décor elements in a romantically decorated room.