HGTV's Hilary Farr Offers Her Best Couples Advice For Compromise During A Home Renovation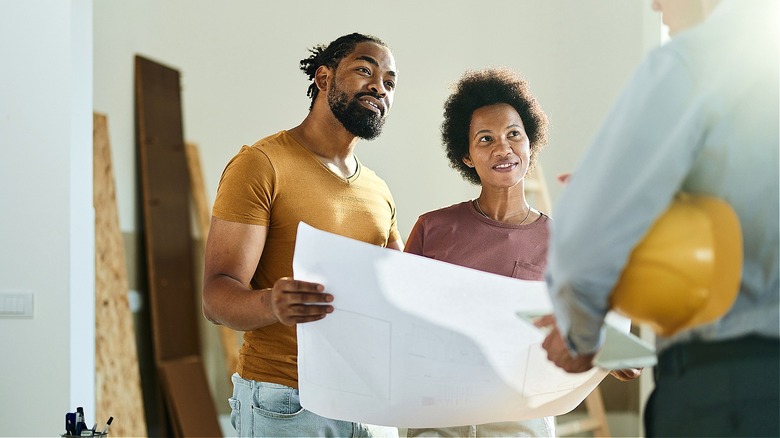 Skynesher/Getty Images
Renovating a home can be a stressful experience for any homeowner. But when it comes to making it work for a couple, the renovation stress can become even more heightened. Trying to combine styles and ideas into one cohesive space can be a challenge, especially if the couple has differing desires for a home. Hilary Farr from HGTV's "Tough Love With Hilary Farr" has experience trying to mend and blend styles for couples. "There's usually conflict when one half of the couple has a better sense of design and the ability to visualize changes in the space," explained Farr, per HGTV. "If the other partner doesn't share that vision, it can be hard to sell an idea." 
For Farr, the best place to start is by talking through the changes until both parties have a better understanding of where the project is going and are more comfortable with those potential changes. This means you may have to break down why some colors or materials work together and explain how they'll look good together once the project has finished. Pulling examples of the materials can also help visualize the future space. Seeing the kitchen cabinet color, for example, next to a tile sample next to the countertop sample can make the project seem less abstract.
How to visualize a space together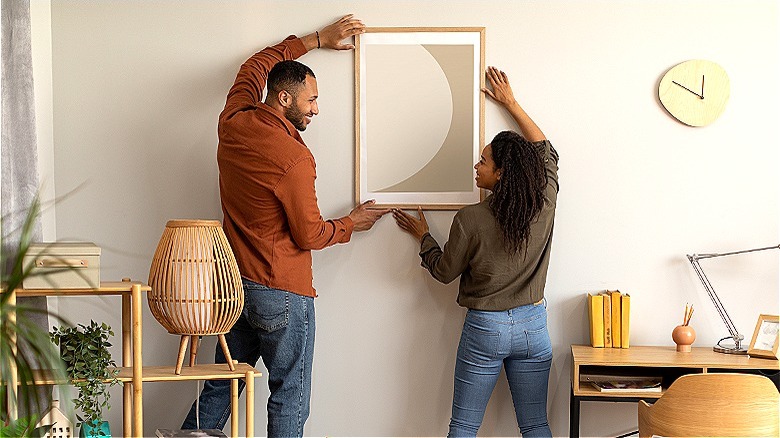 Prostock-studio/Shutterstock
As HGTV's Hilary Farr notes, conflict between couples during renovation often comes from one person not being able to visualize the new space in the same way. Talking through the design and seeing materials can help make the potential renovation feel more concrete. Said Farr, via HGTV, "I usually ask a couple to look at design sites separately to flag what they like, then [compare] to see where they're on the same page. It's a good way to help them find middle ground, and middle ground is everything."
Alternatively, you can also use 3D visualization to see how a design will look in a home. With 3D visualization, you can make tweaks and changes before using physical materials. Using all of these methods will also help a couple compromise. When it comes to the details of the project, each person should choose must-haves and wants. You should respect the other person's must-haves and do your best to incorporate them into your design. This ensures both parties get an aspect of what they desire in the renovation.
Wants can warrant a bit more discussion. Both sides can list out things they want to see in the new space; ultimately, some may not be included, and others may make it into the design in a different way. When it comes down to it, compromising during a renovation is just about maintaining communication, keeping an open mind, and being patient with each other. Creating a home you both love should be the ultimate goal.
Compromise begins with a conversation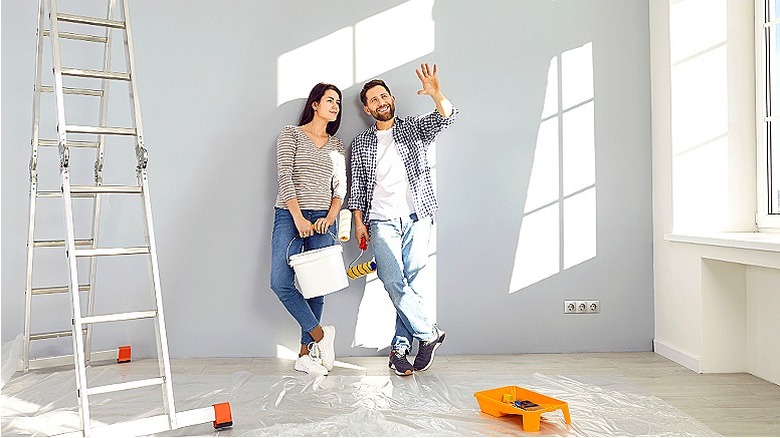 Studio Romantic/Shutterstock
As Hilary Farr says, couples finding a middle ground is everything in a renovation, and talking things out is one of the best ways to work through the project. As she told HGTV, a new design style can be "polarizing," but getting to that middle ground is "the beginning of a conversation on how to open up your mind." But how do you compromise with your partner without compromising your aesthetic?
One way is the 70/20/10 rule. Commonly used when mixing colors, it also can be used with materials and overall style. With this rule, 70% of the room is composed of one major style, while there are accents from other styles, which comprise 20% and 10% of the total design. Together, decide what styles each percentage will represent.
For example, 70% of your living room may feature midcentury modern pieces, 20% organic modern, and 10% colorful maximalist. Then, you can choose items that follow these guidelines, and both people get a say. You can also adjust the percentages or change them by room. The living room may be mostly midcentury, but the dining room may lean more maximalist. This way, both styles can be featured throughout the home.