Hilary Farr Says One Feature Is Essential When Converting A Garage Into A Living Space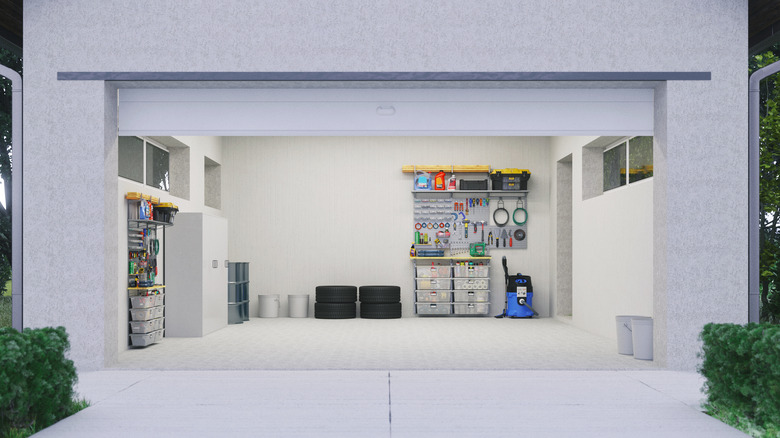 Imaginima/Getty Images
As families grow and needs change, many homeowners may find themselves in need of more liveable square footage. For some, this means creating an addition. For others, it means converting some current underused area to maximize the space in their home. Unfortunately, the latter can be tricky, as many conversions feel like an afterthought rather than a comfortable part of the house. Hilary Farr from HGTV's "Tough Love With Hilary Farr" created a home office in part of her client's garage in Season 1, Episode 1. However, she didn't want this space to feel like the garage from whence it came. Farr says that there is one feature that a converted garage needs to feel like an actual living space: windows.
"The window makes all the difference," Farr explains as she shows off the renovation to her clients in the HGTV episode. "Absolutely essential that that window is there." The window on one of the walls looks out over the yard, bringing in natural light and making the room feel more intentional. The final product is a dedicated office space that feels connected to the rest of the home and not an afterthought.
Why windows are a must for garage conversions
If your garage isn't getting much use, you may want to consider converting it into a liveable space. However, turning a garage into a home office, bedroom, or cozy den requires some preparation to get right. Hilary Farr stresses how essential the window is for her clients' garage conversion. The window brings in natural light, which illuminates the room and makes the small garage space seem bigger. Natural light enhances the materials used in the design, and it makes the room feel like a true home office and not like a former garage. Since most of the other rooms in your home have a window, a garage conversion should as well.
Farr's design shows that a small window can go a long way, and even just one brings in enough light to fill the space. If you want to maximize the amount of natural light in a small area, opt for casement windows. These work well in small spaces and have uninterrupted panels that won't block the sun's rays. If you have a little more square footage, consider bay windows. These protrude from the exterior of the home, allowing for more light to come in while also adding a bit more interior space. However, if you have limited room, sliding windows might be the best option. These evenly distribute their weight, which often allows for a larger window that will let in more light.