Short On Bar Space? This IKEA Hack Can Help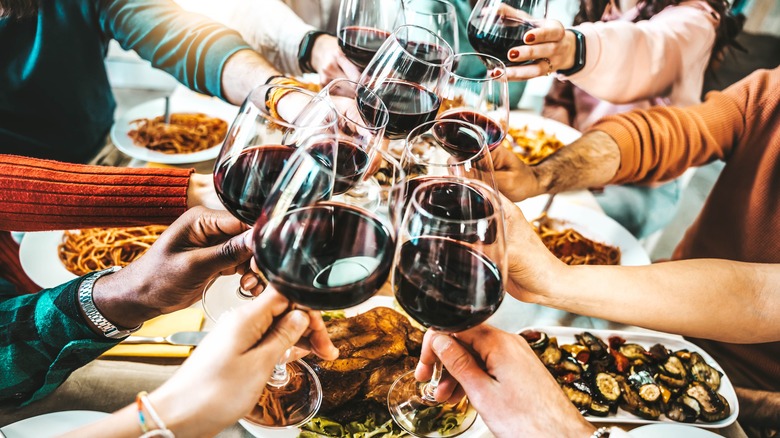 DavideAngelini/Shutterstock
Ikea's TRONES shoe rack is a perennial favorite among buyers, who have come up with a number of excellent hacks for tuning this narrow plastic shoe cabinet into valuable storage. Intended to be a wall-mounted narrow cabinet to save space and store shoes out of sight, it has been repurposed in all sorts of cool ways. It can store everything from pet supplies and linens to reading material and media. You can even use the TRONES in a completely unexpected way as a small bar wherever you might need one. Mounted to a wall, it makes the perfect place to keep beverages chilled, while providing room along the top shelf for bottles and glassware. Just fill it with ice and anything you want to keep cold.
It is also a very budget-friendly alternative to similar built-in or fold-out home bars, with TRONES available in sets of two for under $40. This means you can use two attached to the wall horizontally for an even larger bar surface and ice bucket. Simply attach the TRONES to the wall with screws through the plastic, making sure to anchor them at studs for a secure hold, particularly if you plan to fill them with heavy bottles and ice. The Ikea storage cabinet comes in three shades — white, black, and green-gray — fitting nicely into any decorating scheme. Measuring 20 ½ inches by 15 ⅜ inches with a 7 ⅛ inch depth, they provide a lot of room for your bar essentials.
Using the TRONES as a bar
Plastic construction and a deep compartment make the TRONES perfect for serving as a small bar in places like balconies or porches that don't have room for a larger bar cart set up. They also fit nicely on the wall near a recliner or bed retreat as a spot to keep beverages close at hand and always cold. Set up a pair to serve as a small foldout bar in a small dining room, where they don't take up any valuable floor space. For a more polished and more expensive look, try adding a slender piece of wood along the top of several cabinets hung together.
The TRONES, meant for shoes, is large enough to store full-size bottles of wine or champagne or even more smaller bottles, making it a great alternative to a bar cart. Keep a scoop inside to easily scoop ice into drinks. They are also great for a sleek built-in look that can be temporarily placed where you need it and then removed. Like a cooler, you can remove the TRONE to drain off the water from melted ice. Made of strong and durable recycled plastic, they are also very easy to clean.