The Best Flowers For A Thanksgiving Centerpiece, According To Martha Stewart (And How To Do It)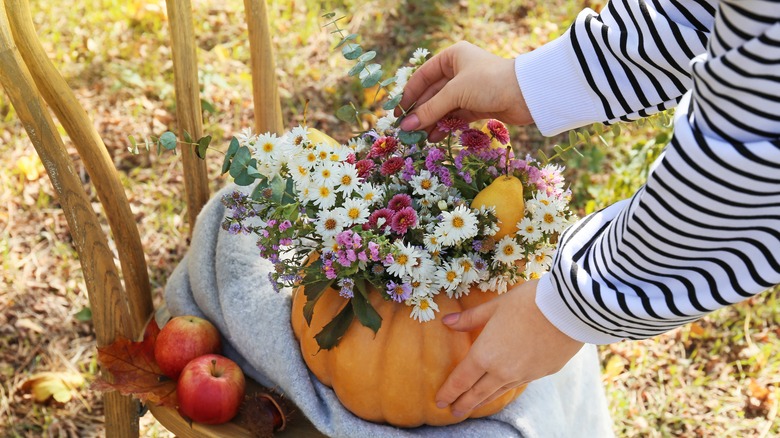 Pixel-Shot/Shutterstock
As the weather gets colder and the days become shorter, we start transforming our homes from summer decor and colors into autumnal palettes that prepare us to celebrate Thanksgiving and the other upcoming holidays. This shift doesn't mean we have to say goodbye to our flowers and vibrant colors; it just takes on a new life in the form of other hues and plants that are more reminiscent of the fall season. One way the home and hospitality expert Martha Stewart transitions her space for Thanksgiving is through stunning centerpieces that feature a range of different autumnal-themed flowers, including mums, roses, hydrangeas, rose hips and cotinus. 
Not all flowers will fit the autumn vibes one would typically go for in the latter months of the year. Some may feel too summery in their shape or the shade a tad too bright, but Stewart knows precisely which flowers to showcase for Thanksgiving and what colors we should prioritize, which she makes clear in her YouTube video. With flowers featuring a variety of red, pink, yellow, and orange tones, here is how Martha Stewart creates her centerpieces for the yearly day of thanks that brings friends and family together.
Mums and roses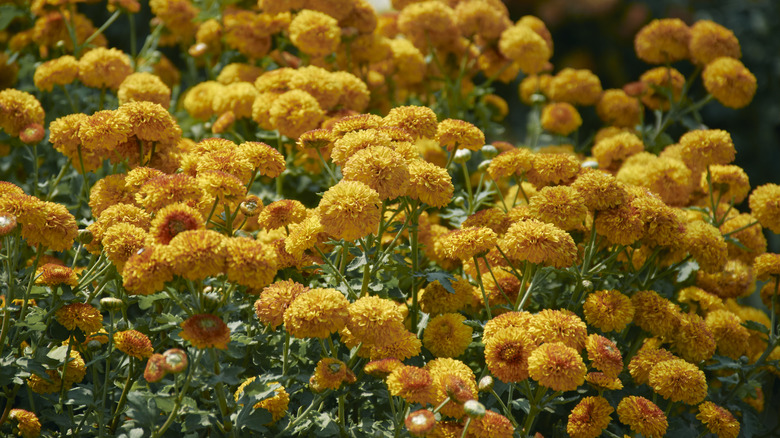 Suprabhat Dutta/Getty Images
Mums, short for Chrysanthemum, are native to East Asia and Northeastern Europe and are a fall favorite for many. These flowers bloom at the start of and during the autumn season, making them the perfect floral for a splash of autumnal color. Many varieties of mums exist, from various colors to different shapes and sizes. Some perennial mums take on an appearance similar to that of daisies, but the ones Stewart showcases in her Thanksgiving centerpieces are large, voluminous pompom mums in a moody yellow. Mums are easy to grow at home, thriving in flowerbeds or garden containers, and will be essential to have on hand for all your autumn flower needs.
The uses of roses in Stewart's flower arrangements don't come as a surprise, with roses being a longstanding staple in both our garden and inside our homes. While roses can be found in more colors than we can count, reds and oranges should be on deck for your Thanksgiving centerpieces. Stewart uses a true red to accompany peachy and dusty orange roses. Orange roses result from cross-breeding red and yellow varieties, creating some of the most beloved orange hues, including Rosa 'Lady Marmalade,' 'Buff Beauty,' 'Perfect Pet,' and 'Fellowship.'
Hydrangeas and rose hips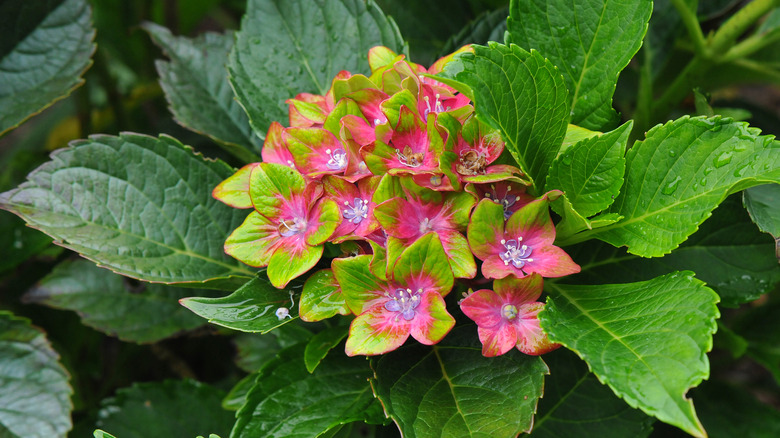 Todd Boland/Shutterstock
Hydrangeas are often thought of as a summer flower, blossoming in vibrant shades of pink and blue. But there are hydrangeas that not only bloom in the fall but carry subtle tones that will fit right in with a morose autumn color palette. The 'Bobo,' 'Tradiva,' 'Tuff Stuff,' 'Fire Light,' and 'Pistachio' hydrangeas all showcase light pinks, greens, reds, and whites. In Stewart's Thanksgiving centerpiece, a hydrangea much like the Pistachio looks to have been used, the small cluster of flowers complimenting the single and larger blooms.
Rosehips are a common berry we see throughout the holiday season, but many don't know much about them or where they come from. Also called rose haws or heps, these round fruits come from rose plants that have finished their life cycle. One can eat them, use them for medicinal purposes, or, in this case, utilize them for decoration. The red and orange-toned berry clusters make the perfect accents in flower arrangements, placed similarly to how we would add grasses to compliment florals. In addition to rosehip, Stewart uses other leaves like cotinus, oak leaves, and peach leaves to add greenery, create more volume, and make the flowers pop.
Create your Thanksgiving centerpiece
Gathering the autumnal flowers needed for your centerpiece is only part of the fun. Putting them together, creating something entirely new, and seeing all the different arrangement possibilities is where the true excitement lies. Stewart made her Thanksgiving centerpiece in a medium-sized bowl, placing a grided outline across it with floral tape. This allowed her to organize the flowers and keep them all upright as she filled in the spaces. But, before inserting the flowers, she filled the bowl with enough water and added some flower food. Stewart also suggested a few drops of liquid bleach to help prevent the water from turning cloudy and slimy when bacteria festers.
As Stewart starts putting together her arrangement, she begins with a large yellow mum and places a peachy rose to its right, adding in a branch of cotinus to give a dramatic flare with its dark-purple color contrast. From here, she continues to build up her colors, adding a variety of reds, oranges, pinks, and yellows while also adding accents of rosehips, cotinus, and other leaves. She recommends keeping the centerpiece low, as one that is built up too high will obscure the view of friends and family when it comes time to gather around the dinner table. Lastly, Stewart advises in her tutorial how far in advance you should make your centerpieces, saying, "If you make your flower arrangement, say, Tuesday for Thursday, these will be utterly open, and full-blown and gorgeous for your table."