Ditch Basic Plant Stands And DIY This Unique Rotating Floating Shelf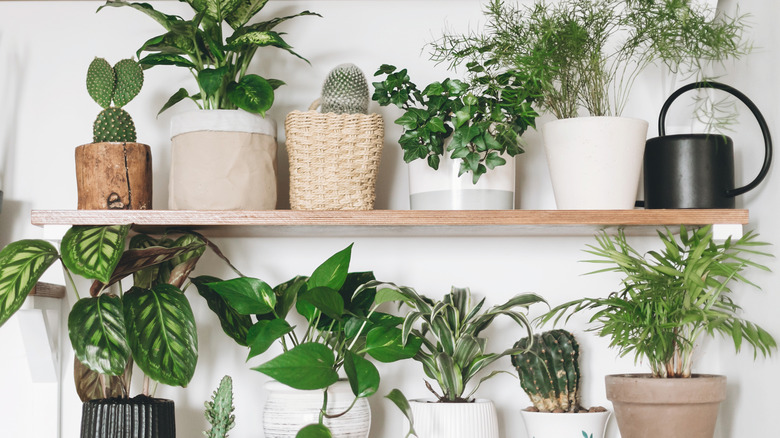 Bogdan Kurylo/Getty Images
Plants can be one of the best design elements in your home, adding not only texture and natural style to your room but providing air filtration and oxygen-boosting benefits as well. With a recent increase in plants used by design experts and the trend of biophilic interior decor, more and more plants are filling contemporary homes. With that comes the question of where to put them. A number of stylish indoor plant stands, mini-greenhouses, and other pieces of furniture can serve as berths for these popular elements, yet TikTok user Natalie Johnson, @blissfullyfrazzled, recently unveiled a cool swiveling plant rack DIY with a very budget-friendly price. This unique design can be built with only wood and industrial pipe fittings, creating a brilliant wall-mounted plant stand with shelves that rotate. 
Because the shelves swivel, you can move your plants in and out of the light as needed when placed next to a window. You can also place it on the wall and stagger the direction of the shelves to create a lush wall of plants. It's a design that is also durable enough for outdoor use, so it makes a perfect plant stand option for porches and balconies. Made with sturdy wood and piping, it will also withstand the weight of multiple plants at once.
Creating a swiveling plant stand
To create your plant shelf, you will need a length of wood you can cut into 18 to 24-inch shelves (the Tiktoker uses an 8-foot by 6-inch board). You will also need pipes and fittings, including two flanges, two elbow pieces, two pipe couplings, two 5-inch pipes, and two 12-inch pipes. Natalie Johnson uses a jig saw to cut the wood after measuring, then she uses a paper plate as a template to round the edges of the shelves. They measure 1 ½ inches from the center of each board to create the drill holes with a 1-inch drill bit — where the pipes will be threaded through. Angling the holes slightly outward will help ensure that the shelves will not sag with the weight of the plants. After sanding the wood and applying a Minwax finish and a polyacrylic sealant to the shelves, Johnson puts the pipes together with the flanges and elbow pieces against the wall at the top and bottom, making sure to attach them along a stud for increased stability.
While the tutorial chooses matte black fittings and pipes, you can always opt for gold, brass, or silver to fit your room design. These shelves, while perfectly designed for plants are great for anywhere you need adaptable and adjustable shelves. While they look beautiful near a window, they also make an awesome skinny adjustable room divider if you are looking to create zones in a studio apartment or open-concept space.