TikTok Shows Us How To Use Empty Salt Containers To Prevent Kitchen Messes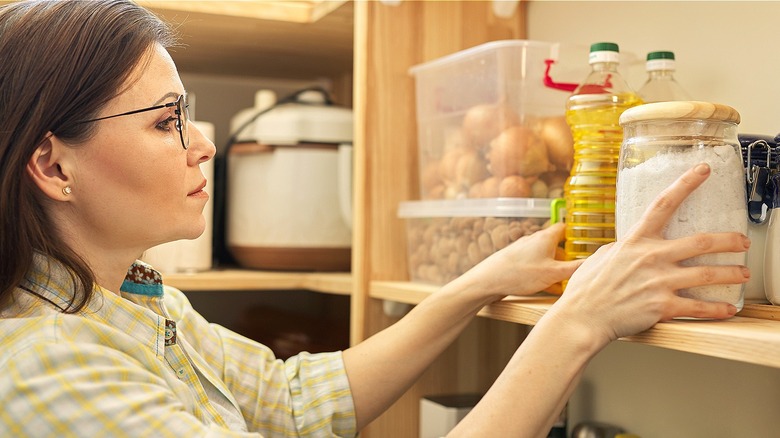 VH-studio/Shutterstock
When it comes to kitchen organization, what's better than finding quicker and easier ways to manage the space? To that end, tips for a perfectly organized kitchen are always welcome, like this TikTok hack from @lizfenwickdiy, which takes on the issue of kitchen messes — specifically, the kitchen messes resulting from spilled dry ingredients onto counters and/or the floor. The solution? Empty salt containers, which you can repurpose to make pouring dry ingredients an organized, mess-free snap.
In addition to the empty salt containers, the other key to this hack is a mason jar, which many people like to use for aesthetic kitchen and pantry organization. Rather than display salt, sugar, grains, cereal, etc. in their original containers, a stylish alternative is to transfer the contents into mason jars or similar glass containers instead, allowing for a cohesive, organized display out on the counter or along open shelving in the kitchen. The problem though is that scooping the contents out of the jar can get messy; a problem this hack fixes.
How to fit a mason jar with a pour spout
This organization hack makes kitchen cleanup easy by bringing together the best of both worlds, as it adds an easy-pour spout to the lid of a glass mason jar. To get started, remove the mason jar's top, which has two parts: a flat metal disk and a circular lid with a rubber ring seal. The metal disk is the key; you'll be replacing it with the salt container's lid.
Once removed, place the metal disk over the salt container's pour spout to draw an outline. Then, cut the outline out and then fit the piece into the mason jar's circular gasket. It should fit perfectly. Pour the salt into the jar and screw on the jar's lid. The only thing left to do is to open the salt container's spout as you normally would. And though @lizfenwickdiy demonstrates this TikTok hack using a new Morton Salt container, you can use this hack for any other small-sized dry ingredient you transfer into a mason jar, too, including spices, breadcrumbs, or grains.