This Affordable Shower Find Is A Bathroom Storage Game Changer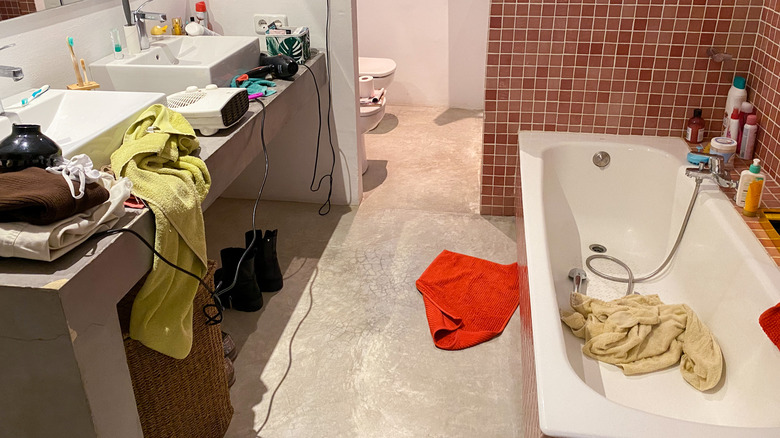 Ines Fraile/Getty Images
We may receive a commission on purchases made from links.
Bathrooms can often be short on storage where you most need it. This can be particularly true of your tub and shower, which usually require a lot of products and tools for bathing and getting ready but often lack the necessary shelving, ledges, and other storage options for housing what you need. Your neat and clean bathroom can quickly turn cluttered with bath brushes, toiletries, razors, and loofahs with nowhere to stash them properly. The solution for doubling the storage space in your small shower and tub area may be less expensive and easier to find than you think–pocketed shower curtains! This innovative shower storage solution is great whether you want things hanging in sight or tucked quietly out of view. 
Not only do these curtains offer a spot for shower things, but they are also a great water-resistant spot to hold phones, tablets, or other electronics you want visible or within quick reach in the shower. Many parents have found the curtains a lifesaver for storing bath toys within easy reach at bathtime.
Bathtime storage solution
Pocketed shower curtains are usually inexpensive and available through several retailers, many for $10-$20. You can purchase clear, semi-opaque, and opaque varieties, which also come in various colors and patterns to fit your decor. They come in basic options like this one from Walmart or the slightly more luxe Rebrilliannt shower curtain from Wayfair. Most have waterproof pockets are made of the same material as the curtain, though others, like this Maytex curtain from Amazon,  have mesh pockets that are great for draining excess moisture off of things like loofahs, brushes, and bath toys. 
If you flip around the pocket access to the front of the curtain, you can also use these curtains to hold other bathroom essentials like cosmetics, skincare, hair tools, and other grooming implements in a convenient spot where they are easy to grab. Many DIY-ers also bring them out of the bathroom and into other spots in the home where pocketed storage is a must, like pantries and craft rooms, where they are great for holding small items when hung on the wall.
Making it work for you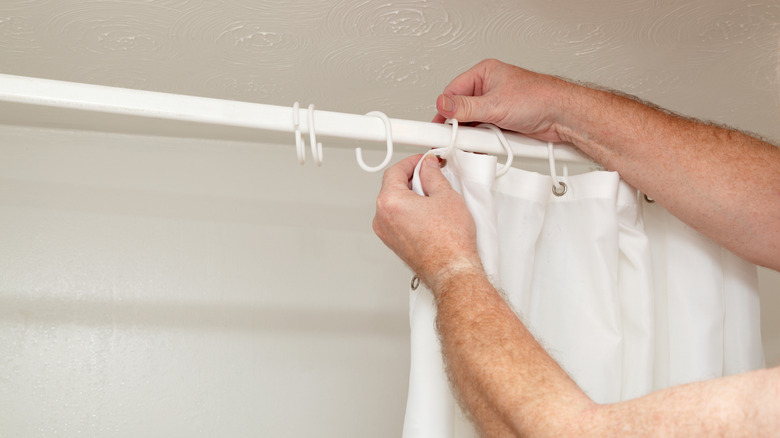 Kbwills/Getty Images
If you are looking for new storage possibilities in your shower but are committed to a shower curtain you already love, use a pocket curtain as a liner behind that curtain, which will keep your stored items out of sight and accessible only from the shower side. You can also purchase a hanging caddy that works much the same way, like this one BSAGVE organizer from Amazon that serves a similar purpose for holding bath items easily and within view. You can also DIY a pocket shower curtain from a regular one using a mesh laundry bag and some glue to create pockets.
Fully transparent pocketed shower curtains also have design possibilities, allowing you to create a custom-designed shower curtain with anything you might like to display in the pockets, including favorite photos, travel mementos, postcards, artwork, or dried flowers, which make the curtain as beautiful as it is functional.