Your Roses Will Look Better Than Ever With Martha Stewart's Clever Trick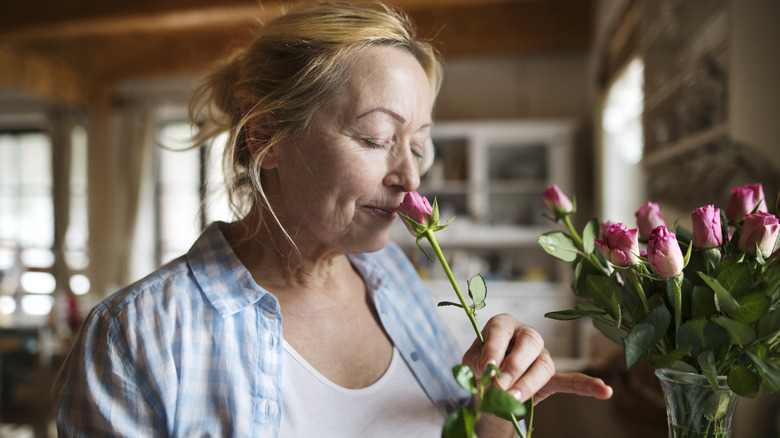 Grapeimages/Getty Images
As a flower expert, Martha Stewart loves growing many types of blooms around her property, and some of the most fresh-smelling are her rose varieties. Some roses can bloom all year long, which means anytime is the perfect time to gift someone these beauties or display them in your home. They are near-universally beloved for their delicate scent, velvety texture, and astonishing array of colors. From a firecracker explosion of pink-orange to cool lavender and deep, rich red, these blooms will bring life and beauty into your home. Florists often sell roses with the buds closed instead of open to help guarantee that they'll last longer. However, if you'd love to see those buds quickly open into exuberant blossoms, Martha Stewart's clever solution will help you speed up the process. She suggests submerging the stems in hot water. 
While this bud-opening hack works beautifully if you want to open blooms for your own vase display, you might also consider using Stewart's technique on flowers you're about to give someone else. Offering a fully-opened bouquet will create a dramatic, memorable effect. Just make sure you have some new wrapping paper or a ribbon on hand to re-wrap them. Whether you're using blooms from the grocery store or stunning roses from your garden, here's what Stewart does to make those buds open faster.
How to use Martha Stewart's rose trick correctly
To follow this hack, Martha Stewart advises that you fill your vase almost to the top with hot water from the faucet and pop the roses in to help them open. However, before you do this, remove any leaves that would be submerged under the water, as this would dirty the vase and may cause the cut stems to rot faster. If you use flower food, removing excess leaves may also make your blooms look healthier, as it will divert all the nutrients to the flowers. You can also cut each rose at a 45-degree angle to make sure no air bubbles form inside the stem. Then, simply leave the roses in the hot water, and you'll eventually see them open up. 
On The Martha Blog, Stewart also recommends changing the hot water every couple days to revive the flowers in the vase. Keeping them out of sunlight and out of heat will also help the blooms stay open and fresh. However, while Stewart makes a distinction between lukewarm and hot water and says that hot water will work better, we'll issue one caution here. Some people have home faucets that get scalding hot very quickly. If that's the case, temper it with the cold faucet. Water that is too hot or boiling could shock the flowers and may even cause the petals to fall.