How To Revive Flowers In A Vase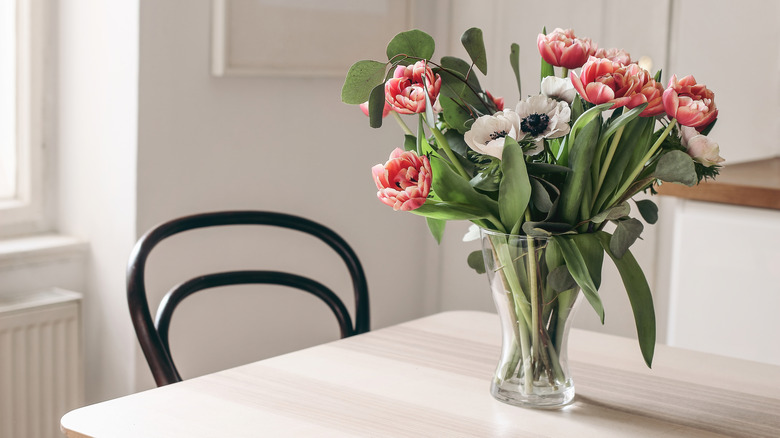 TabitaZn/Shutterstock
Most people would agree they enjoy having fresh flowers in their home, and 65% of Americans say they feel special when receiving them as a gift, according to the Society of American Florists. Just the sight and smell of fresh flowers has been shown to improve the mood of over half of the population in the United States. It can be fun to receive or buy fresh flowers for your home and place them in a vase to constantly be reminded of someone's kindness or the kindness you've done for yourself. However, it can be quite difficult to keep these fresh flowers in a vase alive for a long period of time.
eHow explains that fresh flowers kept in a vase typically last for a little over a week. But, there are ways to revive your endorphin-producing flowers. Don't worry; the following tips are fairly simple and quick to do. As long as you have scissors, sugar, and shade, your flowers will be fine.
How to revive your flowers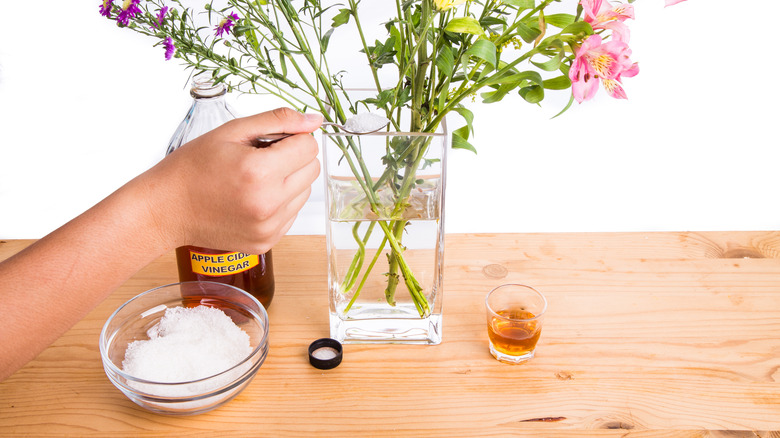 ThamKC/Shutterstock
If you want your fresh flowers to last a while in a vase, you must take action before they start to wilt. Teleflora Blog says to leave your flowers in the shade and away from heaters, as the heat will make them wilt faster. Make sure your flowers aren't exposed to very cold temperatures either. Once in the perfect location, the water in the vase must be emptied and refilled with clean water every few days. It's also important to note that the stem must also be cut 1 inch during this process as you rearrange your bouquet.
After a few days, your flowers may start to die. If so, there are a couple of steps to follow in order to make them look lively again. Cut the stems about 1 inch at an angle, and add 3 teaspoons of sugar into the lukewarm water in your vase. Then put the flowers back into the vase. You can also add a few drops of sugar water onto the petals for added benefit. Once these steps are complete, your fresh flowers should survive for one to three more days.