Laundry Day Is Easier With This Divided Hamper From IKEA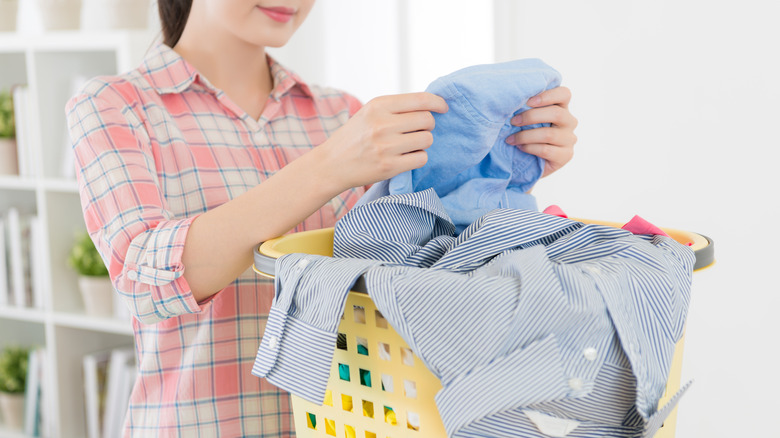 Primagefactory/Getty Images
Sifting your hands through a stinky pile of laundry is no fun, especially when trying to find smaller items or sorting your whites from your colors before throwing them into separate wash cycles. Although you may be accustomed to your regular laundry day routine, implementing a divided hamper from IKEA could make the process much smoother. The specific product is called the NATGIBBA laundry basket and costs about $55. This IKEA product has two different large compartments that reach all the way to the bottom of the basket, as well as a shallow pocket to hold smaller items. The exterior is handmade out of woven willow, while the interior has a neutral tan liner, so this laundry basket could match a large number of different aesthetics.
Not only will the three compartments in this basket help you to organize your clothes into sections, but they will also make the actual process of grabbing and transferring your laundry to the washing machine much more manageable. These separate sections make this basket a simple and efficient time-saver when it comes to completing this household chore. Further, this woven basket also has a hinged lid, which will help keep everything contained and could minimize odors from sweaty or dirty garments. And, if you ever wanted to store the basket away, it folds completely flat. What more could you want?
How to separate your clothes with this hamper
Typical hampers have only one compartment, which can make doing the laundry take much longer than it should. Instead, you can use the two larger compartments in the IKEA NATGIBBA laundry hamper to split your clothes into categories. The most common way to separate your clothes is by color, with one section for dark garments and another for lights. However, you could also sort them in different ways, such as placing towels in one and garments in the other or athletic wear versus regular clothes. A couple may want to sort their garments by person, with each individual having their own compartment. With time, you should be able to figure out what works best for you. Additionally, to streamline the process even further, try adding labels above each of the compartments.
The small pocket could be used to house things like delicate garment bags, stain removers, or other small laundry essentials. You could also place your undergarments in this pocket if you typically wash them in a separate delicate cycle, which will help you avoid having to dig through your dirty clothes to find these small items. As a result of using the NATGIBBA hamper, you should find that laundry day is much easier, as you can access your clothes without having to sort through a big pile. 
Tips on making this hamper beneficial for you
You could either use the IKEA NATGIBBA basket to create a functional laundry room by keeping it next to your washing machine or you could place it in a bathroom or bedroom. The ideal location for you will depend upon your daily dynamic and where the people in your family normally change their clothes. If you keep the basket outside the laundry room, whenever you're ready to wash the loads, simply pull the liner out with your clothes inside instead of carrying the whole basket for extra ease when transferring the laundry to your machine.
However, while this basket can be very beneficial, it does come with one limitation. While it's good for organizing a single person's garments or a couple's clothes, it may not be as suitable for larger families who go through a lot of laundry every week, as the dirty items may pile up quickly. In this instance, you may need a laundry basket with more compartments in order to meet your needs. Or, you could simply purchase several of the IKEA baskets, perhaps one for each member of your family. You should find that the extra baskets help you organize your clothes to an even higher level. Either way, you'll never have to sift through laundry ever again.