Here's How Often You Should Be Cleaning Your Vinyl Plank Flooring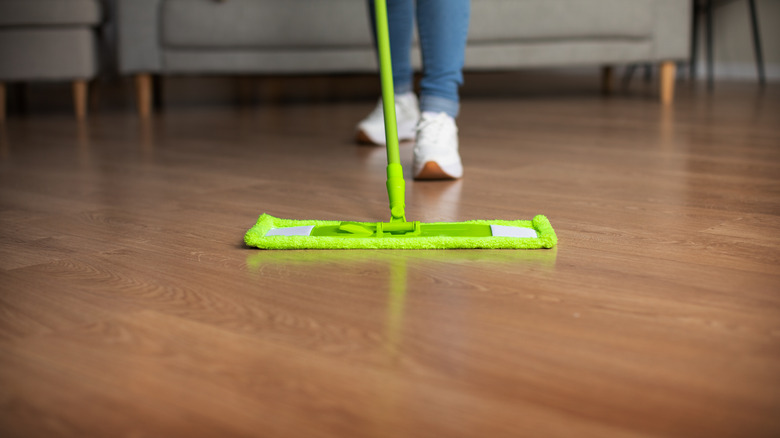 Prostock-studio/Getty Images
Vinyl plank flooring has become a popular option among homeowners and with good reason. Available in many hues and textures, this material can easily mimic the look of natural wood or stone flooring. Composed of PVC, it's highly durable and can last up to 15 to 20 years if cared for adequately. While it's easy to maintain, you should clean vinyl plank flooring with a specialized cleaner every one to two weeks based on how dirty it gets to preserve its luster and keep it looking new. You'll also want to consider other factors when developing your cleaning schedule.
If your flooring comes into contact with dirt and dust regularly, vacuum it daily to prevent the dense particles from scratching the surface. These particles will also damage the preservative layer that keeps the floors' shine intact, reducing its lifespan. Similarly, don't give into the temptation to deep clean your floors several times a week, as mopping it too often can cause undue damage.
Vacuum vinyl plank flooring daily and wet clean every one to two weeks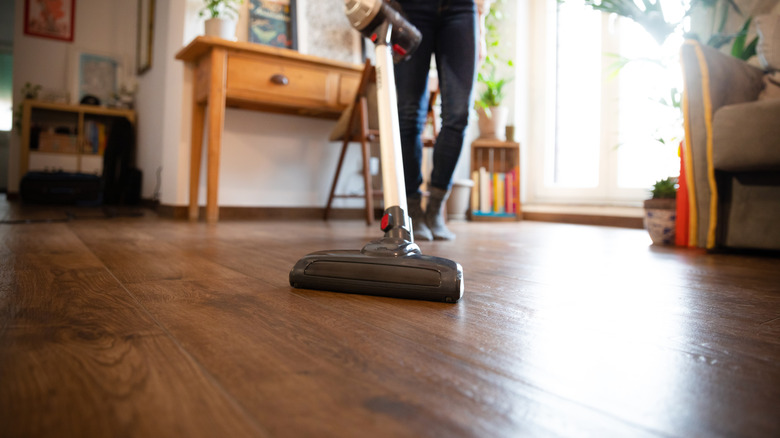 Marco_piunti/Getty Images
After installing vinyl plank flooring, it's time to think about its regular maintenance. As stated, it's best to vacuum these floors or dry mop them daily to increase their lifespan. While you can sweep the floors, don't reach for the broom as, much like debris, its stiff bristles may scratch the surface and the protective layer, doing more harm than good. Besides the daily upkeep, aim to wet clean the floors every two weeks. However, for particularly high-traffic areas, you can make these cleaning sessions a part of your weekly routine.
Moreover, soak up accidental spills right away. Though vinyl plank flooring has water-resistant properties, it's best to prevent the spilled liquid from damaging its structural integrity. If left untreated, the spill can become a permanent fixture on your floors in the form of unsightly stains or warping. Besides cleaning, take additional steps to lessen your workload and reduce the vacuuming time. Add a mat before the front door to keep most dust and debris from your feet and shoes from making their way indoors and settling on the floors and harming them. Similarly, you can place mats at other thresholds, such as a sliding glass door, to maintain your flooring.