This IKEA Spice Rack Hack Will Keep Your Child's Bedroom Clutter-Free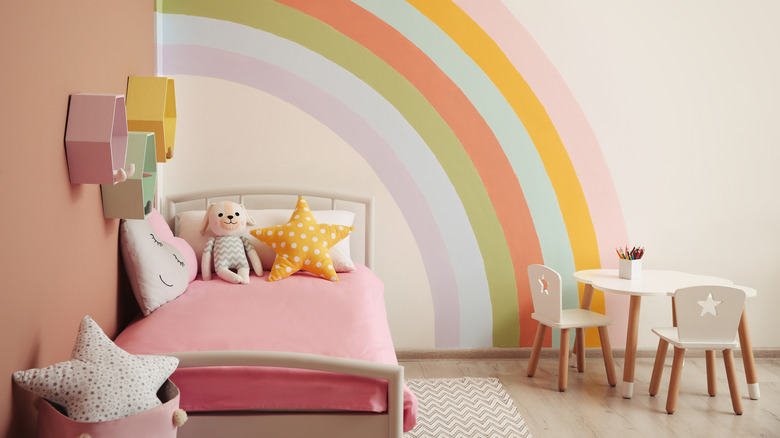 New Africa/Shutterstock
A cluttered kid's bedroom can be quite the source of stress for a parent or caregiver. Not only can the mess be a tripping hazard, but it's also overwhelming for those trying to use the space. If you're looking for an inexpensive way to add more storage space in your kids' room, look no further than the IKEA BEKVÄM spice rack. This classic IKEA spice rack has a lot of potential DIY uses, but this children's bedroom trick is one of the simplest and most practical ideas out there. 
As demonstrated by TikTok user @kate.athome, the BEKVÄM spice rack can be used as a regular bedroom wall shelf, or you can flip it upside down for a more creative use. By installing the spice rack upside down, the rod that once served as the wall of the shelf can now be used as a hanging rack and the top can continue to serve as a shelf. Note that to successfully hang the spice rack upside down, you'll first have to unscrew the hanging devices on the back of the shelf and reinstall them upside down, as well.
Sometimes there's an even cheaper dupe for an IKEA DIY, but the BEKVÄM spice rack is made from durable, solid aspen wood and it's easily customizable with paint or wood stain. Available for around $7, it's super affordable and gives you the same function and aesthetic as expensive shelving.
Turn a spice rack into a child's shelf
To make this hack kid-friendly and accessible, be sure to hang the spice rack relatively low on the wall so that your child can reach the rack without any assistance.  Since these rods weren't intentionally designed to serve as hanging racks, you should carefully test how much weight they can bear before hanging a bunch of items off of them. For items on the top of the "upside down" shelf, try to avoid keeping anything breakable on there, as there are no raised sides that can prevent stuff from slipping off. 
Feel free to take advantage of the plain design and get creative with decorating. You can paint it white, which is a popular choice for children's shelves, or you can be more playful and paint it in a bright, cheerful color, like pink or yellow — these types of paint colors are perfect for a child's room. If you have an artistic touch, consider hand painting a small design on the shelf, based on the child's interest (think fairies, cars, dinosaurs, etc.). Or, if you want a print but don't have the painting skills, opt for a small piece of peel-and-stick wallpaper.
This shelving idea works well in a bedroom, but you can also use it in other areas of your home, such as an entryway coat rack or bathroom towel rack, making your space more organized and encouraging independence in young household members.