The IKEA Storage Item You Need To Take The Stress Out Of Moving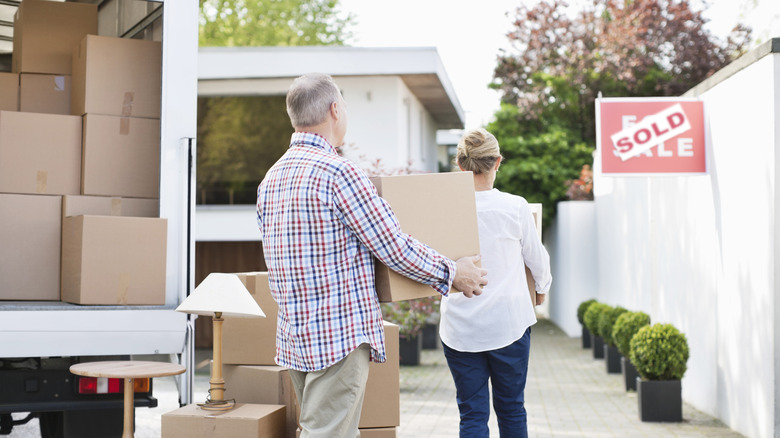 Robert Daly/Getty Images
When moving from one home to another, packing everything you own can be overwhelming. Regardless of how organized you are before moving, there are always a lot of clothes, décor, linens, toys, and other items that need to be packed to ship them off to your new place. Massive bulky boxes are ideal for holding many items simultaneously, but they may take up too much space in a moving truck and can easily get infested with bugs. Plus, when the moving boxes are filled to maximum capacity, they can be too heavy to carry and risk tearing if they're not taped correctly. You might struggle to move them from the truck to your new home, putting your body at risk for potential injuries. Instead of using cardboard boxes, the IKEA DIMPA storage bags will ultimately make moving a breeze and scare away your moving stress. You can purchase the storage bags on IKEA's website for about $7 each.
TikTok user @alizeslifestyle__ used multiple IKEA storage bags to hold most of her items when she was getting ready to move. She used them to keep her linens, towels, board games, and coats secure without worrying about items falling out or creating holes like they could in a cardboard box. IKEA claims that these bags can hold anything from a car tire to sports gear. When you're done using them, they lay flat, making storing them easy. Here are a few ways you can get your full use out of them.
Don't be afraid to stuff your IKEA bags
Before you start putting things in these IKEA storage bags, it's best to go through all your belongings and declutter before moving to make the process easier. Once you've sorted, it's time to pack. The DIMPA storage bags are clear, heavy-duty, and made to hold anything and everything. They're quite large, measuring 25½ by 8¾ by 25½ inches, so you can stuff each one with multiple items. While they easily hold things like clothing, cushions, and electronics, take them further and use the storage bags to store your kitchenware. Over the years, you might throw out the boxes that came with your plates and bowls, leaving you without a place to put them. Carefully wrap each plate in bubble wrap and stack them inside a storage bag. Keep your plates, bowls, and utensils together so that it takes seconds to unpack everything.
On the other hand, the storage bags also make superb holders for books and small knick knacks. When filling a box with books, the container can often be too heavy to carry. Even though the IKEA bags will still be heavy, the handles make them easier to carry or pull from place to place. Store your mementos such as picture frames, ceramic trinkets, and other bookshelf décor items in the bags as well. Further, unlike cardboard boxes that can easily get damaged, these bags are durable and simple to clean, so they should last for years.