The Bold Fixer To Fabulous Countertop Choice That'll Give Your Kitchen A Classic Feel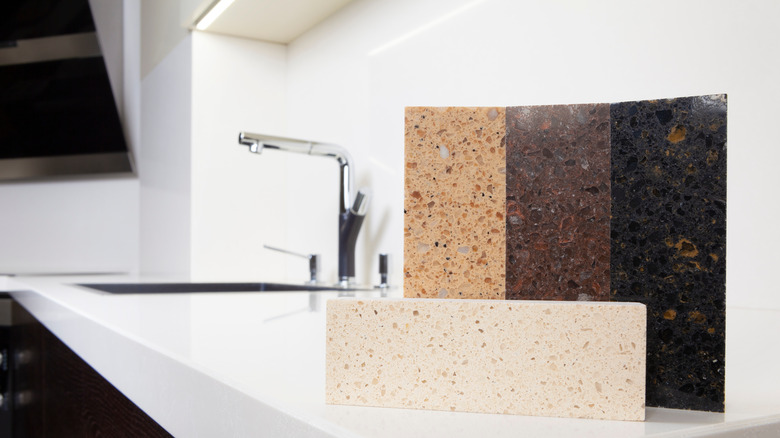 Ivelin Radkov/Shutterstock
When choosing a kitchen countertop, there are many factors to consider. Aesthetically, color is one of the biggest decisions. However, you also want to consider the material and how it will stand up to the wear and tear of a busy kitchen. For years, all-white kitchens have topped the trends, but for Jenny Marrs, interior designer and co-host of HGTV's "Fixer to Fabulous," black is the go-to choice. "I love black countertops in the kitchen," Marrs says in a clip from the show on YouTube. "I just feel like they're very classic, but they're also so durable. With kids ... I mean, they don't show any stains or markings, and it's just a really classic look."
Black countertops are just as timeless as their white counterparts. However, they also have the benefit of being sleek, which makes them fit well into ultra-modern designs. Black is the go-to neutral in many instances, and the same can be said in the kitchen. The shade pairs well with a variety of cabinet and tile colors, allowing you to create a chic monochrome look or a bold contrasting design. Black also holds a sense of luxury and effortless beauty that can elevate a kitchen when done right. It draws attention to create a focal point without overwhelming the design. Plus, black counters make sense for busy kitchens, especially with kids.
Going with black counters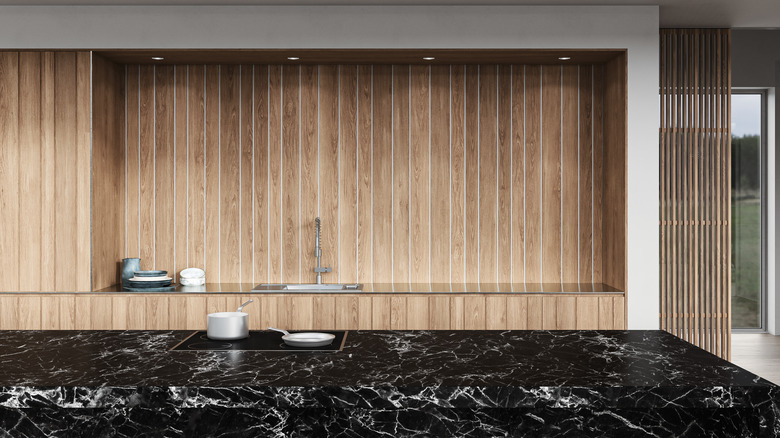 Gladiathor/Getty Images
While many homeowners opt for some form of white countertops, black is one of the best options. Jenny Marrs loves it because of the classic look it brings to the kitchen and how well it hides any stains. When white is light and airy, black is a little edgier while remaining timeless. And with a variety of veining or speckled options from white to tan to brown, there are plenty of options to match black counters to your kitchen's aesthetic.
One of the major benefits of black counters is their concealing properties. Stains, cracks, and marks aren't as noticeable compared to lighter counter shades. This is ideal for busy kitchens, especially with kids, that may get used multiple times a day. With black countertops, you may not have to worry so much about heavy objects causing nicks, food causing stains, or knives causing scratches because they won't be as visible. Many crumbs are also easily concealed with black counters. This, however, doesn't mean maintenance isn't necessary, as most natural stones will still require cleaning and sealing.
There are, however, a few things that can show up on black counters. Depending on the material, fingerprints can show easily, particularly in busy areas. Soap residue from cleaning and rings from water can also be visible on certain black counters. However, these issues are easily removed if you don't mind the extra cleaning.
Best black countertop materials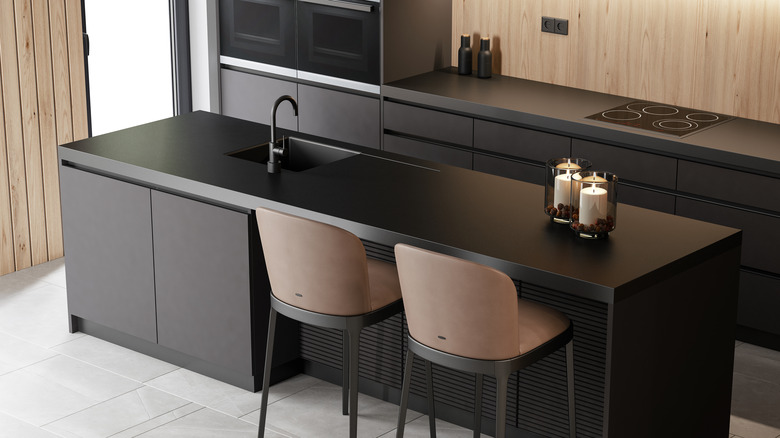 Tulcarion/Getty Images
Jenny Marrs loves using black countertops because of the classic aesthetic and the durability it offers. Much of that durability comes from the type of natural stone the countertop is made from. When it comes to the kitchen, the top choices for kitchen countertop materials are granite, quartz, and marble, all of which come in black variations.
Granite is a classic material that's on the more affordable side. It's durable and easily maintained. Though some say that granite is outdated because of its rise in popularity in the early 1990s and 2000s, granite remains a great option for the home. Choosing black granite can make the stone feel a bit more updated. Quartz has gained popularity in recent years, making it a top choice for kitchen counters as well. Quartz is engineered with quartz minerals and resins to make it extraordinarily durable. The addition of pigments allows homeowners to find various shading and veinings of black stone. Marble, while luxurious, is a controversial option for the kitchen. The stone is beautiful and can have dramatic veining that creates a bold look in the home.
Black countertops also look good in a variety of finishes, from polished to matte; another example of the versatility. Polished is a more traditional choice, but it can also look sleek in modern interiors. Or opt for a honed finish, which appears flat and matte — working well in contemporary spaces.