DIY A Chic Coffee Bar On A Budget With This Genius IKEA KALLAX Hack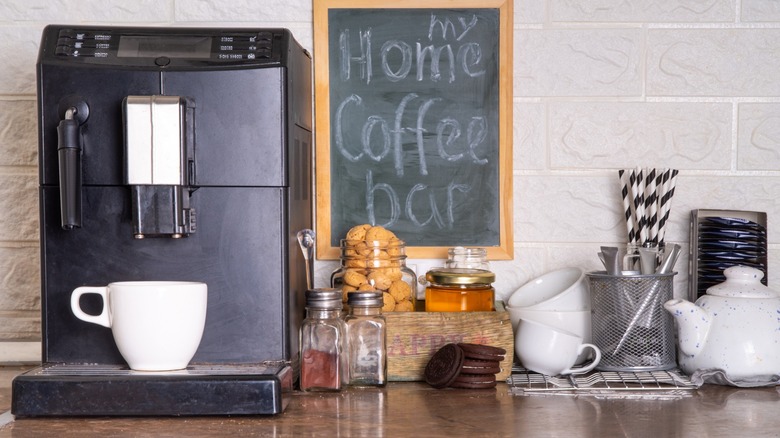 Rimma Bondarenko/Shutterstock
If you're looking for a simple way to elevate your kitchen space, consider exploring some creative home coffee bar ideas. Before you balk at the expense of new furniture or installing new counter space, there's an easy way to DIY a coffee bar, and all you need is an IKEA KALLAX Shelf. The KALLAX shelf has endless DIY potential, but this coffee bar idea really stands out as a simple project that gives you a lot of creative flexibility and can truly have an impact on your space. As demonstrated by TikTok creator @omformo, you can transform a basic KALLAX shelf into a chic coffee bar with simple additions like cabinet doors, furniture feet, and fresh hardware. 
For this project, you'll need either the KALLAX shelf or a less expensive dupe – Target, for instance, has a nearly identical cube shelf. If you want to follow the design from @omformo exactly, you'll also need to buy the KALLAX 2 drawer insert and the KALLAX shelf insert. @omformo also adds decorative elements like gold knobs for the drawers, wooden mid-century modern furniture feet, and a wooden board for a makeshift counter. You'll have no trouble finding a big selection of knobs and feet, but if you're struggling to figure out an easy way to get the wood surface, check out this Rubbermaid decorative board, which you can glue directly to the top of the shelf. Finally, add your favorite coffee supplies, and you now have your very own at-home coffee bar. 
Styling a DIY coffee bar
This IKEA KALLAX concept is a great way to have an ultra-customized coffee bar. @omformo styles their coffee bar with gold hardware, light wood finishes, and touches of greenery, but you can really take this in any direction you like. The KALLAX shelving unit comes in white, black-brown, gray, and oak, so you have a range of options for the base color of your coffee bar. You can also sand the shelf and repaint it with another color of your choice or cover some of the sides with peel-and-stick wallpaper. And, of course, the sky's the limit when it comes to hardware — any style of drawer pull or furniture feet you can think of, you'll be able to find online, from ash wood furniture legs to crystal decorative glass knobs. 
You can look to several design aesthetics for creative inspiration. For an apothecary aesthetic that's equal parts moody and charming, incorporate dark wood finishes, brass hardware like these antique brass cabinet knobs, and vintage containers for coffee and sugar. Or, if you want to bring the industrial glam aesthetic into your home, blend minimalist modern hardware with ornate decorative pieces, like this fancy swan-shaped sugar bowl. Moreover, if you want to do some hands-on design research, head to your favorite local coffee shop and take note of what you like best about the atmosphere — you're sure to devise your own coffee bar aesthetic in no time.