11 Ways To Bring The Industrial Glam Aesthetic Into Your Home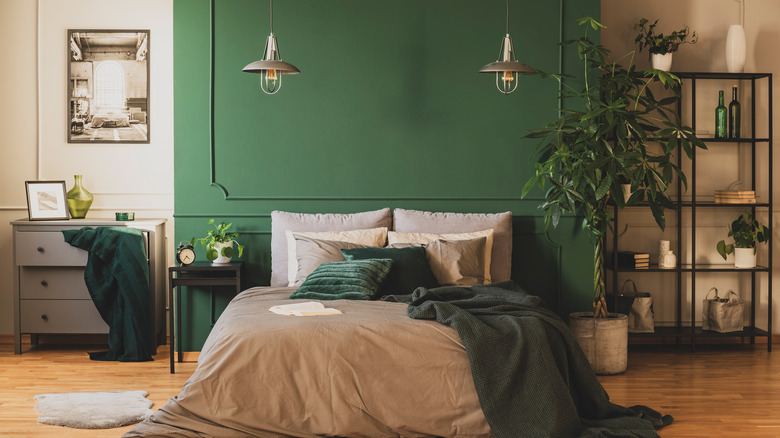 Ground Picture/Shutterstock
Industrial glam is a study in contrasts. Old and New. Hard and soft. Masculine and feminine. A spin on industrial decor — known for its metallic accents, straight lines, deep neutrals, and nods to vintage technology — industrial glam draws from more luxurious and glamorous aesthetics rooted in old Hollywood, the glitz and glamour of the 1970s, and the drama of historical eras like French Provincial and Queen Anne Style. It's a polished look that works off the seemingly illogical juxtaposition of these opposing dynamics with sophisticated yet straightforward rooms.
According to Polished Habitat, industrial glam brings together several contrasting influences like Art Deco, Hollywood Regency, and contemporary loft style to create rooms that are filled with uptown feminine vibes and downtown masculine aesthetics. It's particularly useful for couples looking to bring together their decor styles in a new space or giving large, open, industrial spaces like lofts a more elevated, lush, and warm feeling. Capture the unique aesthetics of industrial glam in your own space by keeping a few things in mind.
1. Get creative with lighting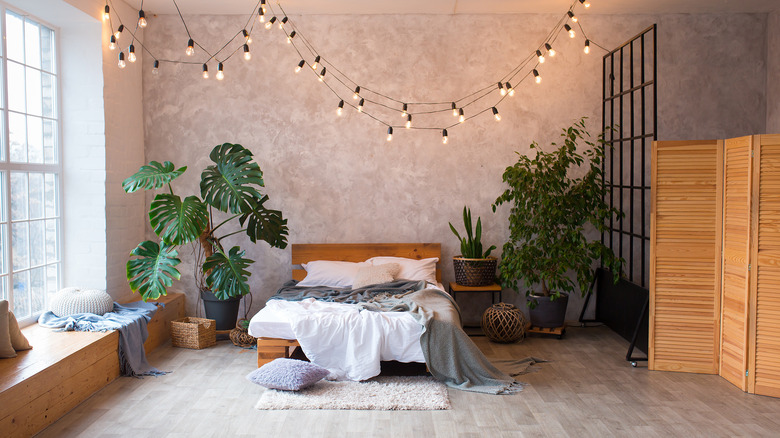 sergiophoto/Shutterstock
A defining element of industrial design schemes, lighting plays a key role in setting the tone for a space. Edison bulbs or industrial string lights are a great pairing with softer elements like lushly textured cushions and throws. Alternatively, a more masculine room can instantly be given a dose of glamour with an over-the-top crystal chandelier or cheeky vanity lighting. 
2. Surprising touches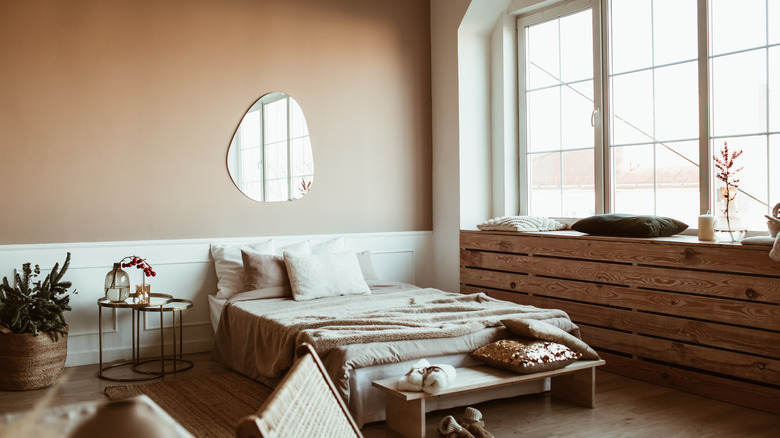 Floral Deco/Shutterstock
Industrial glam designs are not only a study of contrasting design elements, but also of the unexpected. Here, a neutral bedroom featuring industrial wood planks under the window is softened by an organically shaped mirror on the wall and a sequined pillow. Try bringing in softer shapes and flamboyantly styled textiles to warm up the more industrial pieces in any room. 
3. Hard and soft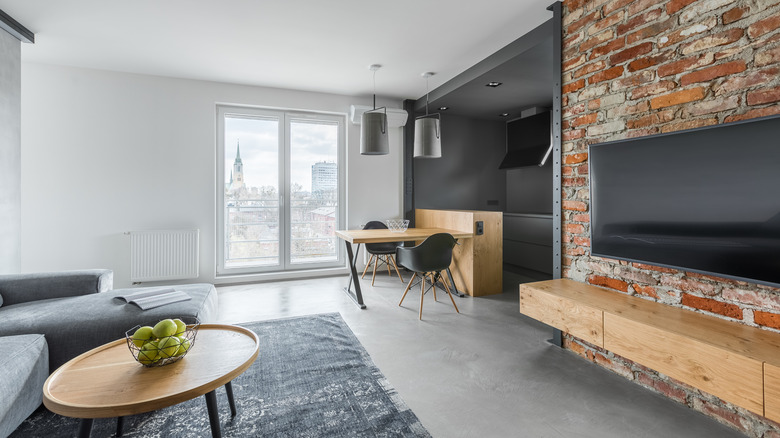 Dariusz Jarzabek/Shutterstock
This exposed brick fireplace screams industrial chic but becomes even more stunning with the addition of a richly and elaborately patterned rug and a luxurious gray velvet sofa that pose softness against the hardness of the brick surround. These lusher, more feminine elements in soft neutrals also contrast beautifully with the more contemporary and modern lines of the coffee table and dining set.
4. Ornate accents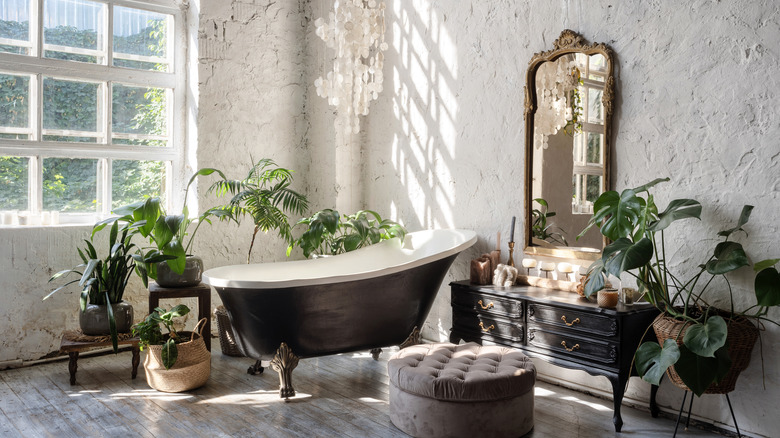 brizmaker/Shutterstock
A gorgeously carved gilt mirror is hung on a textured stone wall in a loft-style room bathed with sunlight. The old-world feel of a Victorian parlor, along with its elaborate mother-of-pearl chandelier, is juxtaposed with the space's more industrial roots with beautiful results. The tableau in the corner also demarcates a larger open space, making it feel more inviting and intimate.
5. Masculine and feminine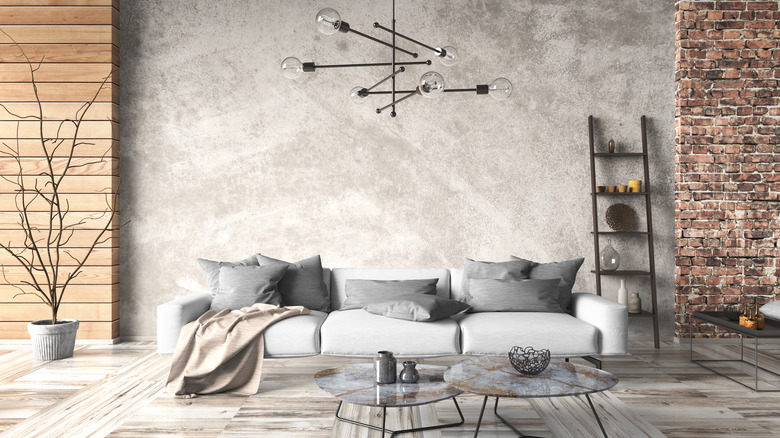 Scovad/Getty Images
Industrial glam is a mix of masculine details like metal, stone, and brick with more feminine materials like linen, velvet, and natural elements. Here, a soft and inviting sofa with pillows and throws is a comfy contrast to the exposed brick, wood, and stone backdrop. Likewise, the stone slab coffee tables serve as a nod to hard stone but in rounder, more organic, and lavish shapes.
6. Texture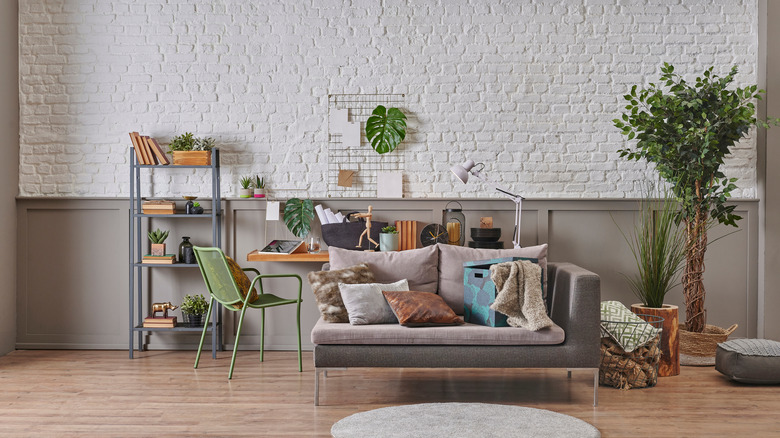 united photo studio/Shutterstock
Industrial glam spaces make use of endless textures. Here a velvet setee is thrown with richly patterned cushions in various complimentary shades and fabrics like fur and satin. They are a striking contrast to the painted brick wall, utilitarian shelving, and industrial desk lamp. Don't be afraid to try exciting juxtapositions in fabric and textiles in simple rooms that adopt an industrial mystique. 
7. High impact black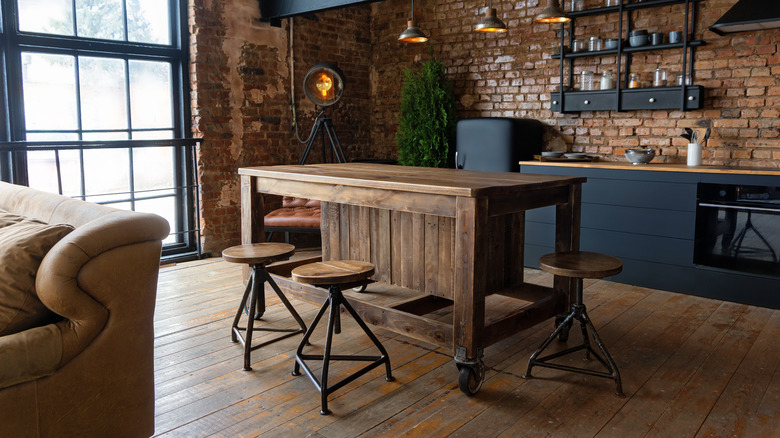 NataliaLavrivNedashkivska/Shutterstock
This stunning kitchen owes much to its dramatically painted black cabinets — a glam touch — paired with ample rich wood and exposed brick. One of the hottest colors happening, black painted surfaces are often a perfect color that simultaneously speaks to glamour and industrial chic, particularly when layered with more organic elements like the wood island and countertops.
8. Old meets new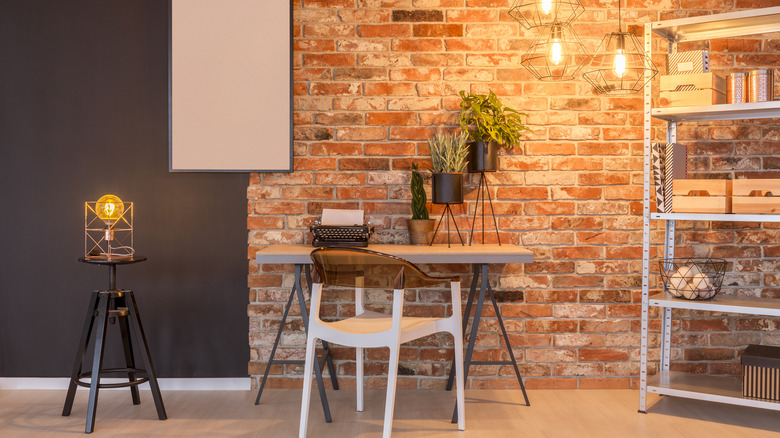 Ground Picture/Shutterstock
Industrial glam interiors often mix old and new touches, including nods to vintage technology like lighting, cameras, typewriters, and crates with other sleeker elements like this lucite chair and ample greenery. Try mixing modern pieces with antiques and vintage elements that speak to the past. The more modern pieces will offer unexpected contrast and a fresh feel.
9. Consider color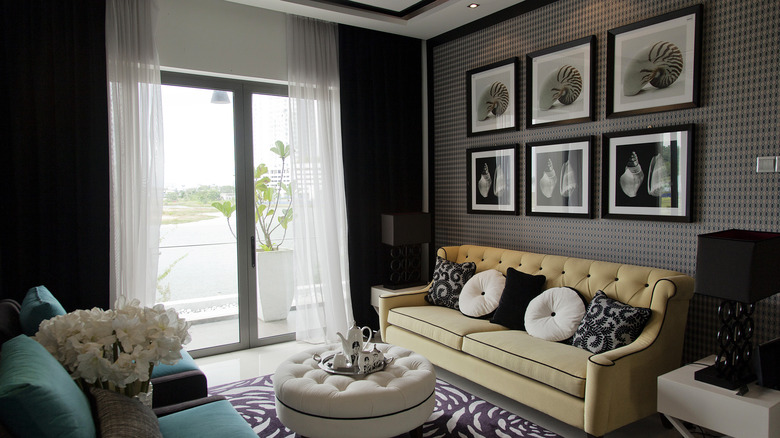 Bloomberg/Getty Images
While many industrial glam rooms take their roots in industrial styles' love of rich neutrals like brown and gray, vibrant colors can also be employed to stunning effect. Here, stylish yellow and teal pieces stand out when juxtaposed with a more staid gray plaid accent wall. The room's otherwise neutral and unassuming background makes the contrasting colors and patterns pop.
10. Dramatic touches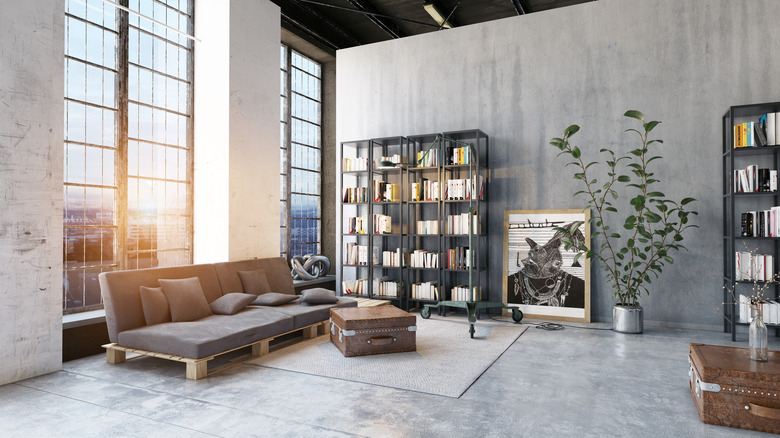 Vicnt/Getty Images
Industrial materials are often perfect for making bold statements. Here, an otherwise understated room with upcycled wood pallet furniture and metal shelving is elevated by dramatic art, gray velvet, a bold houseplant, and cool vintage trunk tables. Industrial spaces can often be high-ceilinged and cavernous, so employing large and dramatic pieces definitely makes for a more cozy and intimate feeling. 
11. Nature meets industry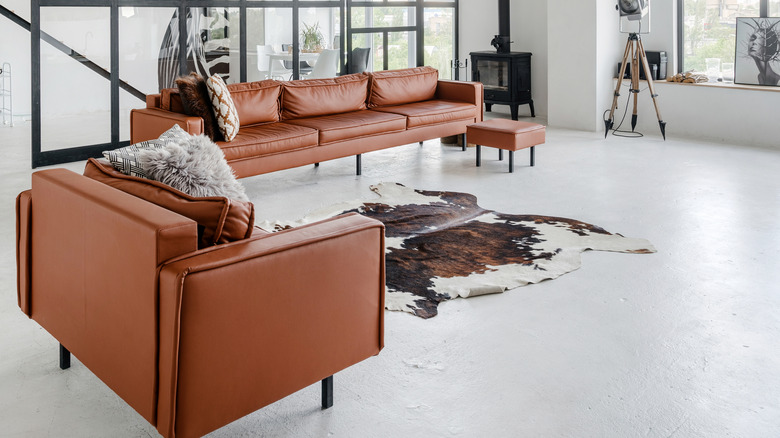 brizmaker/Shutterstock
A great way to soften your industrial decor and add a hint of glam is to use natural elements like fur rugs, animal prints, and other nods to nature, along with a couple of choice pieces that add to the room's sense of glamor. Here, sleek modern leather sofas in a rich burnt orange shade are made less severe by adding fluffy cushions and an animal hide rug.